Ready to wire wrap? Get prepared with this article! We've covered the studio area, gauges of wire, beginner tools and some materials that you can use when wire wrapping.
Have you ever thought about wire wrapping before? Possibly you don't know where to start or what tools you'll need. Anytime you start anything new, it can be intimidating, I know. One of the appealing benefits of wire wrapping is that you don't need a lot of tools. Another wonderful perk is that you can wrap all kinds of things: found objects, semi-precious stones (with or without holes) and of course, beads. In the article below, I've broken down the jewelry tools, work area, wire and materials and other important information to help you get started.
What You'll Need to Start Wire Wrapping
Tips on Tables and Chairs

Don't be overwhelmed! Setting up a studio or work area is simple. You'll need a kitchen table, coffee table or desk to sit at plus have a comfortable chair to sit on. When you work with wire you move your arms a lot, so I chose a stool. Also, instead of working on the desktop, which I found too high for this jewelry adventure, I found myself wire wrapping on my lap. If you tend to do that, lay your piece of jewelry down occasionally and then walk around and stretch a bit. Hunching over is terrible for your neck and back!

Studio set-up for wire wrapping

Wire Wrapping Storage Space

I suggest, when you first start out that you place everything you need in a container with wheels. Store all of your supplies in there and wheel it everywhere you need too. But over time, your designated studio space will fill up with beads, stones, and jewelry wire. So plan to exchange that plastic storage container into shelves with bins or cabinets full of drawers as time goes by. But until that comes, a small storage container is perfectly fine.

Multi-drawer cabinet space for wire wrapping supplies
Wire Jewelry Tools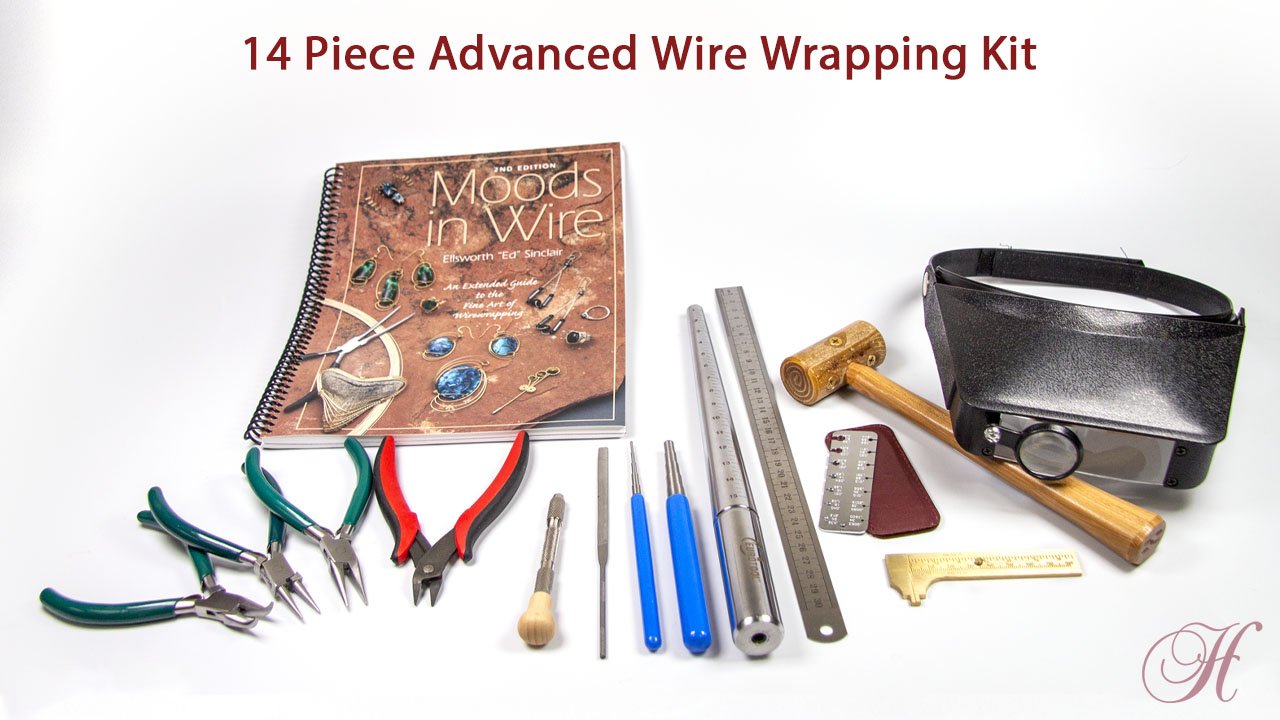 Ruler
Wire Cutters
Permanent Marker
Jewelry Making Pliers: Round, bent nose and chain (use these to tuck in wire ends and shape your wire)
Gauge (measures the inside of holes for beads and the width of the wire for gauging)
Needle Nose Flat File (for filing the wire ends)
Rawhide or nylon hammer (these won't mar your metal when flattening)
Suggested Wire Jewelry Tools
The first five suggested items listed below are already included in the kit shown above. They're not critical when starting out, but helpful, unless you are going to make finger rings, then the ring mandrel should be under the basic wire wrapping supply list.
Magnifying Visor
Ring Mandrel (for gauging ring sizes)
Pin Vise (Use it to make twisted wire)
Tiered Mandrels (for making circular shapes)
Wire gauge (unless you mark your wires really well, this will identify the wire gauges quickly)
| | |
| --- | --- |
| Always hammer on a steel bench block. Unless your bench block is scratched or has deep marks in it, the steel face along with a rawhide hammer will keep your piece from marring. | Steel Bench Block for jewelry stamping, forming or texturing |
| Hammering can be very loud. Prevent this by using a sound dampening leather sandbag! Place your steel bench block on the sandbag before hammering. | Round Leather Bench Sandbag for the Jewelers Bench |
| A bench vise has many uses, but when twisting wire with a pin vise, hold the other two wire ends in these jaws for stability. | Small Metal Vise for a Jewelry Bench |
| Another tool I found extremely helpful was this Wire Straightener Tool by Artistic Wire. I used it on the 26 and 28 gauge wires, which tend to curl and bend a lot as you wire wrap. This was an extremely helpful tool for straightening wire when using the thinner jewelry wire gauges. | Wire Wrapping Straightener Tool |
The metal jaws on pliers tend to mar wire, so I use nylon tipped pliers. Yes, the nylon will get dented and lose their shape over time but it will never scratch up a piece you've spent hours on. It's worth spending $2-5 dollars on replacement jaws than ruin a beautiful finish to me.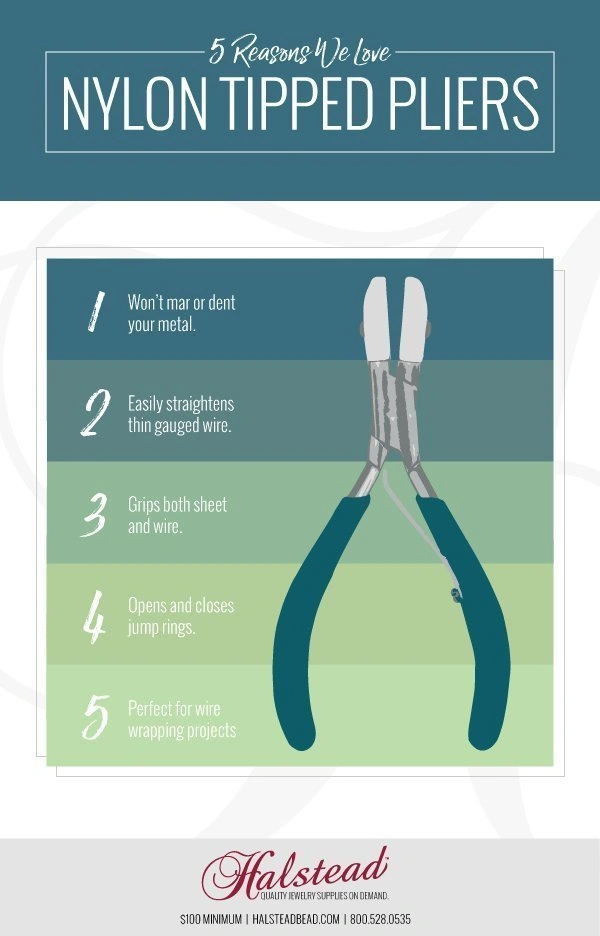 Here are the 5 pliers we use in the studio the most.



Copper and Sterling Silver Wire
There are a variety of wire gauges you will need and/or want as you advance in wire wrapping. I can't stress this enough when you're first learning practice with copper before moving onto sterling silver wire. It's cheap, therefore it's easier to make mistakes than it would be using a more expensive material. Also, keep your wire as straight as possible before you start bending it. Wrapping wire will work harden it. When it becomes too hard to work with, it will break in half, so take care not to bend it unnecessarily. SHOP STERLING SILVER WIRE >>
Although it will ultimately be your choice, here are some suggestions when choosing wire gauges.
Frames: 16-20 gauge
Wrapping: 26-28 gauge
Weaving: 28-30 gauge
Beads, Stones and Other Fun Materials
Objects to wrap are completely up to you! You can find semi-precious stones with or without holes, sterling silver beads, copper beads, crystals, cabochons, found objects... etc. The list goes on and on. You will love searching for materials to wrap and your studio will probably start filling up with all kinds of fun objects.
How to Learn Wire Wrapping
For a few days, I played in the studio learning how to wire wrap with copper and sterling silver wires. We had a new wire wrapping kit that came in and I wanted to look at the book: "Moods in Wire" by Ellsworth "Ed" Sinclair that was included and check out the tools. So for those two or three days, I watched tutorials online, browsed through the book, and played with different wire gauges, beads, and stones. I honestly wasn't sure how I would like it, but I really ended up loving this craft!
First of all, there aren't a lot of jewelry tools that you need. Many of these jewelry making tools you probably already own. Secondly, you can enjoy this art doing it almost anywhere. Wrap a stone or bead while watching T.V. or, even better, while sitting in a booth at a jewelry show. There are no soldering supplies or a torch to lug around. It's just a few tools, copper or sterling silver wire and whatever materials you want to wrap. And the last thing, which was the most surprising to me, is that it was not only fun but it was also super relaxing.
Don't get me wrong, metalsmithing will always be my favorite thing to do. I love working with a torch! I daydream about jewelry designs constantly. While I'm writing articles at my desk, I catch myself staring down into the studio longing to work at the jewelry bench instead. Having said that, when you metalsmith you cut, drill, solder, pickle, finish and tumble your jewelry pieces, seemingly all at the same time. Yet, when you wrap a gorgeous stone, it becomes meditative. I found that this experience was completely different than what I was accustomed too and the change of pace was nice. Have fun, I sure did!
Stage 1

I played around with wire wrapping in stages. I tackled it by first learning the basics. There were online tutorials on covering basic techniques that guided me along the way. I began by learning about frames. Frames give strength and structure to a piece, and so they're very important when wrapping wire. They're made with thicker gauged wire, while the thinner gauges are used for more intricate details. I practiced this on a couple of copper pieces and played with sterling silver wire to make wire bails and tight loops.

Practicing wire wrapped loops, bails and frames

Stage 2

Playtime! As you can see, I used a lot of thick gauges to make textured u-shaped bars during this stage. I merged that with a basic wire wrapping technique, holding the stone tightly in place and finishing with a swirl in the front. This adds a nice decorative touch while also using the end of the wire to finish the piece.

Framing techniques using multiple copper and sterling silver wire gauges

Stage 3

During every stage, I practiced with copper wire first and then refined my sterling silver pieces by using the copper models. Wire weaving is definitely a more advanced technique that takes patience and practice. It also requires a lot more bulk jewelry wire material for each piece of jewelry. The thinnest gauge I had for the copper leaves was 22 gauge, but when I re-designed the earrings using sterling silver I used 26 gauge for the detailed work. I also added in some sterling silver beads, ear wires and moonstones as finishing touches. These were seriously fun to make!

Practicing detailed wire wrapping with jewelry making wire
The video below covers the kit and tools plus I browse through the pages of the book. It also covers some of the jewelry pieces that I made including the wire gauges used for each piece. Last, but not least, I'll show you how to make jump rings and earwire hoops.


---
Check out these other great articles!
Top 5 Tips for Wire Wrapping on Frames
What Jewelry Wire Gauge & Hardness Do You Need?
Setting Up a New Jewelry Bench