Chain for Jewelry Making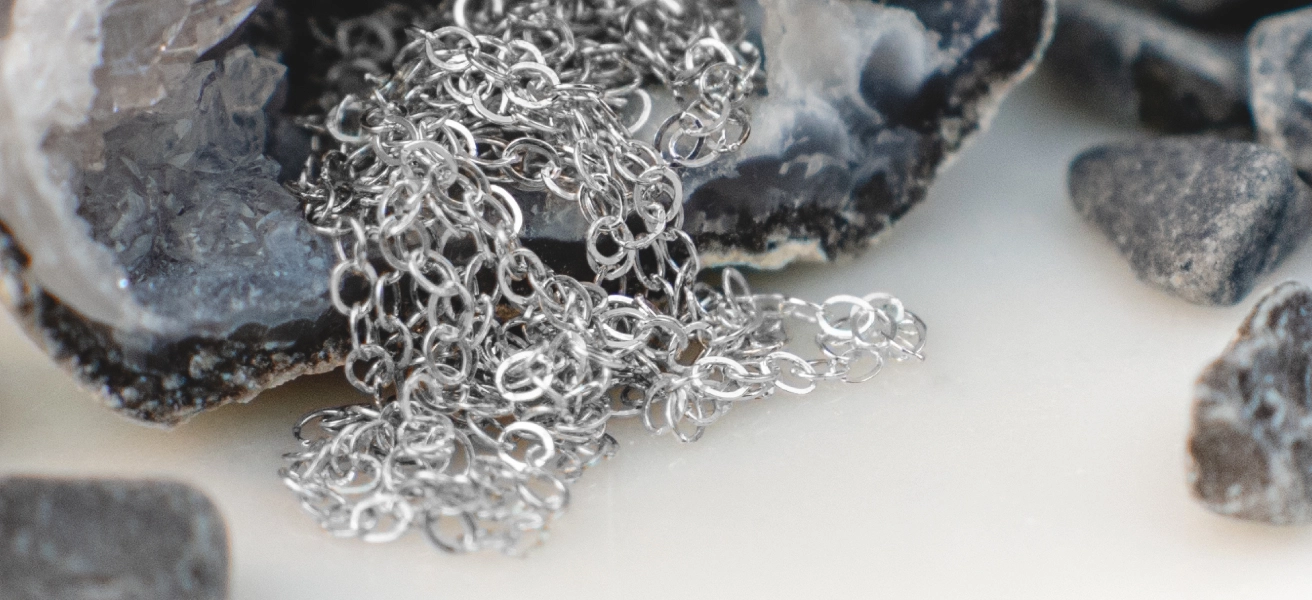 We have everything from standard styles to fancy fashion chains.
We specialize in wholesale jewelry chain for your jewelry business. You can purchase pre-made finished chain in necklace or bracelet lengths or buy footage chain to create tassels or custom lengths. Many chain styles are available in both pre-made and footage options.
You'll find silver chains for sale as well as a wide variety of other materials including gold-filled, rose gold-filled, steel and more. We have the largest selection in sterling silver chains, from bead chain to saturn finished chains and everything in-between for your success. 
Most precious metal chain links are soldered together. Soldering closes the links so they cannot open and cause chain breakage. Some other metals, such as copper, cannot be easily soldered. Make sure links are substantial enough to handle typical wear and pendant weight without stretching.

Finished Jewelry Chain
Our chain link necklaces, bracelets and anklets make it easy to create jewelry in a hurry. We have everything from standard styles to fancy fashion chains, including pre-made charm bracelets and finished Y-necklaces. If you're looking for the perfect chain for your pendant, you have a lot of choices!
In addition to traditional open-link chain styles, we also sell smooth snake and omega neck chains, textured margarita sparkler necklaces, a variety of foxtail chains and mesh neck chains. Finished neck chains are available in lengths ranging from chokers to belly button opera lengths. Quality clasps are professionally attached to all finished chains.
Shop chain now to create your own layered necklaces, charm bracelets and more.
Footage Jewelry Chain
Footage silver chain styles present a wide variety of design options. Footage chains can be used to create layered necklaces and other designs in custom lengths. Bulk jewelry chain footage is sold by the inch or by the foot. Check the product detail page for the unit of measure and minimum order quantities. Note that our best pricing is available on 100 foot spools of chain.
You'll need to finish the ends of footage .925 chain. Professionally complete footage chain by linking a jump ring through the last link, soldering a small ring to the last link or attaching a tab or tube end. The type of finishing technique you choose depends on your design aesthetic and the size chain you're using. Learn how on our Tips for Chain End Finishing blog post featured on this page. Remember to shop our clasps and closures.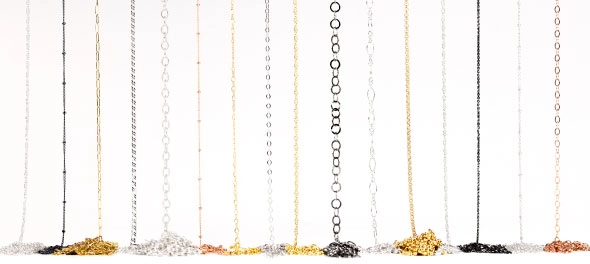 ---
Related Blogs
Check out articles about jewelry techniques, tools, career services and more.