Making Bracelets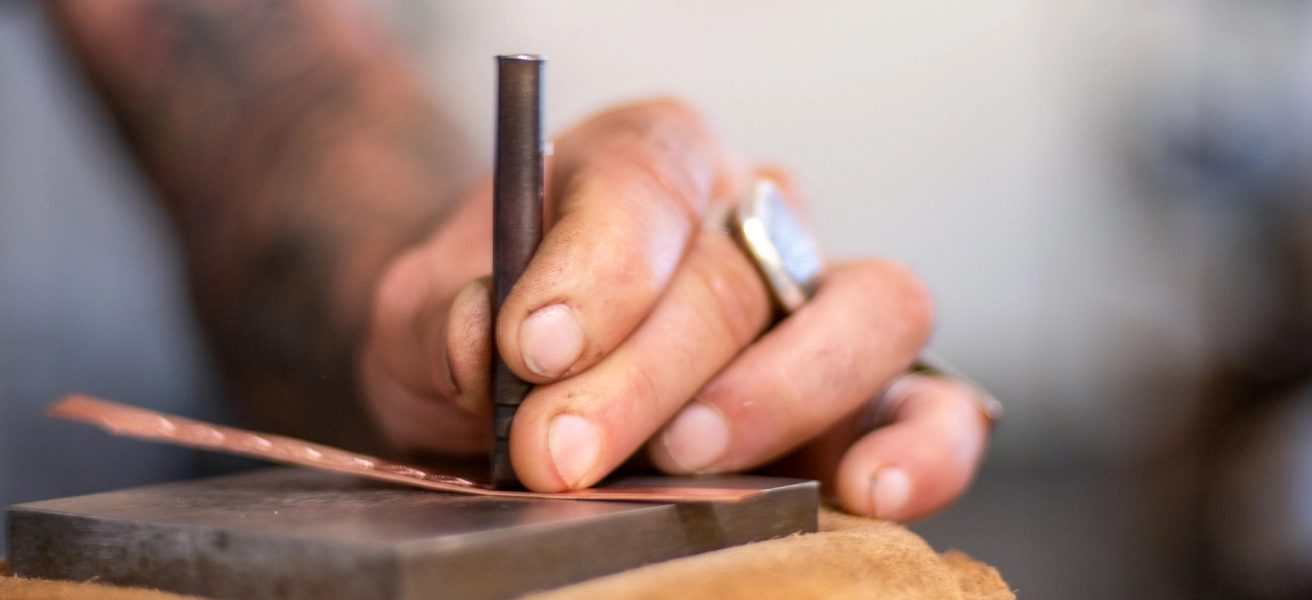 Bracelet making supplies and information for jewelry artists
Bracelets! We love them. Our line of bracelet making materials includes a wide variety of supplies. Shop components and metals online that make it possible for you to design what you imagine. In addition to metal sheet and wire for fabricating bracelets from scratch, we carry pre-made cuffs and other bracelet findings so you can get busy making bracelets right away.

Bracelet Lengths
How much material will you need? Use a beading board or a bench ruler to line up your components to estimate length. Typical chain or beaded bracelet sizes are 7-8" long. See our bracelet size chart for standard bangle sizes. Pre-made cuffs are around 6" long and are generally one-size-fits-all. Remember bracelet clasps and finishing findings count towards your total bracelet length, so be sure to include them when you plan your design.
Permanent Bracelets
Permanent jewelry is a fun experience to offer! It involves using a pulse arc welder to fuse the chain links together on a customer's wrist. Sterling silver and 14kt gold chain can be fused using the chain links. If you use gold-filled chain, use a 14kt gold jump ring as the connection point. Since permanent bracelets must weather all conditions, using quality footage chain is important. Also think about any stones or other adornments that may be part of the chain. Learn more in our blog. Shop our favorite permanent jewelry chains and findings now!
Charm Bracelets
Charm bracelets are timeless. We sell .925 sterling silver charms in a wide variety of motifs to express your creativity. Birthstone charms make it easy to add personalization to your bracelets. Or, make your own personalized jewelry charms using metal blanks and metal stamping tools. You'll find finished charm bracelet chains in our chain category. Also, charm bracelet collections are a great way to turn customers into collectors who keep coming back for charms to commemorate different occasions.
Beaded Bracelets
Making beaded bracelets is another simple place to start. To make a flexible bracelet, you'll need beads, beading wire, crimp beads and a clasp. However, if you'd like to start with a simpler project, there are also special types of bracelet findings that are thick wire cuffs with threaded balls on the ends. You remove the end, string large-hole beads onto the bracelet, then replace the end for a quick design project.
Wire Wrapping Bracelets
Our wire wrapping cuff frames make it easy to create unique beaded bracelets, too. Coil wire onto one side, add beads, and coil around the other side. Wrap the wire back and forth inside the frame, adding beads as you go. Keep in mind that larger beads will affect the fit of the bracelet.
Cuff Bracelets - Metal Forming and Jewelry Stamping
We sell metal cuff blanks in a wide variety of metals: sterling silver, gold-filled, brass and copper. Some styles have finished curved ends for extra time savings. Try a bracelet bending block tool or bracelet mandrel to shape your cuffs. Or, use texturing hammers and metal stamping tools to help you make the cuffs your own.
Soldered Bangle Bracelets
Easy wire bangles make a good introduction to the torch if you're just getting started with metalsmithing. Or, they are great for warming-up your soldering muscles at the beginning of a work session if you're further along on your jewelry making journey. Plus, customers will stack them up! Check out our pattern and fancy wire options to add some spice to your bangles.


Subscribe
to our educational articles for ideas, inspiration and more information about making necklaces.