Making Rings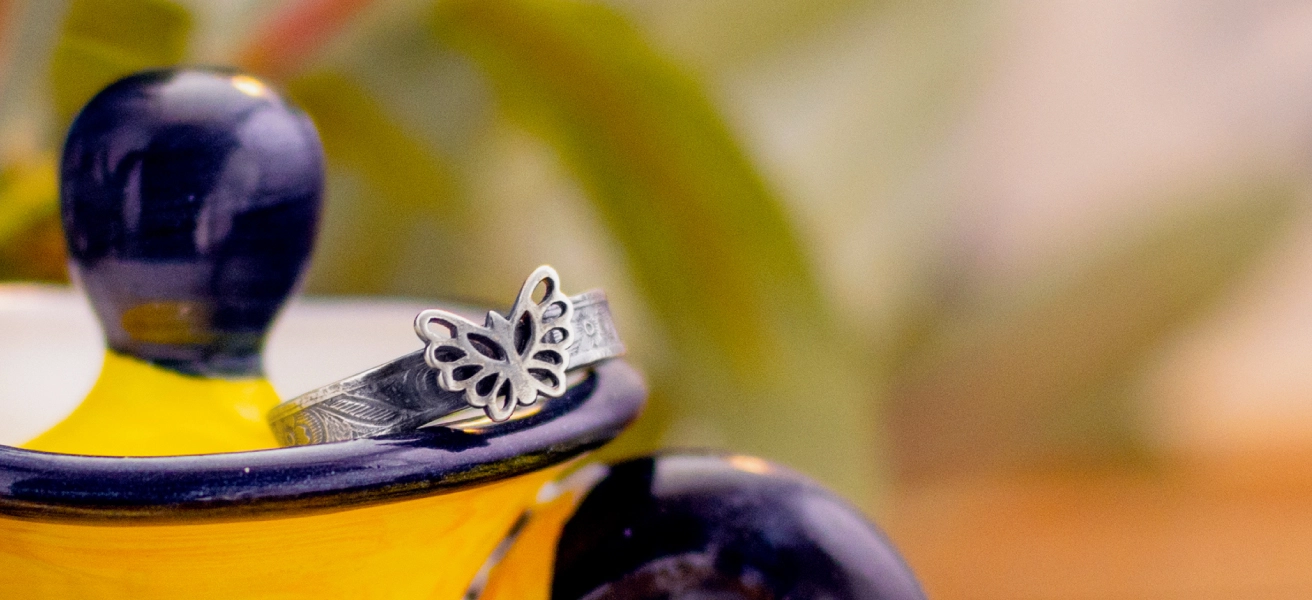 Ring making materials and techniques right at your fingertips
Learn how to make jewelry rings in no time. Making rings is a great introduction to metalsmithing and silversmithing techniques in the jewelry studio. This resource page will connect you with tutorial articles to get started along with all the materials and supplies required.
We sell everything you need to make beautiful, eye-catching rings, whether you're soldering sterling silver ring bands from raw material or using ready-made sterling silver ring findings to save time.

Making Ring Bands
Making bands has a variety of uses, from creating rings for the stacking trend to making custom bands for your stone settings. Our pattern and fancy wires give you a number of options.
To make a ring from scratch, you join shaped wire material into a loop using soldering. Then, you round out the loop to a perfect ring shape that is ready to wear. You will need to know a number of techniques to measure, cut, prepare, solder and form your metal material to become a ring.
To make a ring band, use half round, low dome or flat jewelry wire. You can choose from plain wire material or fancy pattern wires for your band design. The ring band can be worn alone or used as the foundational building block in a more complex ring design featuring ornamental motifs, gemstones or other embellishments.
If you are new to soldering, we recommend that you visit our jewelry soldering resource page after you browse this information on ring making.
Make Spinner Rings
People love spinner rings, which are made of an inner band that stays stationary and an outer band that spins loosely around it. This type of fidget jewelry is popular with customers and fun for makers to explore.
Our pattern sheet and wire make beautiful spinner rings. This is a good project to tackle once you have mastered making simple bands. Spinner ring fabrication brings in more complex soldering and forming techniques.
Adding Stone Settings To Your Rings
Prong stone settings make it easy to create sterling silver rings with calibrated stones using ring shanks and settings. You can solder prong setting heads onto jewelry making rings to create custom designs or purchase sterling silver ring blanks with empty settings attached to them for quick cabochon or faceted stone setting.
Our ring collection also includes sterling silver ring making supplies for easily setting stones in smooth bezel settings. The only tools you need for this style of stone setting are a ring mandrel and bezel roller. The bezel ring settings are suitable for calibrated stones in a variety of sizes.
Use our bezel strip wire and gallery wire for custom stone setting. To find how much wire to purchase, wrap a string tightly around your stone. Overlap the ends by 2-3mm (to account for filing) and mark it with a permanent marker. Measure the string to determine the necessary length.
Understanding Ring Sizes:
The most popular women's ring size is 7. However, sizes 6-9 typically sell well too. Smaller sizes are sometimes used as midi rings that sit in front of the knuckle. Other sizes are often offered as special order items or custom sizes.
The tricky thing about making a ring is ensuring that it will be the correct size. We've created handy ring material sizing charts to take the guess work out of the job. With some basic measuring and math, you will be ready to move on to soldering and shaping. If you've never bought ring material before, read our overview guide included in the list of recommended articles on this page.
The easiest way to measure for the size pre-made ring you need is to use a ring sizing gauge. If you don't have a gauge handy, then wrap a piece of string around your finger and place it around a ring mandrel. Don't have a ring mandrel? Measure the piece of string against a millimeter ruler. Approximate: Size 5= 49mm; Size 6=51.5mm; Size 7=54mm; Size 8=56.5mm; Size 9=59mm; Size 10=61.5mm.
Ready-to-Wear Stacking Rings
Stacking rings are typically small and simple so you can wear several at a time on the same finger. These easy upsells make great accompaniments to your custom designs. Customers love them!
Consider a variety of price points and designs to complement popular items in your line. At Halstead, we offer a good selection of stacking rings that you can sell "as is;" or, alter and embellish them as you see fit. It is fun to use cute soldering ornaments to embellish simple wire rings or bands. Then stack them on and enjoy!
Wire Wrapped Rings and Beading Rings
You may prefer an alternative technique that does not require any soldering.
Charm rings and split top rings are ideal for beading and wire wrapping enthusiasts. These styles allow you to create trendy silver rings with your favorite jewelry making techniques.
Custom Stamping or Engraving
Rings are often personalized for the wearer. Add custom stamping or engraving options for your customers as an added service. Ring bands with a flat surface instead of domed take the best stamping impressions. These findings are sometimes called ring blanks for metal stamping. It takes a little more practice to successfully stamp a curved ring on a steel mandrel, but with repetition you will quickly master this new stamping skill. Check out our separate resource page dedicated to metal stamping.
Visit our blog articles archive and subscribe now for more information about ring making.

Subscribe
to our educational articles for project ideas, plus tips and tricks for making your own rings.
---
Related Blogs
Check out these articles about ring making techniques and buying the right amount of material.