Halstead is proud to support jewelry events such as retreats and symposiums across the country. Our amazing jewelry community is doing great things! From jewelry workshops to lectures, exhibitions and more, there are so many opportunities to gather and appreciate our favorite art form. Jewelry retreats and symposiums are great places to learn from your favorite instructors and recharge your creative batteries.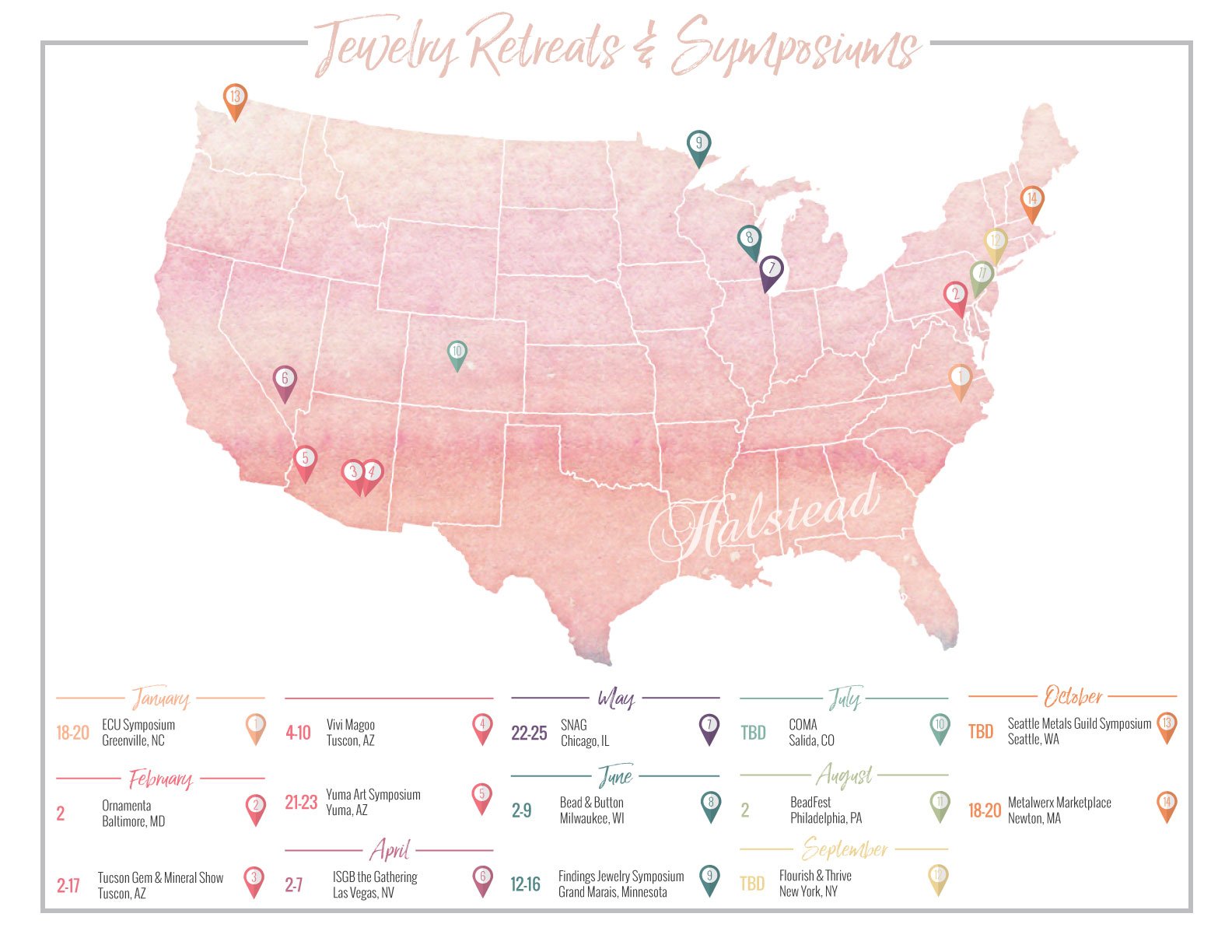 Do you have a favorite jewelry making event? We'd love to hear about it. Leave a comment and tell us which jewelry making events you love to attend. We just might see you there!
2019 Update: We are currently in the process of updating this list for 2019. Stay tuned for more details!
Bead & Button Show
Milwaukee, WI - June 2-9, 2019
Hope you are able to join us in Milwaukee to kick off your summer for great jewelry-making classes, the conference expo and shopping. Beads, metal, enamel, wire, polymer, gems, stones, fiber and more!
Classes are offered in a huge variety of techniques, skill levels and price points. The Expo has all the supplies and materials you need to make your own jewelry, plus so much unique finished jewelry directly from the artists.
Click here to register!
Bead Fest
Philadelphia, PA - August 14-18, 2019
Jewelry artists of all skill levels and techniques can indulge in their creative passion at Bead Fest jewelry conferences. Featuring 200+ workshops and an Expo Marketplace perfect for creating and discovering jewelry art inspiration.
Click here for more information.
Tucson Gem & Mineral Show
Tucson, AZ - February 2-17
The largest, oldest and most prestigious gem and mineral show in the world.
The Tucson Gem and Mineral Show(r) has enjoyed international stature since the 1970s, and was the first gem and mineral show to bring the hobby enthusiast, the public, and the curator/professionals together for discovery and discussion.
Find more info here.
Vivi Magoo
Vivi Magoo offers popular creative jewelry retreats at several destinations around the country. See why participants come year after year to experience famous Vivi Magoo hospitality along with world class instruction from well-known metalsmithing experts.
Art Retreat in the Desert
Tucson, AZ- February 4-10, 2019
Come join us in Tucson, Arizona for Art Retreat in the Desert! Held in February during the Tucson Bead and Gem Show, the retreat offers more than 80 classes over a seven-day period that range from metalsmithing to art jewelry classes. And in true Vivi Magoo style, we bring in the best artist-instructors that provide excellent teaching in combination with a welcoming, inspirational setting.
Vivi Magoo LTD Jewelry Retreat
Spring 2019, Dates TBA
Art Retreat on the Prairie
2019 Dates TBA
Baltimore Ornamenta
Baltimore, MD - February 2, 2019
The Baltimore Jewelry Center is dependent on fundraising and donations to operate our educational and studio rental program. These funds allow us to offer our classes and workshops at a below-market rate while paying our instructors competitive wages. Furthermore, this revenue allows us to offer free workshops in our neighborhood in Station North, operate our residency program, offer scholarships, and host prestigious exhibitions that present the work of local, national and international artists.
Every winter, the Baltimore Jewelry Center hosts Ornamenta, a fundraiser that provides us the opportunity to raise much needed funds while exposing a larger community to the work we do. At our 2018 fundraiser, we raised just over $27,000, our most successful event yet!
Find out more about this fundraiser here.
SNAG
Chicago, IL - May 22-25, 2019
SNAG is celebrating 50 years as an organization. To talk about where we are going, we must talk about where we have have been. SNAG's 48th Annual Conference, The Loop: Coming Full Circle will celebrate SNAG's first 50 years by focusing on the history of our field and SNAG's vital place within that history, as both are inextricably intertwined through the collective pivotal moments that have brought the makers, educators, artists, and students in this field together and to where we are today. Along with presentations that look backward to explore significant moments and concepts in our history, both personal and collective, we will emphasize space for critical discourse, concepts/ideas, and technical presentations that speak to current questions and issues that exist in the field today.
The 2019 Jewelry Conference will launch SNAG into a year-long 50th Anniversary celebration culminating with the 2020 conference, which will celebrate the 50th anniversary of the spark lit at our first conference. By gathering to explore where we have been, celebrate what we've accomplished, and look at where we are going, we can build a strong foundation for SNAG's next 50 years -- and beyond!
Find more details and registration here.
ISGB The Gathering
Las Vegas, NV - April 2-7, 2019
ISGB will hold our annual conference, The Gathering, April 2-April 7, with pre-conference workshops beginning on Tuesday, April 2. Glass Craft & Bead Expo workshops will begin April 3, and their annual tradeshow will be open April 5-April 7. ISGB will add to the tradeshow on Saturday, April 6 by bringing our one day Glass, Beads & Jewelry Bazaar to the show floor.
Find more information and registration here.
Yuma Art Symposium
Yuma, AZ - February 21-23, 2019
The Yuma Symposium is a series of demonstrations, lectures and slide presentations given by both internationally recognized and emerging artists who have demonstrated unusual talent. Activities include an exhibit of work by presenters and a student show, the National Saw, File, & Solder Sprints, the annual pin auction, shopping and eating in Algodones, Mexico, and a fiesta and dance on Saturday night.
Find out more here
The Bench: Southwest Makers Symposium
Santa Fe, NM - July 26 - 28, 2019
Marissa Saneholtz and Sara Brown, co-founders of the Smitten Forum residency project, collaborate with form & concept gallery on this dynamic symposium and group exhibition in Santa Fe, New Mexico. Unfolding on the final weekend of July 2019, the event series will unite over 70 makers who have participated in Smitten Forum, along with an international creative community that surrounds them.
The Bench: Southwest Makers Symposium features lectures, demonstrations, and workshops by prominent names in the field of jewelry and metalsmithing. Six Years Smitten, a cumulative exhibition at form & concept that opens in conjunction with The Bench, spotlights new work by past participants of Smitten Forum. In celebration of this momentous weekend, Sandy Parr has designed an enamel pin that is available with registration (click here to register with added pin purchase) or as a separate purchase (click here to purchase a pin without registering).
See the schedule and more information here.
NYC Jewelry Week
Various Locations in and around New York, New York - November 18 - 24, 2019
New York City Jewelry Week is the first and only local week dedicated to promoting and celebrating the world of jewelry through educational and innovative focused programming.
Keep up to date with the 2019 events here.
ECU Symposium
Greenville, NC - January 18-20, 2019
The Material Topics Symposium has been a production of Metal Design MFA students within the School of Art and Design within East Carolina University since 2009.
Find more information and registration here.
Findings Jewelry Symposium
Grand Marais Art Colony, Grand Marais, MN - June 11-16, 2019
Details TBA
Findings is a biennial event hosted in partnership with the Minnesota Jewelry Arts Guild that incorporates learning and networking opportunities for attendees through an array of classes, demonstrations, artist talks, and panel discussions, as well as a group trunk show.
Visit their website here.
Portland Jewelry Symposium
Portland, OR - October 2019
CRAFT MEETS TECHNOLOGY: KEEPING IT REAL IN A DIGITAL WORLD
Methods for jewelry manufacturing are changing rapidly. New technologies and artistic trends coupled with an increased competitive environment require that businesses stay current to remain at the top of their field. The Portland Jewelry Symposium is a one-of-a-kind event that brings together custom jewelers, designers, and retailers to do just that. We like to think of it as the "Great Think Tank" for jewelers that are passionate about their craft. Come join us for a day full of knowledge, inspiration and networking with like-minded peers from across the nation!
2019 Metals Symposium: Alchemist Picnic
Touchstone Center for Crafts, Farmington, PA - October 4 - 6, 2019
Join us for the 6th Annual Alchemist Picnic at Touchstone, hosted once again by Wayne Werner. Demonstrations by Tom Muir, Brian Ferrell, and others to be announced. Enjoy Lectures, Demonstrations, Round-Table Discussions, a Pop-Up Exhibition, and more. This popular jewelry retreat is nestled in the beautiful wooded facility at Touchstone Center for Crafts. Recharge and be inspired by your metalsmithing community.
Check back to keep up to date here.
COMA Jewelry Conference
2019 details TBA
Keep up to date on their website.
Seattle Metals Guild Symposium
2019 Details TBA
Flourish & Thrive Live
September 2019
2019 Details TBA
Metalwerx Marketplace
Newton, MA - October 18-20, 2019
2019 Details TBA
Sawtooth MCAS
- Biannual event - Look for info in 2020!