Halstead is proud to support jewelry events such as retreats and symposiums across the country. Our amazing jewelry community is doing great things! From jewelry workshops to lectures, exhibitions and more, there are so many opportunities to gather and appreciate our favorite art form. Jewelry retreats and symposiums are great places to learn from your favorite instructors and recharge your creative batteries.
Due to Covid, events may be cancelled, modified or delayed. Check the event's website for the latest information.
2021 Update: We are currently in the process of editing for 2021 events! Keep checking back for new dates and information.
January 18 - 22, 2021 - Digital
This entirely virtual event will bring jewelry business experts in a variety of fields to help you build your business, no matter what stage your business is in.
2021 TBD
Greenville, NC
The Material Topics Symposium has been a production of Metal Design MFA students within the School of Art and Design within East Carolina University since 2009.
February 11 - 28, 2021 - Digital
Baltimore Jewelry Center
Every winter, the Baltimore Jewelry Center hosts Ornamenta, a fundraiser that provides us the opportunity to raise much needed funds while exposing a larger community to the work we do. At our 2019 fundraiser, we raised just over $48,000, our most successful event yet!
Some of the Tucson Gem Show events have been delayed until 2022. Others have been rescheduled for April 2021: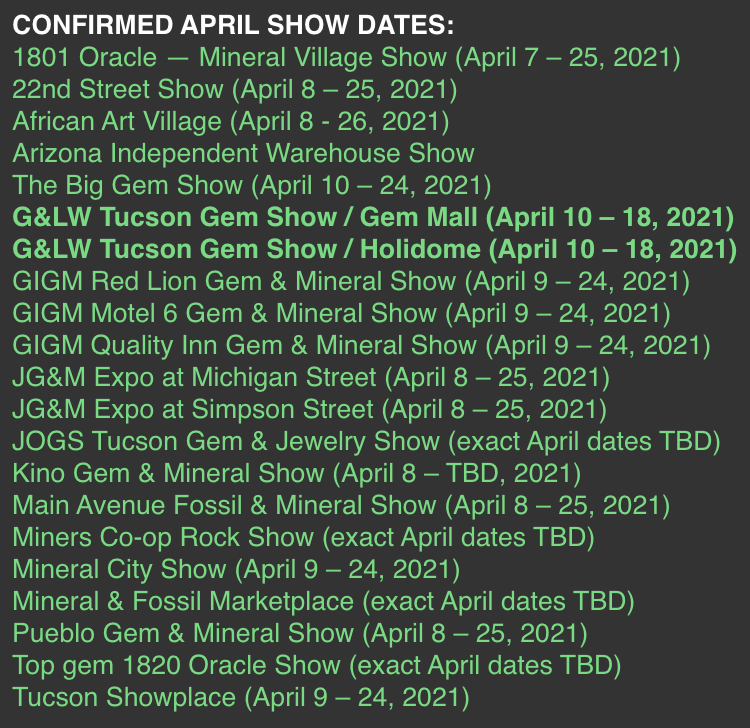 2021 TBD
Tucson AZ
Check out their newest offering - The Academy Is entirely online, offering classes and free content.
Held in February during the Tucson Bead and Gem Shows, the retreat offers more than 80 classes held over six days that range from metalsmithing to art jewelry classes. And in true Vivi Magoo style, we bring in the best artist-instructors that provide excellent teaching in combination with a welcoming, inspirational setting.
Delayed to 2022. February 24 - 26, 2022
Yuma, AZ
The Yuma Symposium is a series of demonstrations, lectures and slide presentations given by both internationally recognized and emerging artists who have demonstrated unusual talent. Activities include an exhibit of work by presenters and a student show, the National Saw, File, & Solder Sprints, the annual pin auction, shopping and eating in Algodones, Mexico, and a fiesta and dance on Saturday night.
2021 TBD
This event takes place every other year. Look for information in 2021!
July 16 - 18, 2021 Tentative
The CoMA Annual Conference has been going strong since the organization was founded. We work hard to bring together world class presenters in an intimate atmosphere that is conducive to learning and connecting with other metalsmiths.
August 11- 14, 2021
Greater Philadelphia Expo Center, Oaks PA
Jewelry artists of all skill levels and techniques can indulge in their creative passion at Bead Fest. Featuring 125+ workshops and an Expo Marketplace perfect for creating and discovering jewelry art inspiration.
August 26 - 29, 2021
MCAS features 13 nationally-known artists presenting more than 20 workshops, a panel discussion and breakout sessions, a month-long metal clay exhibit, and more. The 2018 MCAS drew more than 130 attendees.
September TBD
September 2021 TBD
October TBD
Check out some of their virtual events.
2021 TBD
2021 TBD
November 16 - 22, 2020
New York City Jewelry Week is the first and only local week dedicated to promoting and celebrating the world of jewelry through educational and innovative focused programming.