Tell your story! Your jewelry tells a story about you and becomes a part of your client's story. Providing clear and thorough documentation of the piece and the process can add value to your jewelry art. Learn all about provenance and how to add value with your jewelry's story.
Can you recall the story behind each piece of jewelry you've ever made?
When we talk about "story", we really mean every detail about how your piece came to be. For example, what was your inspiration behind its creation? How did you come to choose those exact metals and stones and where did they originate? Where did the jewelry first show and who bought it?
You see how this story could go on and on for each and every piece. So, how do you keep track of it all--and why should you take the time to do it?
Knowing the inspiration and process behind a piece you've created not only lights up a potential buyer's eyes, it also adds value to your artwork over time.
The problem is, between creating, selling, and a massive to-do list, even valuable details like this can get lost in the shuffle of your jewelry business.
That's where provenance comes in.
The word "provenance" is derived from the French word provenir, meaning "to come from". An ideal provenance documents the ownership history and details of a piece all the way back to the jeweler's studio. And, recording a piece's story is just the start.
2013 Halstead Grant winner Rebecca Rose of Sculpturings in Florida is a provenance documentation master. We have shown examples of her work, documentation and presentation throughout this article. She documents sketches, artist statements, materials and the certificates of authenticity for each limited edition run of castings that she creates. But, there are many ways to document. The details are entirely up to the individual artist.
Read on to see why provenance adds value to your jewelry brand--and learn how to get started with this documentation.
Provenance can prove the authenticity of a piece and greatly increase its value.
Some people might think, "I don't need to catalog my work, I'm only running a small jewelry business." But, no one starts off in the big leagues. How will you achieve success if you never plan for it?
Even if you never expect to make it, you need to think ahead for when you do.
| | |
| --- | --- |
| A Sculpturing design as sent to a collector | The bottom of a Sculpturing display |
The sooner you get started and the sooner you have a system in place, the better. Even if you think you're just making jewelry for fun, you're still going to want to have a record of your pieces, especially since this documentation can prove the authenticity of your pieces and increase their value down the road when you've found success.
Just as forgeries can sell for thousands, the value of authentic pieces can be undermined by careless documentation--and therefore undermine your jewelry brand.
Provenance also helps demonstrate your experience and expertise.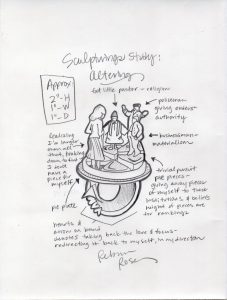 The first step of building provenance is documenting every single piece of jewelry you create. And provenance aside, imagine all the benefits of having your work documented!
You'll have a history of everything you've created, plus if you use an inventory management system like Artwork Archive, you'll be able to manage your entire inventory, get insights into what's selling the best, know exactly where your jewelry is being sold, to whom you've sold it, and for what prices.
Plus, all of this information is stored on the cloud so you never have to worry about losing it when a hard drive gets damaged or goes missing.
Having this information is not only crucial for successfully running a jewelry business, but you can quantify your expertise with it, in terms of pieces created and sold, the places you've shown at, or the awards you've won.
Rebecca recommends studying the provenance of famous works of art as the best way to learn. The work doesn't stop once the piece is done, but with the presentation and provenance.
This will make people want to work with and buy from you.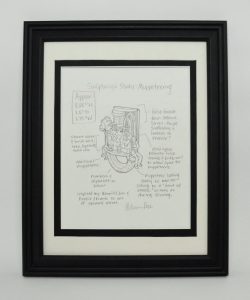 People want to buy from businesses they can rely on. And, that trust can be built--and continually gained--through proven, documented success. As Rebecca says,
It may sound like busy work, but from a collector's point of view, works with provenance stand out above the others. Documentation signals work as a serious piece of art to invest in, one that will stand the test of time.
The more organized you are and the more information you are able to present to interested clients, the more people will want to work with you and buy your work.
Rebecca includes how a piece was made, the materials, where it exhibited, and the selling information; but also, basic facts such as dimensions, date of creation, her signature, and a title. She goes a step further by logging the time each step of the creation took, the photography credits, and signing/dating/fingerprinting the document. She has found that "collectors appreciate a sure thing!"
You have to make it as easy as possible for clients to say "yes," and having this hard-copy history of your work will help.
Long story short...
Provenance matters when it comes to building your jewelry brand. Whether you need to establish your expertise, prove the authenticity of your pieces, or pull up a record of details to help make a sale, keeping your life's work documented can be invaluable for success. Rebecca says,
Provenance tells the life of your piece, and good provenance will continue to tell its story long after the artist is gone. Imagine what you want the body of work to say about you.
Today, we are lucky to have so many tools readily available to help with the business of running a jewelry studio and building a valuable brand. You can now find apps and software programs to make documentation faster and easier than ever.
Check out Artwork Archive's free 30-day trial to start documenting your jewelry collection now.
A Provenance Success
The exact approach you take to documentation will depend on your price points and audience. If you are targeting collectors or the high end of fine jewelry, provenance should definitely be part of your business plan. It can also add value if you focus on other areas of the jewelry market.
Rebecca Rose carefully records the buyer for each piece of her collectible art jewelry pieces. She provides certificates of authenticity and a display case with purchase. Certificates of authenticity include the name of each piece, its back story, the date of creation and the number of casting items in the limited edition run. Over time, she records the resale or transfer of any items that she can track to maintain a history for each piece. Her attention to storytelling adds to the perceived value of her work and encourages a collector's mindset among her clients. How could this type of approach benefit your jewelry business?

Special thanks to Emily Zupsic of Artwork Archive for contributing to this article. Artwork Archive is a team of artists, entrepreneurs, developers, writers, designers and explorers based out of Denver, CO. The team has worked with thousands of artists, collectors and organizations from 50 countries to build a cloud-based art inventory system. Artists can manage, market, and grow their business while collectors are able to organize, catalog, and protect their collections.
The Artwork Archive tools include inventory reports, provenance tracking, location records, show history, sales tracking, consignment reports, invoicing, business insights, and contact management. They offer plans for early-stage artists and collectors as well as large organizations.
Check out these 5 Tips to Add Perceived Value to your Jewelry.