Sheet metal is one of the most common raw materials in the jewelry studio. At Halstead, we offer sheet in many different gauge thicknesses in sterling silver, .999 fine silver, brass, and copper. We receive a lot of inquiries about how to buy jewelry metal sheet, so I decided to sit down with Brooke, a Customer Service Representative, to learn the answers to our most popular questions. Watch the video and read our tips below.


How to Order Metal Sheet for Jewelry Making
Q: How do you order sheet on your website?
A: When we receive the sheet from the mill, it comes in 12x6 inch sheets. We cut the sheet down by the longest width, meaning you will receive a sheet that is 6 inches wide by the number of inches that you order (up to 12 inches). If you order a 3-inch wide piece you will receive a 3x6 inch piece.
Now to place your order, you'll need to choose the number of inches that you want to order and convert them into troy ounces. To get this information visit the item detail page of the sheet and there you will find a handy chart that will show you the conversion from inches to ozt so that you can easily enter that number into your shopping cart. An example is shown in the #3 section of the infographic below. Be sure to enter the ozt and not the inches in the Qty field when placing your order.
Note: Every sheet item on our website has its own conversion chart, so visit each item detail page when converting from inch to ozt.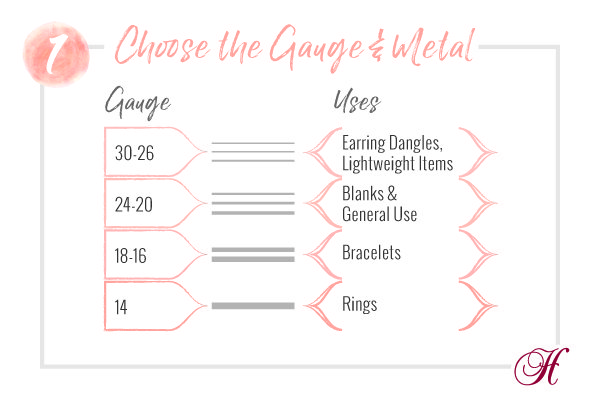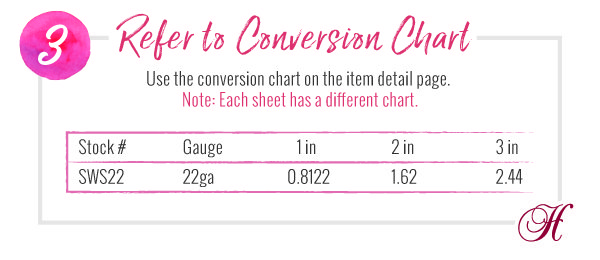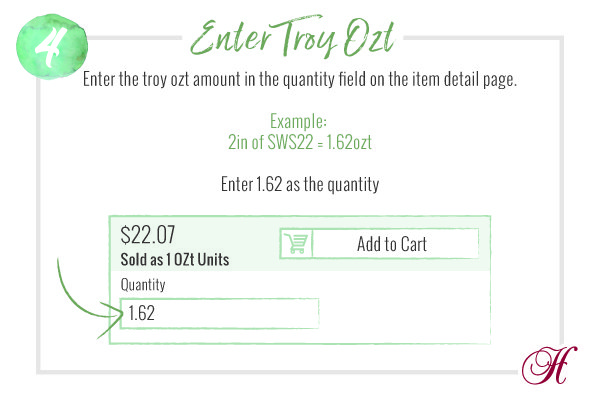 Additional Cuts
Q: Can you cut more than one piece of a single sheet for me? i.e. 3x6 inch piece into 3 = 1x6 inch pieces?
A: Yes, we can! You will still need to enter in the weight for the 3x6 inch metal sheet in the Qty field, but in the comments section of your order add a note letting us know you need the 3-inch piece cut down into 1-inch segments. We don't have a problem with that at all. Please be aware that there are fees for extra cuts though. The first initial cut is free! The second cut is $0.50 and each cut after that is $0.75. We love comments and notes from customers so please feel free to enter a note for us on your order.
Q: Can I order half-inch sizes?
A: Unfortunately, no. We sell our sheet in whole inch sizes. There are some instances where we may have pieces left that are 1/2 inch or 3/4 inch x 6 inches, but we still need the qty on your order to reflect what shows on the chart.
Return Policies
Q: Can I return it if I don't like it or can't use it?
A: Yes, so long as you didn't cut or use any of what was originally shipped to you. You have 30 days starting from the day you receive your order to return it back to us. If you have time, give us a call and let us know. We would be happy to help you directly and this way we can make notes in your account so that we can be on the lookout for that return. Please refer to our Order Terms & Return Policy, for additional information.
Miscellaneous
Q: What is the temper of our sheet?
A: All of our metal sheets are dead soft.
Q: Occasionally there is a black marker on the sheet that I receive, how do I remove it?
A: We use a permanent marker on some of our pieces of metal sheet to help recognize which sheet it is, i.e. item#'s or gauges. We do try to remove the marker before shipping, however, it is not always guaranteed to be removed. In this case, it's super easy to get rid of. You can use rubbing alcohol or nail polish remover to remove it. Or, it will come off during sanding or polishing.
Q: Why do you sell your sheet by the ozt? What is an ozt?
A: OZT is a Troy Ounce; a unit of measure for weight and mass that equals 31.10 grams. It has been the industry standard for mill product (raw wire, grain & sheet) sales for decades. It's the most transparent way to price and adjust with the daily Gold and Silver market.
We carry sheet metal in brass, copper, sterling silver and .999 fine silver. Find the perfect metal sheet for your next metalsmithing project!
---
Halstead is one of North America's leading distributors of quality jewelry supplies. The firm is celebrating its 46th anniversary this year. Halstead specializes in wholesale findings, chain, and metals for jewelry artists.
Got questions? Email our studio coordinator Erica Stice at studio@halsteadbead.com. We'd love to hear from you. Sorry, studio support is not available by phone. Emails only, please.
More informational articles:
Handmade Jewelry: Types And Techniques