We understand you only want to give your customers the best. That's why we take great care in our jewelry quality assurance so all items we sell are up to standards. In addition to only buying from reputable vendors, we send items for quality control lab testing. Read more about our quality control procedures.
Lab testing and quality control are extremely important to all of us at Halstead. We want you to buy sterling silver, 14 karat gold and gold-filled supplies with confidence that you won't receive anything less than the federally allowed tolerances for precious metals. That's why we implemented a jewelry quality control program years ago.
The most common fear we hear from customers is buying findings as a precious metal and then finding out they were fraudulent; for example, a "sterling silver" chain that ends up being base metal with silver plating. Many of our clients have experienced such an encounter in the past when they bought items from an unknown supplier at an event or ordered from a sketchy marketplace seller online. One negative experience can put you on guard for the rest of your career.
Halstead's Jewelry Supply Quality Assurance
Seth Foreman, Halstead's Purchasing Specialist, oversees our jewelry precious metals quality assurance program. Each quarter, he selects a random sample of items to send for lab testing. We cycle through our vendors so all suppliers and product categories undergo testing at regular intervals. Stock from new suppliers is extensively tested before it goes on the shelf for sale. Hilary Halstead Scott says,
"We take our responsibility seriously to be transparent and accountable when it comes to product quality."
Many of our manufacturers perform their own lab tests for quality control, so this is often a second verification. Hilary says, "We source carefully from reputable suppliers. But, as the old saying goes - trust but verify." We approach all our sourcing relationships as long-term partnerships. Quality control is just one area that we work on in cooperation with our manufacturers.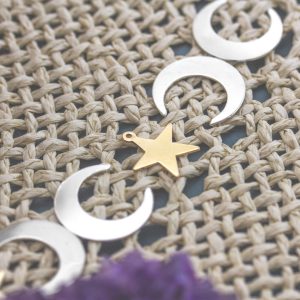 There are a small number of mills that process precious metal alloys or gold-filled into the wire, sheet, and grain raw materials for manufacturers to purchase. This makes quality control much simpler than if we were dealing with dozens of options and many more variables.
The Federal Trade Commission (FTC) oversees truth in advertising compliance and establishes the guidelines for precious metal sales in the United States. Over the years, we have only found a few cases of tolerance shortfalls. If something comes back below the FTC requirements, we pull the rest of the stock from shelves and send additional samples for testing. We then inform the vendor and ask them to independently investigate the problem on their end. We follow up with more frequent lab testing in the future to ensure it's not a recurring problem.
Problems That Can Arise
Gold-filled metal is created by fusing gold with a base metal, typically brass, which means the outer layer can be polished too much and remove some of the gold. This is why we recommend you take care when polishing gold-filled material in your studio. A couple of times we've had vendors change their polishing media or process and it has had a negative impact on the material. This kind of problem is easily solved as soon as it's identified. We have learned to monitor and watch for this type of issue.
Sterling silver issues have occurred on items with extensive granulation, and therefore a lot of solder brings down the pure silver ratio on the finished items. Other testing problems have been traced back to testing samples that still included internal steel springs, for example.
Jewelry Lab Testing Types
Two main tests determine the quality of precious metal. Both of these lab testing processes are considered highly accurate. Fire assay, widely recognized as the standard for gold analysis, melts the precious metal and concentrates it in a lead button. Once the metal is cool, it is separated from the lead and weighed. The second most common lab testing process is gravimetric, or wet chemistry. There are various material-specific techniques in gravimetric testing, but they are all chemical-based reductions and precipitations of the precious metals in a solution in order to weigh the mass changes.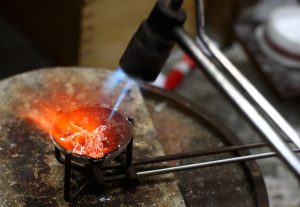 Halstead uses Advanced Chemical lab testing for our quality control. Before each test, they will X-ray the sample to get an idea of what they're testing. This is a preliminary step and x-ray is never relied on for a definitive result. Along with each material test, they also run a proof alongside it. These proofs are 99.9999% pure metal to act as a control so they know exactly what is happening with the sample.
Preparing Jewelry Samples for Lab Testing
If you are sending in samples for testing, it is important to remember to remove any non-precious metal parts such as stones, hinges, springs, or bezels made of steel or other metals. These can affect the results. Even after years of experience, we have still made this mistake from time to time. Items such as clasps, lever backs, and hoops contain tiny steel components for mechanism durability over time.
At Halstead, we use both fire assay and gravimetric lab testing processes. If a result is suspicious for any reason, we will have a retest performed for verification. If you are submitting your own lab tests, make sure you send enough material just in case.
Are all Tests Equal?
X-ray fluorescence is frequently used for testing outside metallurgical labs because the equipment is easy to purchase and operate. By bathing the sample in x-rays, the equipment will measure the unique energy level given off in the light fluorescence by the sample. This is non-destructive and quick, with results available in just minutes. However, Advanced Chemical does not recommend using the x-ray test for final results as they are not always as accurate as fire assay or gravimetric.
What do the Results Mean?
By nature, precious metals should have the following purity.

Sterling silver: .925 (92.5% silver)
12/20 Gold-Filled: .025 (2.5% gold)
14/20 Gold-Filled: .0292 (2.92% gold)
14kt solid gold: .583 (58.3% gold)

Any manufactured material is subject to minor variance between batches. The FTC established the following precious metal tolerances based on the National Stamping Act.

Sterling silver: .921 on unsoldered items, .915 on soldered items
12/20 Gold-Filled: .022 on unsoldered items, .018 on soldered items
14/20 Gold-Filled: .0262 on unsoldered items, .0192 on soldered items
14kt solid gold: .58 on unsoldered items, .5763 on soldered items
If a sample returns with .901 silver results, it is no longer "Sterling Silver." A sample with .015 gold is not "gold-filled."
If you would like to start lab testing your own precious metal, here is a list of labs to start your research:
---
About Halstead
We want you to buy, create, and sell responsibly! To learn more about precious metals used in jewelry, read about the Types Of Silver – Learn The Grades Of Silver Alloys & Purity In Jewelry and 9 Types Of Gold Metal Used In Jewelry most commonly seen in jewelry making.
Halstead is one of North America's leading distributors of quality jewelry supplies. The firm is celebrating its 46th anniversary this year. Halstead specializes in wholesale findings, chain, and metals for jewelry artists.
References:
https://www.labtesting.com/services/nondestructive-testing/x-ray-inspection/
https://www.911metallurgist.com/blog/gold-fire-assay-process
https://en.wikipedia.org/wiki/Metallurgical_assay
https://en.wikipedia.org/wiki/Gravimetric_analysis
https://www.mgsrefining.com/gold-refining-process/testing-methods/melting/x-ray-assay/