Learn tips for making riveted wire bangles with guest contributor Casey Sheppard.
Casey Sheppard of Case of the Nomads shared these bangle making ideas with us during her experience making jewelry out of her van during a years-long epic nomadic adventure. One of Casey's projects was this set of bangles in copper. We asked her to remake them in sterling silver and give us some tips.
---
---
Tip 1: Different Materials
What's cool about this bangle design is that you can use a variety of metals! My favorites are copper and sterling silver. It's always easier (and more cost-efficient) to practice in a less expensive metal, such as copper.
Copper is fun, easy to work and ages beautifully. When you want a bold, "Here I am" look, then it's time for some sterling silver, which grabs people's attention.
When transitioning from copper to sterling, you may want to anneal thewrapping wire (16-gauge wire) or purchase dead soft. And, try combining the metals: sterling wire bangle with copper wrapped or vise versa.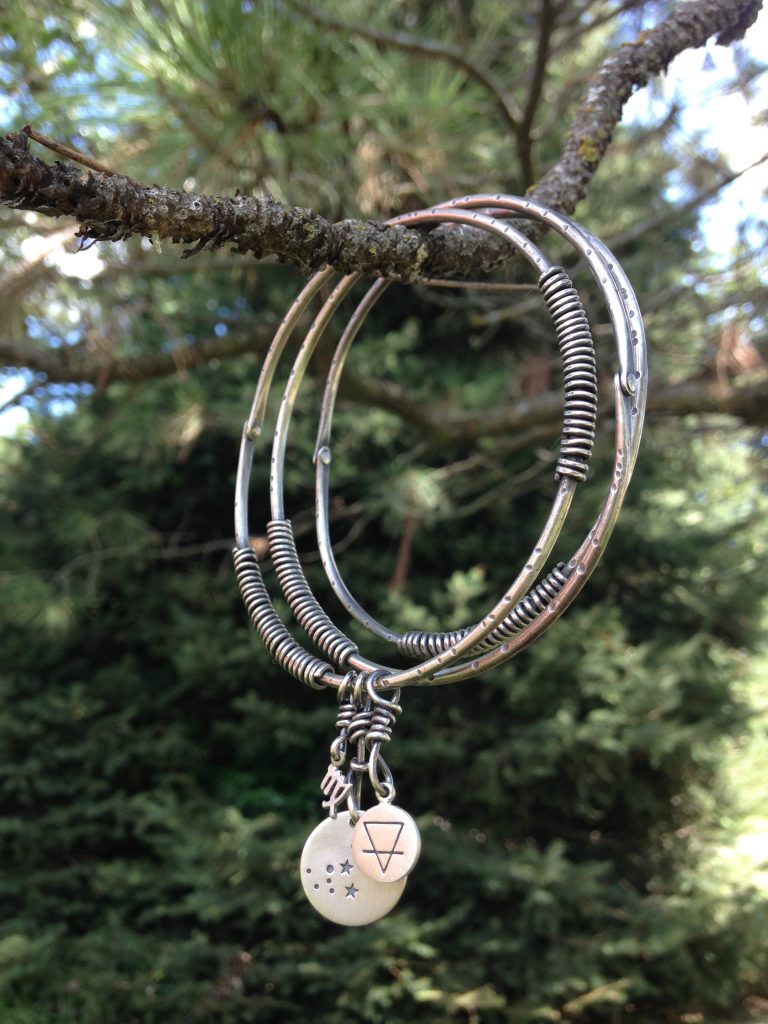 Tip 2: Rivets
I can't stress enough how important it is to TAKE YOUR TIME with rivets. Go slow and be patient. I have done nearly everything you can do to a rivet and, almost EVERY time I messed one up, guess what? I was rushing it.
If you are taking your time and still seem to have problems, look at your rivet wire length. If the wire is bending, it may be too long. When the wire doesn't flare or mushroom, then the wire may be too short. Again, go slow and HAVE FUN!!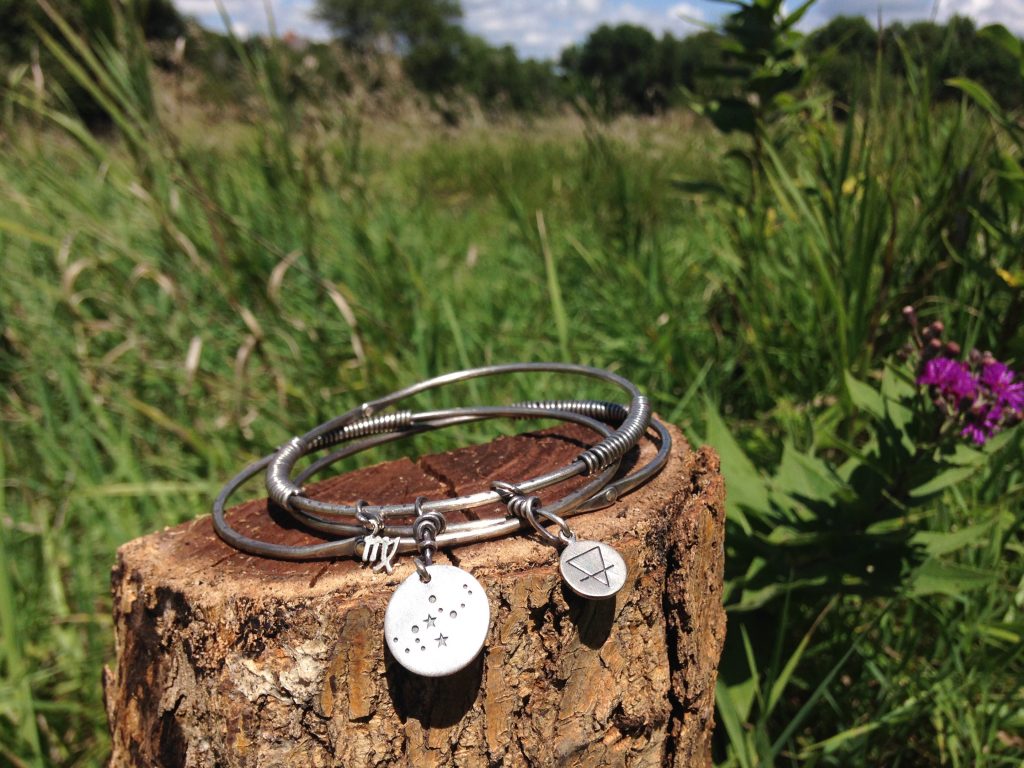 Tip 3: How Charming
An easy way to add a personal touch to the bangle set is with charms. When adding this bit of detail, think about what you want to say. Are you telling a story? Are you trying to embrace qualities of a person? An event? A moment in time? Someone's birth? I wanted to capture my life on the road.
The first charm is a triangle on one side and a mountain scene on the other. I not only love mountains (and mountain biking) but a good friend I met on the road has a thing for triangles. This charm represents love of nature and friendship.
Next, the stars charm. Okay, who doesn't love the night filled sky!? I spend a lot of time in the desert and at night, oh man, what a star-studded show!!!! This charm represents that feeling of freedom and it also marks a special time in our skies with the solar eclipse.
Finally, I couldn't forget to add my zodiac sign. So fitting, my earth sign (Virgo) told through the stars. BAM! There ya have it.
Halstead has a fantastic variety of charms to bring your bangles to life. Shop online atHalsteadBead.comor in the catalog but remember to make it your own and tell YOUR story.
---
Are you interested in soldering your own bangles?
Check out this video on sterling silver bangle soldering. This video show a simple kitchen table soldering station using a butane torch and other necessary tools when soldering. See step-by-step how to solder a bangle, beginning with measuring your wrist and finishing your piece using a mandrel and a texturing hammer.
Got questions? Email our studio coordinator Erica Stice at studio@halsteadbead.com. We'd love to hear from you. Sorry, studio support is not available by phone. Emails only, please.
---
You may also enjoy these Halstead articles:
Video - Metalsmithing Fold Forming with Casey Sheppard
Jewelry Business Marketing Tips with Casey Sheppard