In the handmade jewelry business, it can be difficult to avoid taking complaints personally because, as Emily Johnson of EC Design Studio says, "We put so much of ourselves into our business." As a designer and a maker, one must take a step back and not view a complaint as a personal attack; but as a business owner and a problem solver. This approach will help your business and give you more peace of mind.
Sales Terms are Important
Writing out your terms and conditions (terms of sale, or any other name you give them) won't be your favorite part of setting up your business, but it may be one of the most important. This little paragraph (or any length you need for your business) should clearly explain to customers what they can expect from you. Emily Johnson says, "it's all about managing customer expectations." Once you've laid out expectations - whether it's returns, shipping, sales, custom work - you've lessened the likelihood of a complaint based on a misunderstanding.
This can also help to protect your business in a worst-case scenario that involves litigation. "If there is nothing in writing, there is no proof," says Joanna Tall, a commercial lawyer (quoted from The Guardian). Laws may require that you add certain terms, while some are born from protecting the business. Your terms must also evolve. Make sure to pay attention to any laws that may affect your business and learn from your experiences.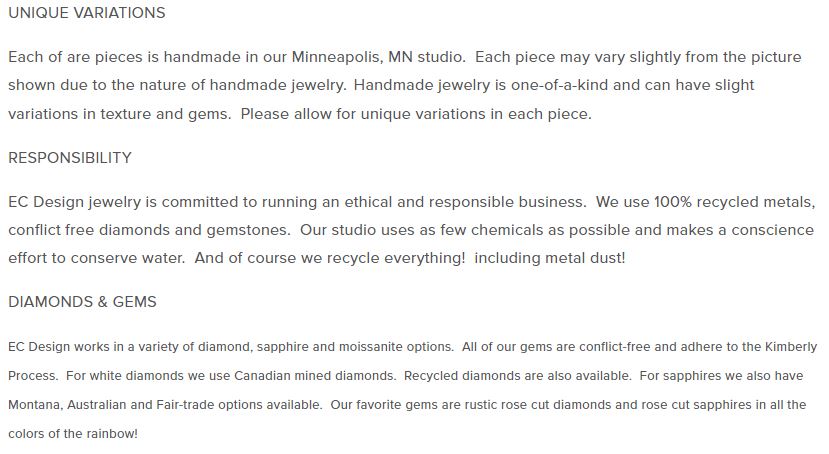 In the jewelry industry, custom orders can be a critical topic in your written terms. If you want to be known for your custom designs, be sure to protect yourself first. Emily is "very upfront and clear about what [she] can do, what it will look like and what [her] policies are." These policies are clearly stated both on her website and on printed sales receipts. If you operate a storefront, it may be wise to have policies visible for both retail customers and wholesale accounts.
Kelli Vanyek-Greene, the Halstead Marketing Project Manager who comes from an independent jewelry studio background, also suggests providing information on the metals you use. This includes things "from how to clean the jewelry, to how it is made and information about the metal," she says. Not only will you arm your customers with the knowledge needed to care for your jewelry, but you'll protect yourself and your business from problems arising from not properly caring for jewelry.
Similarly, if you do not specify returns and repair policies you may have customers expecting resolutions for egregious misuse of the products many years after purchase. Be sure to specify if there is a time restriction for certain repairs. Will you only fix certain issues for free within 30 days and charge after that? The details are up to you.
How to Respond to Customer Complaints
1. Listen
Overwhelmingly, the jewelers I talked to said that listening to a customer's complaint is important. This does not mean hearing what they're saying, but truly listening to what they say, their tone and determining the problem. Sometimes, as Kelli says, a customer simply needs to vent and be understood. This may be the first time they've complained to you, but they may have had bad experiences with other businesses. So, no matter how upset they are - and whether you think they're justified or not, remember what these jewelers say:
My #1 tip comes from years of working in the retail industry and it is just excellent customer service and being kind regardless of how you really feel. -Nikki Nation
This is the point in a complaint where a customer can turn irate if it's not handled properly. Make sure to let them air their grievances; however, if the complaint is online, it may be best to move the conversation to the phone or email. As Kelli points out, online complaints can take a lot of back and forth and therefore a lot of time. Plus, discussions in a public forum are inviting input and review from everyone in your audience. Email is becoming a preferred method of communication for service. But as Emily points out, "it's so hard to tell tone from an email." If possible, it can be best to speak over the phone or in-person so you can read the customer's face/voice tone and determine if they're actually satisfied with what you're saying.
2. Ask Clarifying Questions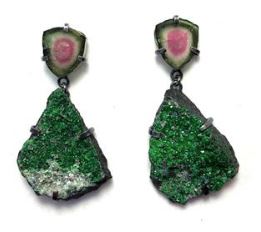 Since no one wants an irate customer who walks away dissatisfied, make sure you're on the same page. Ask questions to clarify anything you're not sure about. Jeweler Alex Lozier enters a "problem solver" mentality. You can also think of it as being a detective. If you need to get to the bottom of a problem, ask about any missing information.
However, this is not the time to argue or get defensive. And while this is true for any communication method, remember than anything you say and post online can live forever. Don't think that someone won't screenshot a reactionary reply and let it live on even if you've gone back and deleted your comment. If a customer complaint has you feeling especially hurt, Emily suggests taking some time to formulate your response. You want this to be a productive conversation, so if you need to take time to create a draft of a response (or two), do it. Remember though, a complaint should be a priority so don't let the customer's anger fester by taking too long to respond.
3. Find a Solution
This is most likely going to be your trickiest step. Your customers may have their own idea of what they want from you, but as artist Stacy Rodgers put it, you need a solution "that is respectful to your business as well as the customer." Sometimes it will be to your benefit to bend your policies, as maker Nikki Nation suggests. However, only do this in a way that still respects the time, energy and resources that went into your piece of jewelry. Although the customer is usually right, be sure to respectfully stand your ground when they're not.
I do my best to assure the customer that we can work together to reach a solution that we both feel good about. - Alex Lozier
No single solution will work for all customer complaints. Some may take even more creativity than your last design. As Emily says, "an angry customer will often cost you a lot more in the end than doing some free repairs/alterations." The best scenario is a happy customer who will come back to shop with you. Amy Fortunato of Cowboy's Sweetheart will sometimes take it an extra step by adding in free shipping, a coupon, or a small gift as a conciliatory gesture. As long as the customer also gets the agreed-upon solution, an extra little step may help convince them to try your store again. It's amazing that customers who complain often end up being your most loyal accounts and enthusiastic advocates if they feel like you listened and took care of them. An uncomfortable situation can become a great opportunity. -Alexandra Lozier.
4. Summarize Your Conversation Back to the Customer
You've listened to your customer and asked questions. Now double (or triple) check that everything is understood. One of the worst things that can happen is incorrectly assuming you've got it right only to have the customer come back and say, "this isn't what I wanted." Save yourself, and the customer, added frustration. If you spoke on the phone or face-to-face, be sure to follow up with an email confirming what you just discussed in writing.
5. Thank Them for the Feedback
A customer has taken the time to contact you with feedback. Thank them! It is way better than them bashing your brand to anyone who will listen without ever telling you there was an issue. You may even consider making this your first step as Amy does. They are potentially bringing a very problematic issue to your attention. It is easy to express gratitude for positive feedback; but, negative feedback may actually help your business more in the long run. Keep that in mind and be sure to thank clients for taking a moment even if their comments are negative, or "constructive," feedback. This may also help put an angry customer in a better mood right off the bat.
6. Learn from the Experience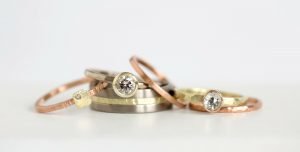 Now that you've solved the problem and the customer is happy, take a little time to reflect. Are you going to sit in your studio upset with an attitude? Or, will you use it as a learning experience? Maybe you tried something new and it's not working out how you'd hoped. Maybe a complaint is showing you a weak spot in your product construction or descriptions. One negative complaint can make a lot of positive changes for your business - you just have to be open to them.
I ask myself, what did I convey or not convey that led them to expect something different than they received. - Amy Fortunato - Cowboy's Sweetheart
Try Not to Take it Personally
This is a handmade jewelry business that you have put your heart and soul into. So it's easy to take a complaint as a personal attack. Remember this is not always the case. As Nikki says, "My work is not for everyone..." Most complaints are not a personal attack on your creative designs. There will be people who absolutely love your design and some who won't. Someone may even love the design, but when they try it on they realize it doesn't actually work for them.
Complaints need to be addressed quickly, efficiently and positively. This will be very difficult if you're always hurt by something that is a normal part of running a business. Instead, take a step back and look at the customer complaint objectively to see if you need to change something - a design aspect may not be as feasible as you thought. While this can be sad to admit, ask yourself if it's something you should address in order to help your business. And if you start getting similar complaints, it may definitely be time for some change.
Tips to Avoid Complaints
Very few businesses will be able to completely avoid customer complaints, but here are some tips on how to minimize the number of complaints:
Give the customer as much information as you can before they purchase a piece from you.
Make excellent customer service a priority for your business so the customer's experience is positive from the start.
Manage customer expectations so they know what to expect as they work with you - especially for a custom order.
Give tips on how to care for your jewelry.
Have all sales related policies written out on your website, sales receipts or anywhere else that makes sense.
Approach your business with a positive mindset and use any customer comments as learning opportunities.
Follow up with a customer after their purchase - this gives them an opportunity to reach out to you about something good or bad.
Thank you to these jewelers for their advice and tips on dealing with customer complaints!
Emily Johnson - EC Design Studio
Alexandra Lozier
Stacy Rodgers
Nikki Nation
Amy Fortunato - Cowboy's Sweetheart
Kelli Vanyek Greene - Halstead Marketing Project Manager
---
Learn More! Networking to Build your Jewelry Business
Hilary Halstead Scott interviews our 2017 Halstead Grant Winner Kristen Baird. In this video they discuss networking strategies and pitfalls plus they cover great networking tips, as well.
Read on for more jewelry business tips:
5 Ways to Educate Your Jewelry Customer
Jewelry Marketing Tips: Understanding Your Customers