Jewelry by Brett
Halstead Grant 2013 finalist, Brett Mathewson, is based in the beautiful Pacific Northwest region. She first studied ballet and earned a Bachelor of Arts degree at Smith College in 2007. In 2008 she traveled to India, where she fell in love with the bright colors and lavish adornments popular in the Indian culture. Her new found love of gems led to opening Jewelry by Brett in 2010, followed by extensive studies in gemology, metalsmithing and wire wrapping at Pratt Fine Arts Center.
"My work reveals my connection with natural elements: metals, stones and fire. With them I'm able to playfully interact with the dynamic masculine and feminine forces present in the natural world and in each of us. Stones bring forth the emotional feminine aspects of color, texture and mood. Metals offer the masculine--heat, strength and vitality. When brought together, these properties culminate in something greater than the sum of their parts: Beauty that becomes you."
Her pieces are on sale at fine retailers in and around the Seattle area or online thru her website at: Jewelry by Brett.
---
Nicolette Absil
Finalist Nicolette Absil has many talents as a jewelry artist, metalsmith, sculptor and instructor. In 2009 she attended both Rutgers University and Gloucester County College earning an A.A in Art, followed by Rowan University where she received a Bachelors of Fine Arts in 2011.
Since graduating college she has studied under various jewelry artists and metalsmiths and has attended numerous workshops to finesse her craft. She's currently teaching enameling courses at 3rd Ward Philly, Abington Art Center and Main Line Art Center all located in Pennsylvania.
She resides in New Jersey and her passions include writing, sketching, baking and of course, jewelry designing. Her pieces online range from $95 - $430. and can be bought at Nicolette Absil Jewelry, at fine galleries along the East Coast and she'll be at the upcoming Pennsylvania Guild of Craftsmen Fine Craft Fair in Lancaster, PA on November 9 & 10.
Nicolette also placed as a finalist in the 2015 Halstead Grant competition.
---
JPHii Designs
John Harris is no stranger to The Halstead Grant after receiving a Top 10 Finalist Award last year. His designs are fascinating and it has been fun to watch him grow and expand, not only his jewelry line but also his business. He was born in Syracuse, NY and as an artist he learned a multitude of skills in the field, finally choosing metals as his passion. Studying at Buffalo State College he earned a Bachelor of Arts in Anthropology and a Bachelor of Fine Arts in Jewelry/Metal Design in 2012. His love for Anthropology and metalsmithing merged into an extensive line of creations ranging from jewelry to masks, knives, prosthetics and more. In fact, browsing through his portfolio I just discovered a brass and wood marionette!
He still has his popular Geared series and A Cymbal for a Symbal: "Take the broken, the used, and the tarnished and turn it into something beautiful." He takes recycled broken drum cymbals then cuts, polishes and redesigns them into his jewelry line, which he sells exclusively for charity.
Since we last blogged about John, he has expanded his popular Mycelium Collection to include prehistoric inspired jewelry: "The Prehistoric Mycelium line is a collection of one-of-a-kind Mycelium pieces based on the abstraction of dinosaurs and other prehistoric creatures."

He's also added a Plant Stone series. Using ancient alchemic techniques, John and his team take plant material and turn them into stone. The process is a trade secret that took 5 years to learn. The team creates these pieces by request only for custom orders.
You can view all of his retail collections on his website.
JPHii also placed as a finalist in the 2012 and 2014 Halstead Grant competition.
---
Naomi Grace McNeill
Portland Maine artist Naomi Grace McNeill uses her love of bees and hexagonal shapes to form intricate patterns into her jewelry designs. "The honeybee plays a key role in the production of our food supply. By associating honeycomb with the body, my work ignites this important connection between bee and human."
Naomi graduated from Maine College of Art (MECA), with a BFA in Jewelry and Metalsmithing. "When I design jewelry, I find I'm especially drawn to the negative space where the body shows through. The simplicity of my work speaks to this as it allows one to look through the piece to see the body beneath it to notice a shadow or glow cast on the skin."
| | |
| --- | --- |
| Wasp Nest Earrings - Constructed with raw wasp nest set in fine sterling silver. | 3 Pod Necklace |
Naomi favors using traditional metalsmithing techniques, forming, forging, filing and soldering, to create her designs. "My goal is to encourage a conversation that goes beyond the beauty of light, shadow, and negative space; so that we can simply live to appreciate these things for generations to come."
Her jewelry can be purchased online, with prices ranging from $50 - $3000, or in fine shops and galleries throughout New England.
---
Duchess Leigh
With a love for jewelry-making that began in high school, Duchess Leigh studied the craft by reading books from her local library. Unfortunately, start-up cost hindered her abilities to begin a career in jewelry design for fifteen years.
"What began with a love of the end result ended with a love for the process."
When Duchess was able to take her first jewelry-making class, the years she spent dreaming of her own studio finally became a reality.
"I got over being afraid of using fire and breaking saw blades. I learned how to make soldered joins and jump rings. I began to get a feel for the metal."
Saving tips from her job, she slowly built up her workspace with tools and supplies and began selling at local craft fairs and working on commissions.
"I realized that I enjoyed every moment spent on my line; from hammering metal to budgeting to picking out business cards."

Duchess Leigh uses mainly silver, brass and gemstones in her designs. You can follow her creative process on her Facebook page and her work can be purchased on Etsy with prices ranging from $15 to $105.
Duchess Leigh also placed as a finalist in the 2014 Halstead Grant competition.
---
Sara Gallo
Lancaster, PA resident, artist and silversmith Sara Gallo, is still fresh out of college and it's remarkable how much she's accomplished in just a few short years. She graduated in 2011 from Millersville University, PA where she received degrees in both Fine Art and Art Education. Since graduation she has exhibited her work in the Philadelphia Museum of Art Craft Show, has been a finalist in the Niche Awards and already retails her jewelry in stores and boutiques in Japan, Canada, Bahamas and across the United States.
Sara says, "I aim to manipulate viewers of my work into reacting with hysterical laughter, discussing their feelings and sharing stories with each other. I utilize the formal qualities of art to camouflage the materials I use and emphasize the unique form of each piece. I enjoy creating an experience for viewers and hope to ignite a feeling of nostalgia, but also inspire them to share with others."
You can purchase her unique Doll Shoe Series online at Sara Gallo Jewelry or on Etsy with prices ranging from $20-$1,500.
Sara Gallo also placed as a finalist in the 2014 Halstead Grant competition.
---
Little Miss Pepper Designs
Fifteen years ago Stacey Bradshaw was creating bridal jewelry for her friends' weddings, over time it grew to become Little Miss Pepper Designs a custom hand stamped jewelry line. Creating jewelry inspired by love, family and friends she stamps personalized messages on necklaces, bracelets, rings, keychains and more.
"Little Miss Pepper Designs is based in the sentiment of expression. I wanted to create designs that express our love for our mothers, grandmothers, sisters, husbands, dads, and friends. My customized, hand- stamped jewelry gives you the opportunity to show the world the joy that love has given you. Wear your love every day!"
After losing her father and a close friend to cancer, Stacey donates 5% of all of her proceeds to the Children's Cancer Research Fund. You can find Little Miss Pepper Designs on Facebook and Etsy, with prices ranging from $9 - $175.
---
Amber Harrison
Finding her niche in the jewelry world fairly quickly, Amber Harrison is off and running! 2012 was a huge year for Amber. First she graduated with a BFA from the University of Michigan School of Art & Design. Then she opened the Amber D. Harrison Studio. And followed that with the debut of her first wearable jewelry collection, Bittersweet Adornment: Tasting & Memories. Now she tops this off with becoming a finalist in the 2013 Halstead Grant.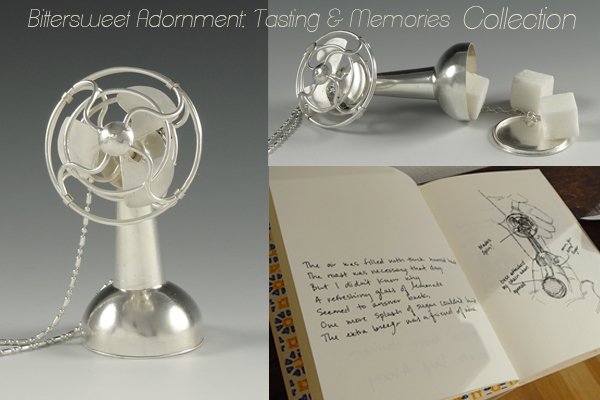 "Amber's goal is to create work within the contemporary art jewelry context, and forge it with the everyday life for those who would otherwise be hesitant of art. She feels there is an untapped space between what is shown on gallery walls, and what is often sold in gallery gift stores. This space is where she believes her work fits, and where she hopes to develop accessibility and enthusiasm for the curious viewers."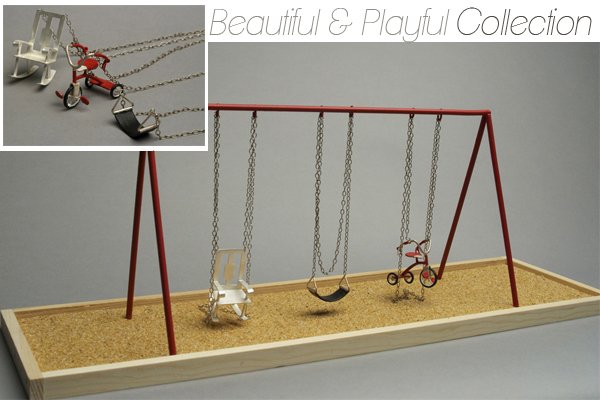 Since 2012 Amber Harrison has shown in several juried art fairs and exhibitions including Birmingham Bloomfield Art Center Holiday Store in Birmingham, MI and Molten: A Glass & Metals Show at the Kavanagh Gallery in St. Charles, IL where she received a Ribbon of Merit. She now has several jewelry lines on her website and has collaborated with Optik Birmingham to create a new Eyewear Collection.
---
Symbology by Alice Scott
North Carolina jewelry designer, Alice Scott, began making jewelry at the young age of 6 years old. She started by painting pumpkin faces on brooches to sell during Halloween. From that moment on she fell in love. Alice eventually attended the Rhode Island School of Design for Jewelry and Metalsmithing. Honing her techniques, she studied cultures from around the world implementing their symbols into her own creations, thus the Symbology by Alice Scott collection was born.
"Each piece is meant to help each person who wears it feel connected to something mysterious, ancient, and bigger than herself."
Symbology by Alice Scott can be found at events and fine galleries from coast to coast with her jewelry for sale online at Etsy with prices starting at $24.
---
Meet the winner of the 2013 Halstead Grant, Rebecca Rose of Sculpturings.
Learn more about the Halstead Grant here.
Subscribe now for the latest information on the Halstead Grant, jewelry making tips, jewelry business tips and more.