Ananda Khalsa Jewelry incorporates hand painted watercolors by Ananda Khalsa into sterling silver and high karat gold metalwork. These designs are rich with symbolism which helps buyers to intimately connect with the jewelry they choose.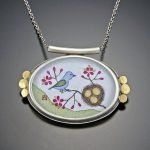 I have a plum blossom necklace that is absolutely stunning. People notice it right away and the detail and clarity in the artwork amaze them. Each painting is very small - most are about one square inch. But, they leap out at you because of the bright colors and beautiful composition.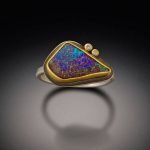 Ananda Khalsa Jewelry won the first Jewelry Design Business Development Grant awarded by Halstead Bead Inc in 2006. Since winning the award, Ananda's business has expanded dramatically. She sells her work in nearly 100 galleries and boutiques across the country. She is also regularly featured in magazines and promotions for fine American Craft events. Khalsa regularly shows with The Rosen Group, Paradise City, Boston Craft and ACC.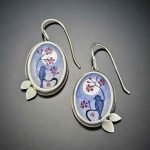 Khalsa is in the process of moving away from Providence, RI to resettle in Massachusetts this summer. We wish her much luck with the move and setting up a new studio.
Her jewelry is always on my wishlist and is now on the wishlists of all my girlfriends too. Note to husbands and boyfriends: These are definitely winning gifts!
Subscribe now for jewelry making tips, jewelry business tips and to learn more about the Halstead Grant.