So you've made the decision to take your first jewelry class? Congrats! We reached out to some of our preferred teachers to help give you an idea of what to expect.
Trying something new can always be a little nerve-wracking. Your first jewelry making class is an exciting opportunity to learn a new creative outlet. Your class experience is going to vary depending on the techniques you're learning and the instructor you're working with. But we reached out to some of our preferred teachers to give you an idea of what to expect from your first jewelry class.
What to expect from your first jewelry making class
How to prepare for class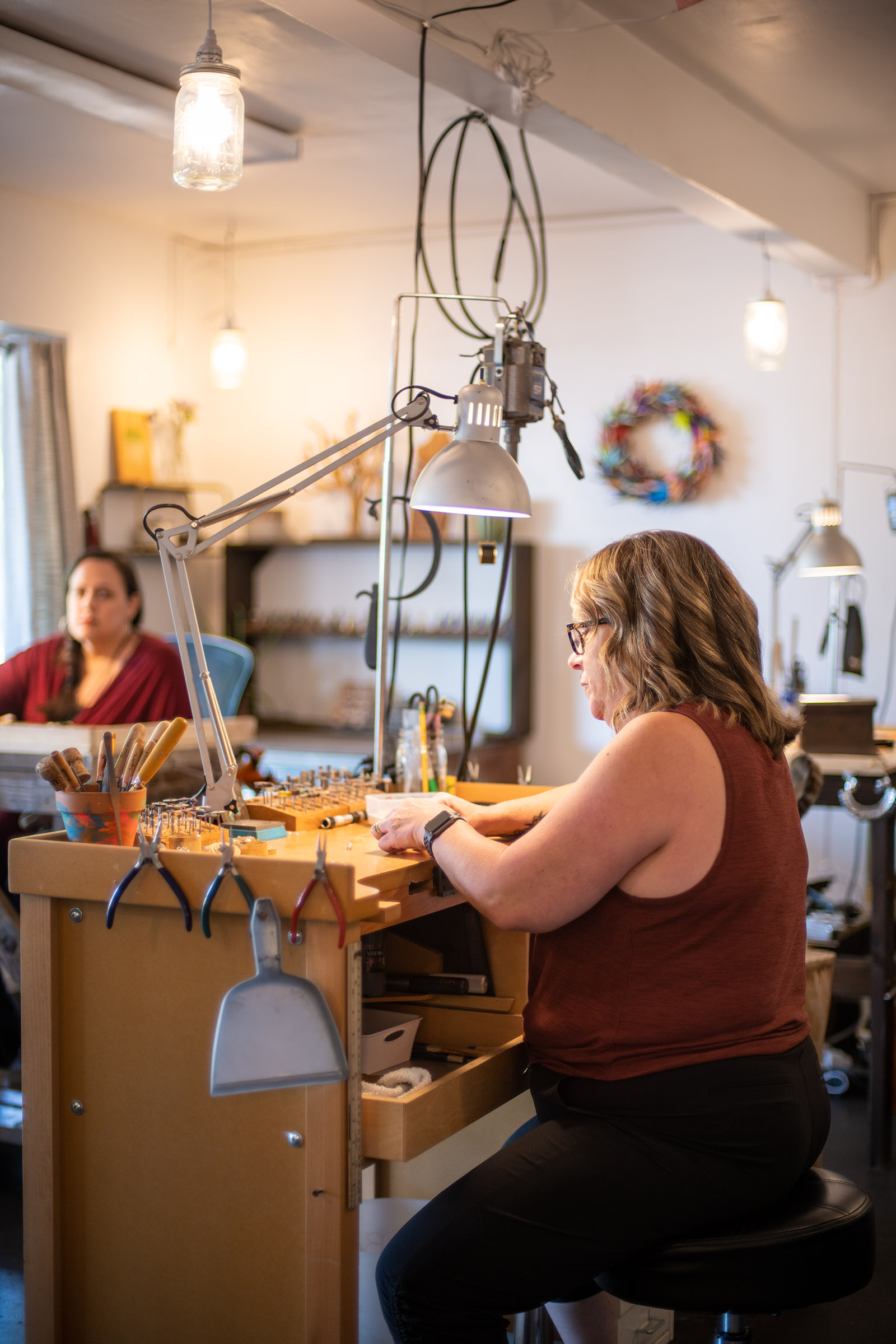 You might be wondering what your first jewelry making class will look like. The first thing you'll want to think about according to Debora Mauser is safety! If you're taking a heat-based class, such as soldering, there will likely be a few extra safety details to think about. The basics that Debora points out are closed-toe shoes, eye protection, hair tied back, and no loose billowing clothing. She also recommends natural clothing if you're taking a hot-technique class.
Melissa Muir teaches her classes a couple of different ways. You should generally expect one of these types of classes from most teachers. She describes the difference between a project-based class and a technique-based class. A project-based class will take you through the steps to complete a finished piece – or at least most of one with the skills to finish it later. A technique-based class is designed to teach you how to do something in the studio and give you time to practice, though you shouldn't expect to have a finished piece at the end of the class. Which type of class should you start out with? Debora has found that students do best when they start with a few project-based classes so you can get comfortable with the tools and basics.
When you sign up for a class, pay attention to the details. Most classes will provide the tools and materials you need while others may require you to provide your own items. Aim for classes that provide everything, as the tools and startup materials can be a surprising cost for many new students. Melissa also suggests you pay attention to the level of the class. They will be marked from beginning to advanced – and they're marked that level for a reason. Be honest with yourself about your level. If you sign up for a class that's above your skill level, it will likely be a less enjoyable experience for yourself and everyone else.
You're in class! Now what?
When you take a jewelry making class from a professional teacher, expect to be treated professionally and courteously. When Eva Sherman teaches classes, she provides a written handout with details about the class and what you will be doing. She also provides plenty of space for notes on the handout. Eva also says you should expect a large enough area to work comfortably and be able to see and hear the instructor's demonstrations.
All three instructors warn that students should have reasonable expectations. You're not going to make a perfect, professional-level piece in your first class. Eva tells her students "it took a lot of patience, practice, and persistence to get to my level." You will also have to put aside the idea of perfection. Eva advises you don't chase perfection so hard that you're unable to move on to the next step. Melissa also warns that you're not going to walk out of the class with all of the skills to make and sell the piece from class.
Debora's advice is to go into class willing to learn and listen to your instructor. In addition, Melissa suggests watching your instructor to see how they hold their tools and the process they follow. Most importantly, be sure to ask questions! As Melissa says, sometimes the instructor's knowledge has become second nature to them and they may forget to explain things in enough detail. Chances are if you have a question, others in the class may also. All three instructors love seeing when their students make progress and figure out the technique – and if that means answering a few questions, they're more than happy to do so.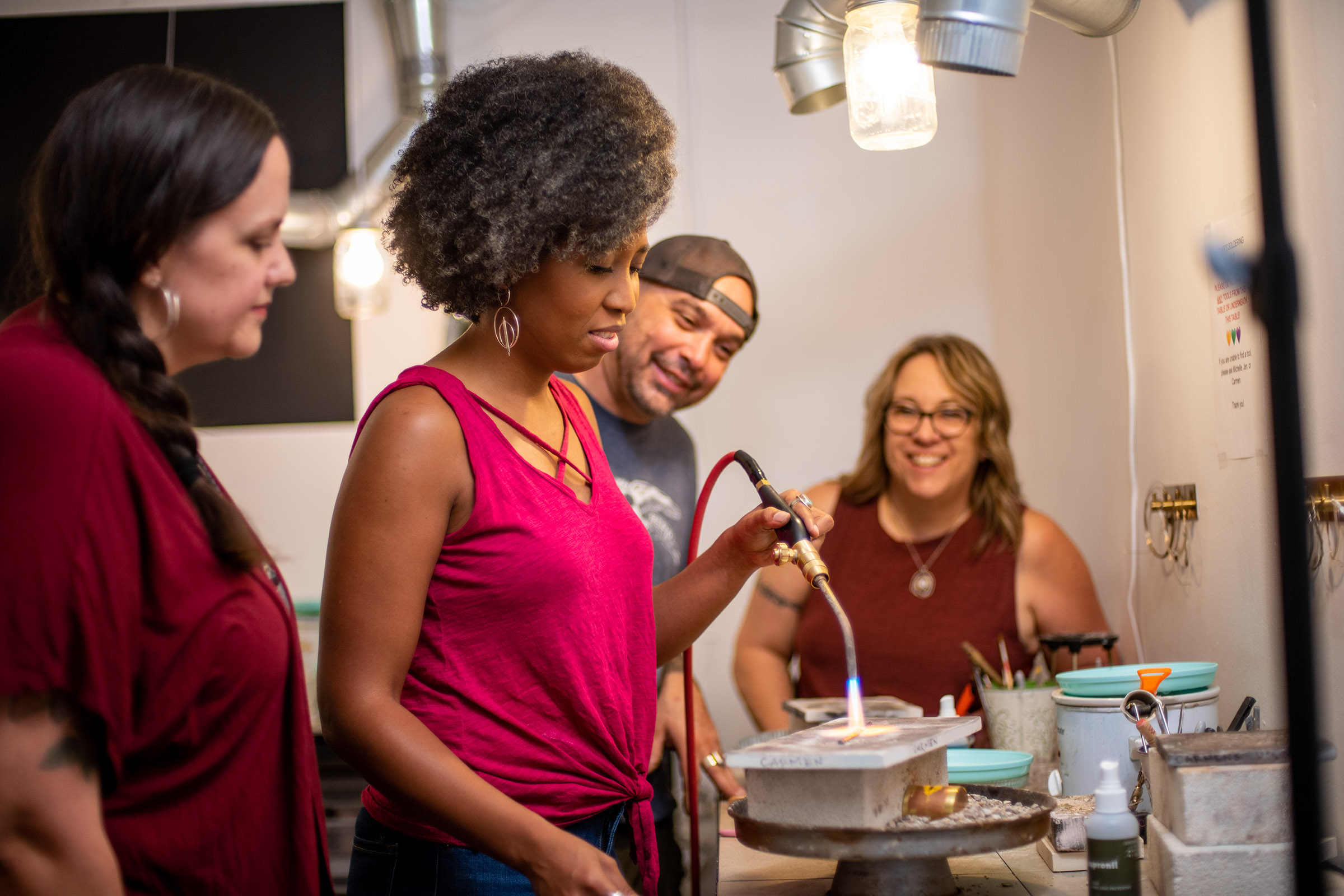 Where do you go from here?
Now that you've finished your first jewelry making class, what should you do next? Keep learning! The jewelry world is filled with a variety of techniques to learn and instructors ready to teach. Eva and Debora suggest taking classes in several different techniques, because you won't know what you like until you try it. Or if you know you hated something, try something else! If you enjoyed your class, Melissa suggests trying a class that expands on that technique. For example, if you've just learned soldering try taking a bezel setting class.
Melissa also says there's nothing wrong with taking the same class again! Maybe you don't feel confident enough to move on to another class. Taking the intro class again will help boost your confidence and you may pick up on new information you missed the first time. As Debora recommended, try to stick to project-based classes initially. Imagine trying to come up with a design of your own while learning the technique. If you're unsure, you can always ask your instructor what they would recommend you take next.
Words of wisdom
Your jewelry instructors are there to help and encourage you along your jewelry making path. If you still need some encouragement, here's our instructor's best advice if you're considering taking your first jewelry making class:
"Go for it! There's no therapy like making something with your hands, bonus points if you get to hammer and torch while doing it!" – Eva Sherman
"When looking to take a class for the first time, find a teacher that makes work similar to what you would like to learn. When you are in class, BE in class. Put away your phone and other distractions. Have a paper and pencil ready to make notes and be sure to ask questions." – Melissa Muir
"Go in to a class, willing to learn, take your time, and listen to the teacher. Never be afraid to ask for help. We all learn in different ways and a good instructor wants to impart their knowledge and assist you in being successful" – Debora Mauser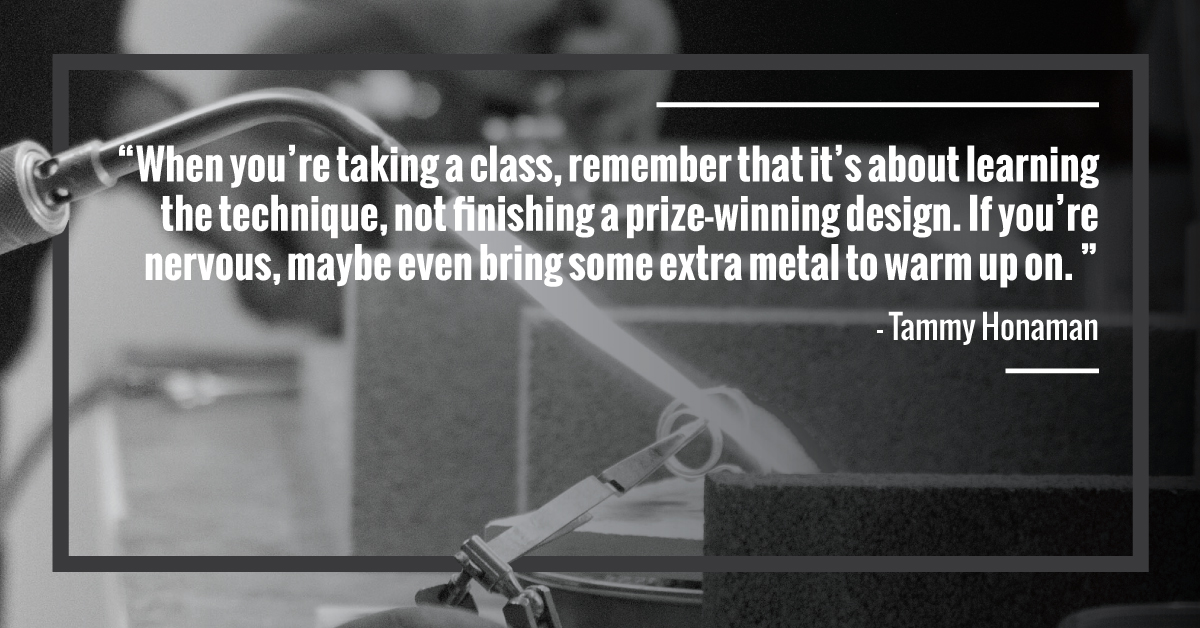 Ready to learn? Check out what classes all of our Preferred Teachers and Studio Schools are offering. Many currently offer a mix of in-person and virtual classes.