Get inspired to look at findings in a whole new way! Paulette Werger ran a workshop "Creative uses for Premade Components" and you'll love some of the ideas she and her students came up with.
This past March, Metalwerx got together with artist-instructor, Paulette Werger to design a workshop that focused on methods for modifying and integrating pre-made components into jewelry in exciting ways. This not only saves you time, but also keeps your work looking unique. We put together a handful of the inspiring design ideas covered in that class so you can use to take your work to a new level and discover inventive ways to use off-the-rack elements in your jewelry!
Tips and creative uses for a few Halstead Pre-Made Components:
Item #2200 Bead Chain
Item #2200

Cut up that Bead Chain!

Cut up bead chain and solder in your own fused and forged custom links or elements!
Add a segment of bead chain to an earring as a decorative element like our student, Stephanie Ellis did!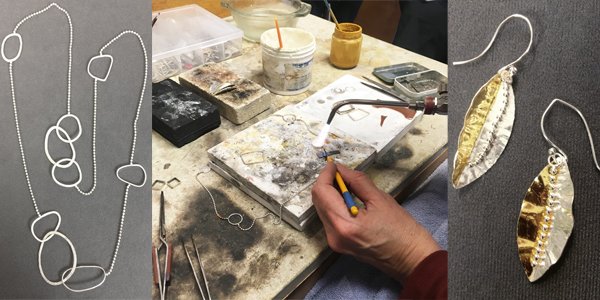 ---
Item # 21606EF Drawn cable chain
Item #21606EF

Add elements onto, into, and through a Drawn Cable Chain!

Ball up wires through each link in a chain to add dimension and movement! To do this: first, ball up one end of a short piece of wire. Feed the straight un-balled end of the wire through one of the links in a cable chain (the ball on the other end should be big enough so it does not fall through), and then ball up the other end! Add a bunch of these for a dramatic effect! NOTE: It's easiest to ball up a bunch of wires at the same time. (Image: Necklace by student, Sarah Demers. Rest are class demos)
Pre-drilled discs can be hung from a chain with a jump ring so they dangle and move.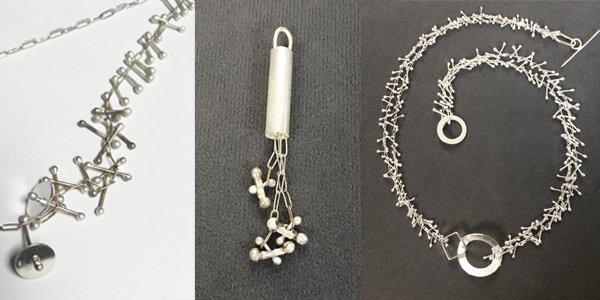 ---
A few (of the many) pre-made components you can alter:
Pre-made parts can be altered -
hammer, keum boo, bend, and more!
Keum boo on part of a premade component while it's flat (such as a leaf or disc) (Image: Disc earrings by student, Cheryl Curran).
Try using a bending brake or vise to fold a disc in half.
Use the cross peen end of a riveting hammer to add texture and/or ruffle the end of a leaf shape!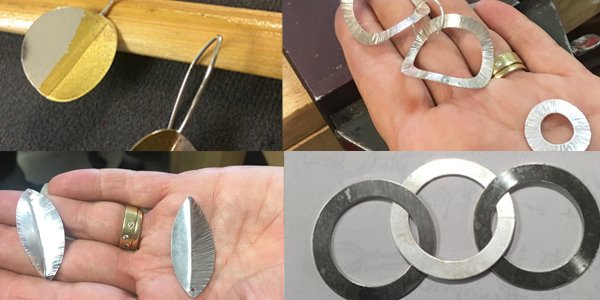 ---
Item # SL129 Moon Disc
Make a link from something unexpected - like this moon disc!
| | |
| --- | --- |
| Item #SL129 | Paulette's demonstration on turning a moon shaped disc into a focal point for a necklace. |
Form (dap) and solder the ends of this moon disc together to create links in a chain! The entire chain could be made out of altered discs or just a few links as the focal point of a necklace as in this demo piece by Paulette.
---
Discs and Bars with or without holes
Connect links in a new way!


Instead of connecting pre-drilled discs or bars to a commercial chain, here's a way to use balled up wire as the chain or connection! Some links have two holes and some have one in these pieces

Add a disc or bar to tubing as a decorative element, transforming that tube into a cool bead!


Solder a disc, bar, or other part onto a piece of cut up tubing. These can be strung onto a necklace or used in an earring, as shown in Paulette's demo pieces.
| | |
| --- | --- |
| Bar findings take center stage in these demo designs from Paulette's class. | Various sizes of disc and bar blanks add fun touches to these demo designs. |
More About Metalwerx
Metalwerx is here to help you learn new jewelry, metalworking and business skills, find inspiration among like-minded people, discover tools that will support your artistic development, and welcome you into and encouraging and supportive community where you can thrive. Located just outside of Boston Massachusetts, novice and professional jewelers can attend one to five day workshops and weekly classes suited to their needs, schedule, budget, and interests. Our studio also provides workbenches, equipment, and space for 28 studiomates, a passionate group of makers. In addition, the annual Marketplace Symposium presents inspiring educational seminars and showcases materials, tools, and service vendors from all over the country who can help attendees determine the best investment for their professional development.



---

Find more inspiration for pre-made findings:
Eva Sherman's Spectacular Soldered Jump Rings
Riveting Techniques From Gwen Youngblood
5 Tips to Add Perceived Value to your Jewelry
Find more fun techniques in our metalsmithing blogs.