Hiring your first jewelry business assistant is a huge step in your business' growth! It can also make you nervous as you think about inviting someone else into your design process. We talked to jewelers who have been there, either as a new boss or as a studio assistant to give you tips on making this big step successful.
If you're hiring your first assistant or intern for your jewelry business, there are a few things to keep in mind. You're bringing someone into your inner most design circle and trusting them to represent your brand and style as if they're you. This may seem daunting, but with some preparation you can make the rest of the process go well.
When you're thinking about the hiring process, break it down into 5 phases. Each phase is most successful when you prepare ahead of time before you start hiring.
Phase 1: Prepare Your Studio
The first thing you want to do when hiring your first jewelry studio assistant is get your studio ready. Transitioning from working on everything by yourself to splitting the work with another person can get tricky.
Sit down to figure out which tasks you'd like them to do. You likely won't be assigning them your unique technique-based tasks at first. What routine assignments will they do to make your day easier? Maybe cutting some wire or finishing. They can probably help with organization tasks as well. If you create a list of day-to-day tasks, they won't have to constantly interrupt you while you're working to ask, "what do I do next?"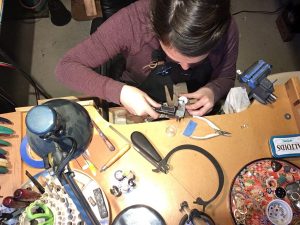 Along with the tasks list, write down your jewelry making processes or create a sample set. Many people are visual learners, so simply being told what to do won't help. Perhaps you can photograph each step as you make jewelry pieces and compile a notebook with photos and written instructions (Emily Shaffer has a great notebook setup as seen in her studio tour video). Creating a sample set of your pieces will allow the employee to ensure they're work is on par with your product standards.
Also, think about your weekly schedule. If you're the type to have a highly variable schedule and work on anything at any given time, this may be hard to continue. Now that your assistant will be handling certain tasks, you need to make sure those tasks are done in time for your work. You won't be able to assign your assistant wire cutting, for example, on a Tuesday afternoon then decide you want to work with it on Tuesday morning. Your studio routine will need to become more predictable once your first employee starts.
And finally, make sure to create a work space for the new employee. Depending on what tasks you'll expect the employee to do, the setup will look different for everyone. Will they need tools? Be sure to get any duplicates before they start so you can both get work done. If they'll need their own bench, Julia Mancarella suggests making sure it's all at the right height (once you know who you're hiring). Neck and back pain are real! This may seem obvious, but when things get hectic it can be forgotten.
Phase 2: Hiring & Interviewing
This next phase will most likely require a lot of research on your part. Most importantly, you need to research the pay rate in your area for similar job descriptions. Search online to find out what the market pay rate is for a jeweler's assistant and make sure the pay rate is fair for your city's cost of living. Look around for other assistant job descriptions for ideas. If you want to hire someone who does more of the administrative side of the business than jewelry making, the job description will be very different. It's very important to keep this part of the process market-based. You don't want to get too personal with pay or job descriptions. Take Tracy Matthew's advice: hire someone who is right for the job, not someone you want to be friends with.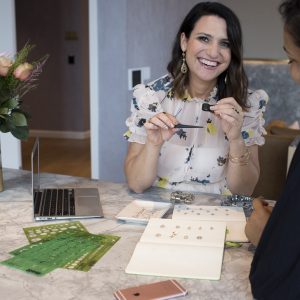 When you're done researching, write an accurate and clear job description. Talk about your office culture - do you have a studio dog? It might help to include that. If you want to make sure your assistant isn't too laid back, put in that it's a "fast paced environment" or something similar. Always include any physical demands of the job. If it will involve sitting at the bench for 4 hours per day, include that. If there may be heavy lifting or travel involved, include that. The most important thing to remember is to write your job description to attract the best-fit candidates. The less clear or concise, the more likely it is you'll be wasting time screening applications that are definitely "no's."
Finally, before the interview, make sure you know which questions you can legally ask. Generally, any questions that may come off as discriminatory are not allowed. This includes race, national origin, religion, sexual orientation, age and many more. Check out this information from the Equal Employment Opportunity Commission for full details. As long as your questions are centered on being qualified for the job, you shouldn't have a problem.
Niki Grandics suggests reaching out to your network. Chances are you know someone who has gone through hiring their first jewelry assistant before. They'll be able to help you with questions you should and shouldn't ask and may even have a few potential candidates in mind. Even if you hire through personal contacts, it is important to provide a written job description that sets clear expectations for your new employee. Don't skip that step!
During the Interview
The interview is important as a first impression for both you and the potential assistant. Make sure you establish your professional boundaries from the start. Emma Hoekstra recommends laying out what you are and are not looking for right away, "maybe hand them a sheet of paper with a list clearly laid out for them to look over." Remember that list you created during phase 1 of the tasks? This would be a good time to bring it out. Emma also points out that it can be scary to be vulnerable with your technique secrets. If you want to go beyond a simple handshake, let them know you would want them to sign a non-compete agreement.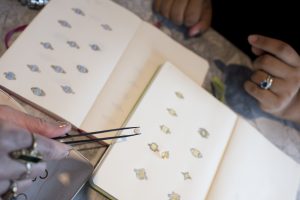 Belle Brooke Barer recommends setting a trial period. During the interview, make it clear that there is a trial period (whether it's 30 day, 90 day, etc.) and at the end you will discuss if the employee is a right fit for the job. Be sure to know your local laws regarding at-will employment or if contracts are necessary.
Also make sure the interviewee knows that they will need to document their workflows and/or create training guides for future new hires. If this isn't something you thought about yet, we highly recommend it. No one will know how the studio employee's job works better than them. And hopefully you'll be looking to expand to even more employees in the future. If you set this expectation from the beginning, the employee will not feel like your trying to get rid of them if you ask for process documentation after they have been on the job for a while.
Phase 3: Training & Setting Expectations
Now that you've hired your first jewelry assistant, the real work begins! Many assistants have not worked in a professional jewelry studio yet. Although they probably have the skills, you may need to do some training on how to perform those skills in a style that works for your jewelry collection. Lisette Fee suggests providing guidelines and procedures from the beginning on how your studio runs. This includes, she suggests, pointing out that being on time is essential to making the day productive.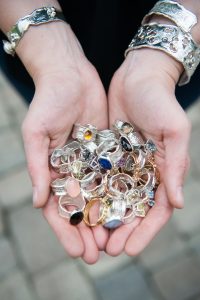 It helps to have checkpoint meetings at regular intervals. Figure out the timing that works best for you, but starting them off weekly may be best. As you and your assistant grow more comfortable in your roles, you can move them further apart (i.e. monthly or quarterly). Start these meetings off with questions about the work processes or whether studio set-up works for them. Getting feedback from your assistant can help stop problems from arising down the road. And this way, you get to problem solve together rather than playing the blame game. Tracy Matthews suggests setting clear performance indicators early. During these meetings, be sure to give any kudos if the employee is hitting these indicators!
Emma Hoekstra points out that encouragement is huge. From her time as an assistant with two different jewelers, she felt that they wanted her to succeed, even if they knew she would eventually be starting her own career. If there's something your assistant is doing wrong, let them know in a constructive way. Keep the vocabulary about "skills" and "quality standards" rather than "I like this" or "I don't like that." Make sure you're also assessing yourself during these meetings. If there's a problem with your assistant's skill, did you clearly explain how to do something? Don't be afraid to ask your employee "Is there anything you need from me?" so you can be sure you're providing all the information they need.
Establish Professional Boundaries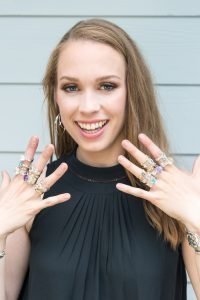 Becoming too friendly with employees was a common challenge for all the jewelers we talked to. It's important to set boundaries of what can be discussed during work time or off time, especially when hiring your first jewelry assistant. If you start off strong, you're more likely to be consistent as you hire more employees. Also be sure to establish whether you are okay with socializing during off time. If you want to keep it a work-only relationship, make sure your assistant understands that.
Setting professional boundaries can be one of the hardest aspects of being a good boss. Kristen Baird says, "It can be hard to draw the line between friend and boss. A good balance is key. I've found that listening and being compassionate like a friend goes a long way in earning respect and loyalty. At the same time, establishing the fact that you run a tight ship and that you want the best out of your people at all times is imperative for keeping the business running like a boss."
If you don't set these professional boundaries right away, you run the risk of being too much of a friend. It's great if you and your employee can talk freely and enjoy each other's company. But they need to understand that at the end of the day you are their boss and running a jewelry business. Therefore you will need to make any decisions and provide feedback in the best interest of that business.
Keep Track of Workflow
Your first assistant won't be with you forever and they won't be your last, so have them help you establish workflows and production standards for future new hires. They'll know what works best from their end of the job and you'll be able to add in the expectations. Working together on this will help you feel more like a team and feel more prepared for your business growth.
Phase 4: Troubleshooting Problems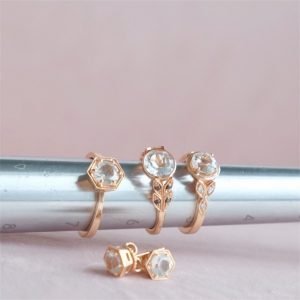 We always hope that our employees will work out and have no problems. However, as you go through the steps of hiring your first jewelry assistant, prepare yourself for any problems that can arise. Your checkpoint meetings should include constructive criticism to stop bad habits before they become ingrained. Belle Brooke Barer says that she allowed too many mistakes because she was too afraid to step up and tell her assistant when she wasn't completely satisfied with the work. Remember that you are the boss and this jewelry collection is your legacy. If your assistant is not following through on something, don't be afraid to speak up! Just be sure to do it in a constructive manner.
These problems can make great training opportunities. They may show a weakness in your explanations/guidelines. They may show the assistant that they're not as strong in a certain skill as they may have thought. Working together to solve the problem is your best option. Create a checklist to see where improvements can be made and set clear expectations for a resolution to the problem.
Most importantly, be sure to follow up on any problems. For a set period of time - however long you think is appropriate - review each piece or work to provide more feedback. If the problem persists, set a deadline for fixing the issue. Also outline any consequences for not achieving the deadline. Then put it on your calendar and keep yourself, and the employee, accountable to that date.
This is the time to be a boss, not a friend. If your employee can't keep up with the quality you expect for your brand, don't be afraid to stand firm and tell them what's wrong. If you do this constructively, as a team and keep everyone accountable your employee and business will be able to succeed.
Phase 5: Settling In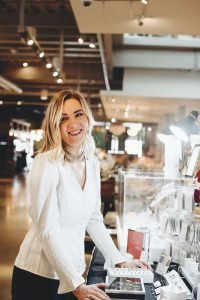 Your workdays will most likely be chaotic for a little while after hiring your first jewelry assistant. Once the initial hiccups are dealt with and your assistant is starting to get into their groove, assign them deadlines for the workflow documentation. Better to start early than have them move on to new things and forget a step or two. Continue having your check-in meetings as well. They probably don't need to be as frequent, but at least twice a year take the opportunity to sit down and speak candidly about the work relationship. If nothing else, it's a great time to say "thanks for doing great work" since this can be so easy to forget during the daily grind.
Our 2018 Halstead Grant winner, Emily Shaffer, recently hired her first assistant. On our recent studio tour with Emily, we met her assistant, Olivia, and found out a little bit about some of her tasks in the studio.
There will be growing pains as you learn to hand off work to your first assistant and they learn your expectations. Eventually, everyone will settle into their roles and you may find your workdays even more enjoyable with a studio mate. This is the time to enjoy your role as a mentor! Your assistant has chosen you to be the one to help their professional development, embrace this. Pass on some of the skills your mentors showed to you. Help them learn from your own early mistakes. Enjoy watching them grow in their passion - and maybe even learn something new from them!
Hiring an assistant will free up some of your time and resources for other projects, such as creating custom jewelry pieces.
Top Tips for Hiring Your First Jewelry Studio Assistant:
Set clear boundaries, expectations and guidelines from the beginning.
Don't hope to become friends. Be friendly, but remember you're their boss.
Have confidence in yourself as a boss and in your jewelry collection quality.
Try to have a working interview or a trial period (where allowed) to allow a showing of skills.
Reach out to your network. Others have done this before and some may even have a candidate for you to look at.
Learn to delegate. Giving up control is hard, but start with small tasks and work your way up to delegating bigger ones.
Continually raise the bar and give your employees challenges and encourage them along the way.
Reward successes with celebrations - something as simple as surprise cookies in the studio or a lunch out goes a long way.
Give your new assistant time to learn - don't hire someone 2 days before leaving for a show (as Niki Grandics learned).
Enjoy your time and role as a mentor!
An alternative option, depending on the type of help you're looking for, would be to build a contractor team to help take tasks off your plate.
---
Special thank you to all of the jewelers who contributed with their amazing advice.
Read on for more jewelry business tips:
How To Manage Time In Your Jewelry Business Better Using 7 Simple Steps
10 Cash Flow Culprits In Your Jewelry Business
5 Tips for a Successful Jewelry Business
Subscribe Now for the latest in jewelry making tips, jewelry business tips and more.