If you make custom cabochon settings on a regular basis, it makes sense to buy basic bezel strip by the troy ounce coil so you always have material on hand. But, if you need just a little fancy gallery bezel for a special project or you rarely set custom...
When I first started on my jewelry making path, I would purchase cabochons that were a standard style that fit into pre-made cab settings. As I became comfortable with setting stones, I soon wanted to take the plunge and create my own custom settings with unusually-shaped cabochons. The world opened up to me because I could choose cabs that I wanted to set and the possibilities became endless. Let me explain to you what bezel wire is, how to choose the right one and how to use it to set a cab. Besides the cabochon, bezel wire is the most important material you'll need for this.
---
---
What is Bezel Wire?
Bezel wire wraps around your cabochon to hold it securely in place. Fine silver, or .999, wire is ideal because there is no fire scale to clean up after you solder the join together. Plus, the wire is soft and it's easy to manipulate the wire around the stone. There are two types of bezel wire you can choose from when you're shopping: plain bezel wire and gallery wire. SHOP BEZEL WIRE >>
Plain bezel wire is available in 3/16, 1/8 and 1/4 inch widths, with gauges ranging from 26-30 gauge. It is a plain, flat wire without any shapes or cuts in the design.
Gallery wire is also used to set cabochons. This serves the same purpose as bezel wire but it's fancier, with shaped edges or fancy patterns already designed on the wire when you purchase it. The image below shows plain bezel wire on the left and gallery wire with a scalloped edge on it on the right. SHOP GALLERY WIRE >>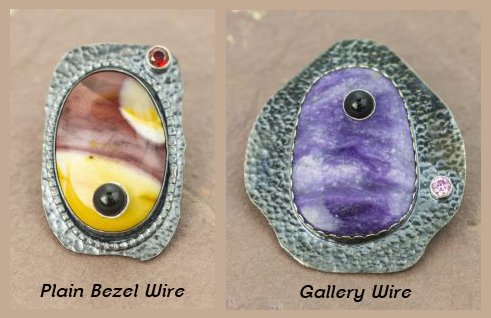 The images above are great examples of bezel wire and how each type gives you different design options and effects when you're setting cabs. Last year, we were fortunate to have Jeff Fulkerson come to Halstead and hold a workshop for the employees here. These samples are from that class.
Jeff's expertise in cabochons, custom bezel settings, and stone inlay makes him a master at his craft. He teaches around the country and his website has blog articles and online jewelry courses. I highly encourage you to take one of Jeff's classes in person or online. You'll learn so much!
Choosing the Right Bezel Wire
First of all, choosing the right bezel wire is crucial when making custom cabochon settings. The height is the most important aspect of all. Bezel wire must be tight around your cab so it holds it in place, but the top of the bezel wire needs to fold down over your stone to keep it from falling out. Since the stone is the centerpiece of your design, you really want to show off as much of it as you can.
If you order a bezel wire that is too tall, you will have too much material. This means you'll need to sand the extra fine silver down or you'll have too much covering the top of the cabochon. If you order bezel wire that is too short, it won't be able to fold over the top of the stone at all, which means the stone will fall out.
Below is a chart to help you choose the right bezel wire height for the cabochon you are using. Look at the height of your cabochon and get a ruler to see which bezel wire is slightly higher than your cabochon wall.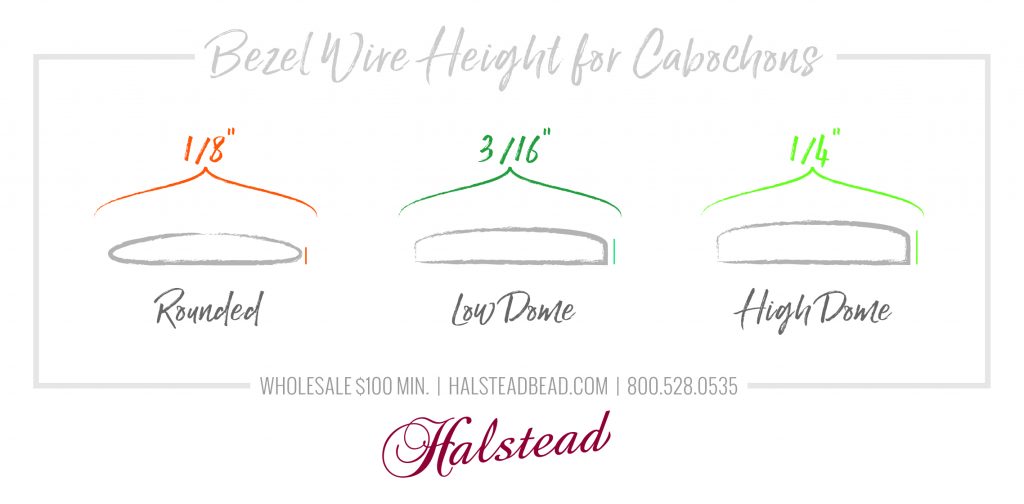 Measuring How Much Bezel Wire is Needed
Measuring the size before ordering the bezel wire is crucial. Guessing just won't cut it and may cost you in time and money. Here are a few tips for figuring out the amount of wire you need before placing an order.
Step 1: Wrap the Cab

Wrapping something tightly around your cab is important when figuring out how much bezel wire you need. You don't want to be too short, yet you also don't want to get so much that you have scrap at the end. Wrap your cab using available objects around your house: wire, paper, soft measuring tape, or string as shown above; and wrap it tightly. Make sure to add an extra 2-3mm so when you file the bezel wire down the two ends will meet and lay flush together.

Step 2: Mark it

Use a thin permanent marker to mark the spot. Remember to overlap it by 2-3mm!

Step 3: Final Measurement

Place your measuring device alongside a ruler to figure out how many inches you will need.
Placing your Bezel Wire Order
When buying jewelry bezel it's important to be accurate. Jewelry supply companies allow you to purchase by the inch or by the troy ounce. The troy ounce is ideal if you are a high volume jewelry studio or college classroom because you will have plenty of stock on hand. But, if you are just starting out, buying by the inch should be sufficient. The conversion chart below tells you the troy ounces per inch depending on the bezel wire you are purchasing.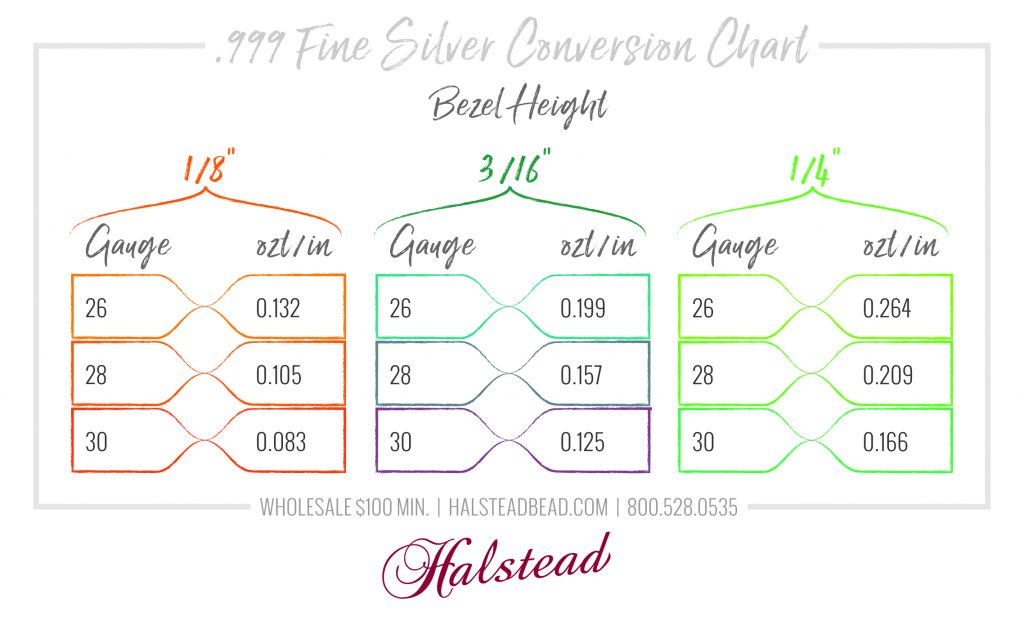 Watch the Videos!
Once you know how much bezel wire you need and determine the unit of measure, you're ready to place your order! Think about if you also need other fancy wire, metal sheet or other elements for your design. Then, get ready for some good times at your workbench.
Got questions? Email our studio coordinator at studio@halsteadbead.com. We'd love to hear from you. Sorry, studio support is not available by phone. Emails only, please.
---
Continue learning with these Halstead articles:
3 Ways to Set Raw Crystal Points using Sterling Silver Findings
How to Buy Ring Making Material