We take the guess work out of making jewelry with your lampwork or art glass cabochons and beads in this tutorial. Easily make a cabochon pendant, beaded earrings and beaded bracelet using your glass work with these projects.
Make your art glass cabochon and bead creations stand out as beautiful pendant necklaces, earrings, and bracelets! Learn how to make this easy upsell to promote your glass work. Some customers love to buy loose beads and focal pieces to use in their own jewelry designs. But, you will appeal to a wider resale audience if you offer some ready-to-wear options featuring your art glass creations. These quick and easy techniques will take your glass cabochons and beads to the next level.
Projects in this article:
Adding Grommets to Glass Beads
Making Earrings With Glass Beads
Making Bracelets With Glass Beads
Tips for Selling Art Glass Jewelry
Since each bead is a handmade work of art, combine your art glass beads with sterling silver or gold-filled jewelry supplies so they're consistent with the value and heirloom-level quality of your work.
Maintain your design aesthetic. If your beads are fun and funky, then make jewelry that reflects that style. Or, if your look is more streamlined and classic, work from that angle.
"I recently added jewelry to my bead display. Sometimes customers just need a little inspiration or ideas to nudge them into looking at glass beads differently, then they realize how well my beads mix with other mediums and components. They say, 'oh, I didn't think about doing that using your lampwork!" -Aja Vaz
"Don't sell something for less money than you can afford to make if someone ordered a hundred. For instance, if someone said, I'd like ten of these for my girlfriends, you want that to be a good thing. You don't want to think, 'I should have charged more because that's too much work for that amount of money." -Stephanie Sersich
Add A Bail To Your Glass Cabochon
Materials: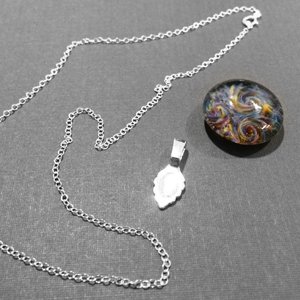 You will need:
Sandpaper (240 and 400 grit)
Adhesive
Step-by-step Instructions
Step 1:
Consider the following before deciding on your jewelry making findings. First, the back of your glue bail must have sufficient direct contact with the cab and reach at least to the middle of the pendant for a secure connection. With some cabs, like the one shown at the left, the edge is rounded so you will lose that contact surface. Account for that when choosing the bail and go with a larger option. Secondly, you need to make sure the end of the finished necklace can fit through the inner dimensions of the bail that you choose.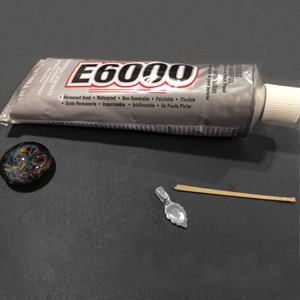 Step 2:
You'll need to prepare your pieces before gluing. Use 400 grit to remove the oils and dirt from the surface of the bail. Then, sand the back of the bead to roughen the surface with 240 grit sandpaper so the glue adheres better. Use a toothpick to smooth the glue onto the back of the bail and the back of the cabochon.

Step 3:
Proper placement of the bail should look like the picture on the left. Make sure it is straight and fully in contact with the surface. It should reach at least halfway to the center of the art glass focal piece for a secure fit. Wipe as much wet glue off the back as you can before it drys, the remaining glue residue can be removed later once the adhesive is thoroughly dry.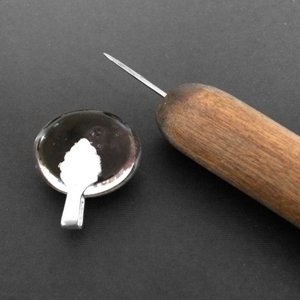 Step 4:
The excess E6000 glue was very easy to remove. I used a sharp pick and it chipped right off.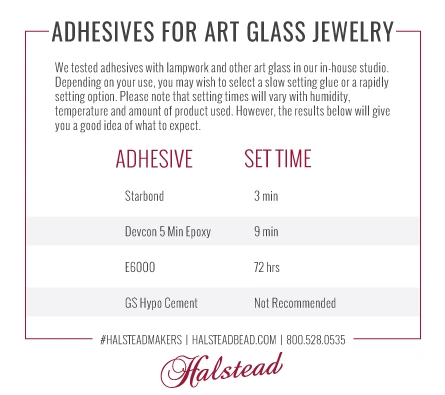 Add Grommets To Glass Beads
Show off your beautiful glass bead collection by making interchangeable sets using the same finished chain necklace! Customers love that you can use one elegant silver chain and easily swap out beads as often as you'd like. Whether it's a single, dramatic bead one day or stringing several smaller glass beads the next day, your lampwork beads are always the star of the show. It's easy to make your beads interchangeable; but, planning your mandrel size and buying the right jewelry supplies for glass artists is the key.
Step 1: Carefully Choose your Mandrel Size for Interchangeable Beads
When creating beads, the hole size will be critical to the success of the project. If the hole size is too small there's a chance the end cap or jump ring won't be able to fit through the bead, so a larger mandrel will work better. We found that 1/32 mandrels or larger work the best, especially if you plan to use a silver bead liner or "grommet."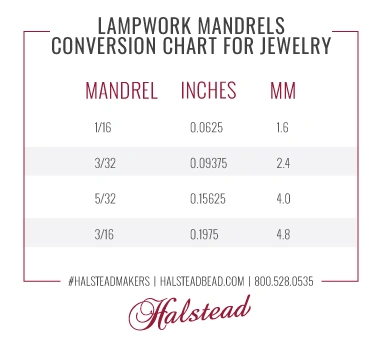 Why Do You Need Grommets?
Besides the shiny silver, looking beautiful against lampwork beads, there actually are a few good reasons to want to use sterling silver grommets. 1) They protect the bead hole from chips that can occur from everyday wear and tear, 2) they protect your silver chain from damage from any rough surfaces inside the bead hole, and 3) they add value to your piece. You've now added sterling silver to your line of beads!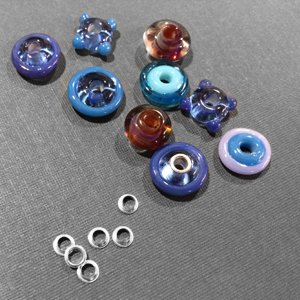 Step 2: Select Your Finished Silver Chain
There are a few supplies you will need; most important is a finished chain to hang your beads on. The choice in the chain is important, you don't want to use a weak chain that will stretch or kink because the weight of the beads is too heavy. The chain should be sturdy and strong. Some of our favorite styles for lampwork beads are the omega and snake style chains. They are made to be durable and have a solid appearance. Another great choice is a braided chain like a foxtail, wheat or rope. When choosing the chain you will need to be aware of the width of the jump ring or endcap. Will it fit through the hole sizes on your beads? The chain that was chosen for these interchangeable beads shown at the left was an 18in snake chain (Item# 2SN1518). It has a spring ring on one end and an end cap on the other. The cap is thin enough to slip through 3mm plus size holes. That's perfect!
The second thing you will need is grommets. The beads shown on the left have 5mm holes and 3mm holes. Two grommet sizes will fit these beads.
Step 3: Adhesives
Find a strong adhesive. We suggest Starbond which sets in 60-120 seconds. Other great choices in adhesives are epoxy and E6000. Their set times are up to 72 hours.

Step 4: Applying Starbond
Place your grommet upside down on the tabletop. The small rim should be sticking up and the bottom should be flush against the table. Use the tips that came with your Starbond to apply the glue, the thinner the tip the better. Place the glue in a thin stream around the outside ring of the grommet.

Step 5: Attaching the Grommet
To keep glue from getting on your fingers, place the bead hole over the grommet and lower it down until they meet. Make sure the grommet is flush with the bead. (Remember: you must do this quickly since the bond time is 60-120 seconds.) If needed: quickly wipe-off the excess glue around the grommet. If the glue dries before you can complete this step, the glue is hard and should just chip right off.

Step 6: Finishing
Simply string your bead over the end cap on the chain and you are good to go.

Making Earrings With Glass Beads
Beaded earrings are the perfect way to show off your favorite beads. There are a few special considerations for lampwork. Because the holes are so large, you have to combine them with smaller-hole beads or figure out another way to prevent the bead from sliding off the wire. Bead caps or flat metal disk beads are great for this purpose. They complement lampwork beads and help show them off.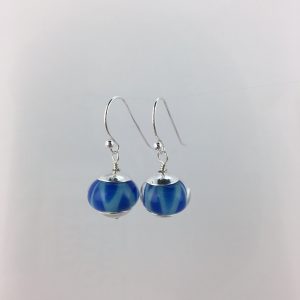 Step 1:
Start out by stringing your beads onto a headpin, which is a special wire with a flat end. Here, we're using a bead cap on each side of the lampwork glass bead. The bead caps have small holes so they won't slide off the headpin like the lampwork bead would if it was hanging out by itself.
Note: When you're choosing beads, take your time and find a pleasing arrangement. It's usually a good idea to work in groups of odd numbers.

Step 2:
Use either round nose or chain nose pliers to make a right angle about 1/16-inch (or what amounts to the width of the tips of the pliers) above the bead assembly.
Note: Chain nose pliers will make a crisp angle while round nose pliers will make more of a curve.

Step 3:
Place the round nose pliers about 1/8-inch from the right angle. Roll the pliers back toward the right angle to form a loop that is positioned directly above the bead. Notice the position of the loop in this photo.
Note: Don't try to use the very tips of the pliers because you'll have less leverage there. Work in the middle of the pliers until you're comfortable making loops.

Step 4:
Grasp the loop in the chain nose pliers so you can hold onto it, then coil the extra wire around the base of the loop and downward toward the bead. In general, three to four times is sufficient.
Note: Some people like to use a second pair of chain nose pliers to grasp the end of the wire as they're coiling. Other people are more comfortable using their fingers. Try it both ways and see which one works best for you.

Step 5:
Use wire cutters to trim away any extra wire.
Note: Remember that you should always turn the back of the cutters against the work. That way, the cut end of the wire that remains on the earring is as flush as possible and won't snag or poke.

Step 6:
Now that your beaded assembly is complete, it's time to attach it to an earring finding. There are so many ear wires to choose from! The one pictured here is a favorite because it is so simple to use. You pull the small silver ball away from the ear wire, slide your loop onto the wire, then close it back.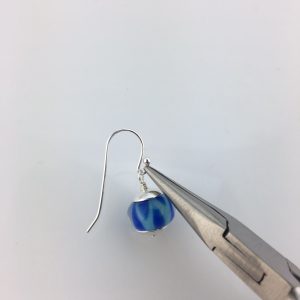 Make a Bracelet with Glass Beads
Making a bracelet is a great way to experiment with beginning beading. Explore simple repeating patterns like this one or play with symmetrical designs. Jewelry supplies include beads in varying sizes, beading wire, coordinating crimp tubes, crimp covers, and a clasp. Minimize abrasion on the beading wire by using the largest diameter of wire that will pass through the smallest bead in your design.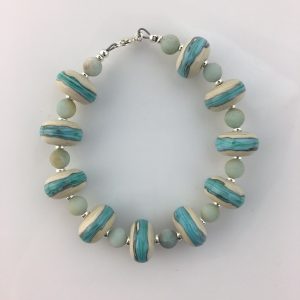 Step 1:
Cut a piece of beading wire that's at least 2" longer than your desired bracelet size. Pass the wire through the crimp tube, the clasp, and back into the crimp tube. If you're using the Eurotool dual crimper, place the crimp inside the middle notch in the jaws. Squeeze gently to make a crease in the tube. Then, turn the tube 90-degrees and place it inside the outermost jaws and squeeze gently to fold/round the tube.
Step 2:
Place a c-shaped crimp cover over the crimp tube. Use the outermost jaws to gently squeeze it closed. Crimp covers give your crimps a more professional look and can also make your bracelets more comfortable to wear. String beads as desired.
Sterling silver beads make beautiful accents between lampwork glass beads.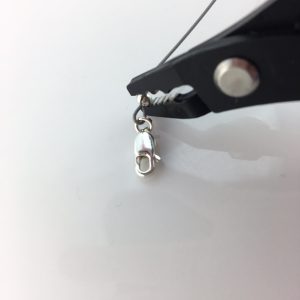 Step 3:
When you're satisfied with your beading pattern and the bracelet is the desired length, pass the wire end through a crimp tube, jump ring SJ84, and back through the crimp tube. Bend the bracelet into a U-shape before you crimp it. The ensures that it will be flexible when worn. Crimp the crimp tube, then trim away any extra wire and attach a crimp cover.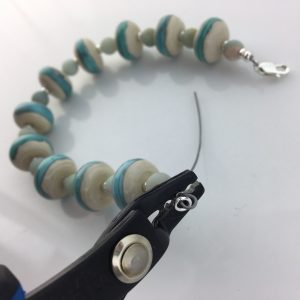 About the Glass Artist:
A published artist, Tammy Rae Wolter has worked in different mediums over the course of her career, finally deciding on glass after taking courses at the Bead & Button Show in Milwaukee, Wisconsin. Her glass of choice is borosilicate, and she loves arriving at her studio each day in Waupaca, Wisconsin and opening her kiln to see her finished art. You can now find her teaching her own courses at Bead & Button Show.
Paula Radke started out as a young girl creating pieces in mixed media, but in the early 1980's she found her love with glass. Today she works almost exclusively with Dichroic glass, creating designer lines with Hobby Lobby, Joann's, and Michael's Arts and Craft Stores. Currently, she lives in Morro Bay, Ca and offers glass-making classes in her studio.
Stephanie Sersich comes from an artistic background. At an early age, she was exposed to a wide range of art projects which followed her into her adult years when she studied painting and metalsmithing in college. Since one of her hobbies was collecting beads she took the plunge and decided to create her own glass beads using her own various techniques. Stephanie lives in Maine and teaches classes at various locations throughout the US and abroad.
Watch the video!
---
You may also be interested in these articles on how to turn art glass focal pieces into beautiful jewelry: