Make your art glass cabochon creations stand out as beautiful pendant necklaces! With just a simple bail and a finished chain necklace of your choice, you can add resale value to your cabochon as a wearable jewelry piece to show off. Learn how to make this easy upsell to promote your glass work.
Some customers love to buy loose beads and focal pieces to use in their own jewelry designs. But, you will appeal to a wider resale audience if you offer some ready-to-wear options featuring your art glass creations. This quick and easy technique will take your cabochons to the next level.
Materials:
You will need:

Sandpaper (240 and 400 grit)
Adhesive
Step-by-step Instructions
Step 1:

Consider the following before deciding on your jewelry making findings. First, the back of your glue bail must have sufficient direct contact with the cab and reach at least to the middle of the pendant for a secure connection. With some cabs, like the one shown at the left, the edge is rounded so you will lose that contact surface. Account for that when choosing the bail and go with a larger option. Secondly, you need to make sure the end of the finished necklace can fit through the inner dimensions of the bail that you choose.

Step 2:

You'll need to prepare your pieces before gluing. Use 400 grit to remove the oils and dirt from the surface of the bail. Then, sand the back of the bead to roughen the surface with 240 grit sandpaper so the glue adheres better. Use a toothpick to smooth the glue onto the back of the bail and the back of the cabochon.

Step 3:

Proper placement of the bail should look like the picture on the left. Make sure it is straight and fully in contact with the surface. It should reach at least halfway to the center of the art glass focal piece for a secure fit. Wipe as much wet glue off the back as you can before it drys, the remaining glue residue can be removed later once the adhesive is thoroughly dry.

Step 4:

The excess E6000 glue was very easy to remove. I used a sharp pick and it chipped right off.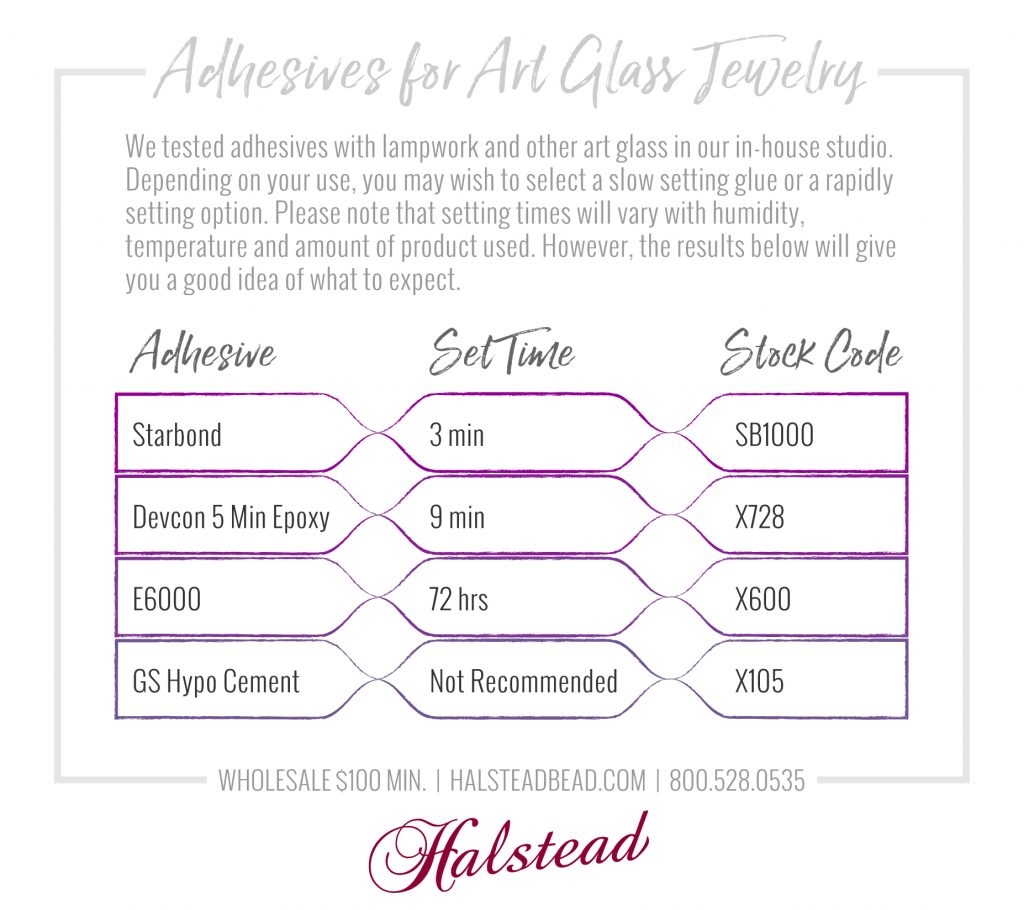 About the Glass Artist:
A published artist, Tammy Rae Wolter has worked in different mediums over the course of her career, finally deciding on glass after taking courses at the Bead & Button Show in Milwaukee, Wisconsin. Her glass of choice is borosilicate, and she loves arriving at her studio each day in Waupaca, Wisconsin and opening her kiln to see her finished art. You can now find her teaching her own courses at Bead & Button Show.
Watch the video!
---
You may also be interested in these articles on how to turn art glass focal pieces into beautiful jewelry:
Turning Your Art Glass Beads into Jewelry
Simple Chain Necklace for Interchangeable Art Glass Beads