Marketing jewelry on Facebook isn't always an easy task, but with a few tips you'll be well on your way to success. Updated July 2021.
With the rise of the variety of social media channels, Facebook is sometimes seen as a lesser option. But marketing your jewelry business on Facebook is still a vital part of your marketing strategy. Each social platform has its own audience, which is why it's best to have a multi-platform strategy. The Facebook audience may reach people in your target audience who are not necessarily on other platforms. Facebook also has a variety of unique tools that will help your jewelry business grow, make sales, and provide quick customer service.
We talked to a couple jewelers who have tried using Facebook for their business. Susan Frerichs, founder of Susan Elnora Jewelry, and Nikki Nation, founder of Nikki Nation Jewelry, have seen both the positives and frustrations of using Facebook.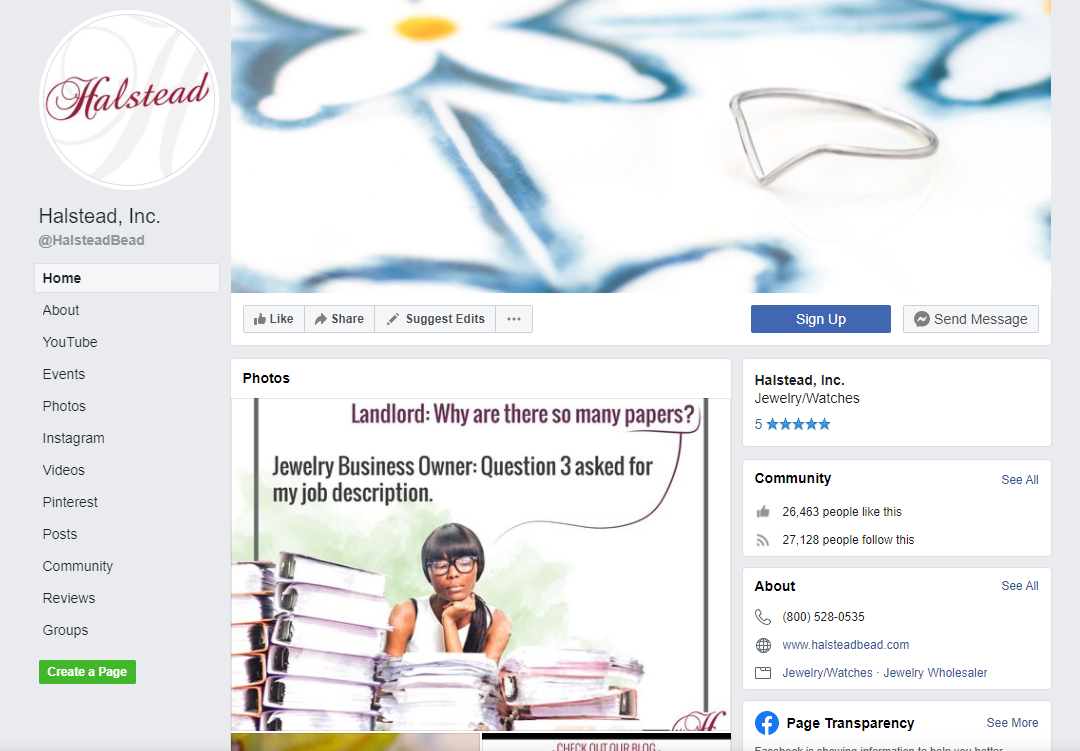 Use Facebook's Business Tools
Facebook provides a wide variety of tools to businesses on Facebook. Your first task is to create a business page and business manager account so you can access all these tools. Having a business page separate from a personal profile will help you keep your business and personal life separate and help new visitors see your business as a legitimate, viable option. It's best to keep your business page posts directly related to your business, but visitors love seeing an inside look such as studio pets or process videos.
You will want to optimize your jewelry business Facebook page as much as possible. Your About tab should give as much information about your brand as you can. This is also a great place to tell your jewelry story and teach potential customers about your brand. Be sure to start it off strong with an amazing cover photo! This is the first impression someone on Facebook may have of your business, so make sure it draws people in and tells them about your jewelry.
Susan has found the best part about having a business page is the messenger function. The most practical use is that it makes it easy for customers to contact her quickly. The messenger app has a lot of uses besides a simple contact point, and Facebook has worked to make this a powerful business tool. Businesses can access services such as enabling transactions, acquiring customers and more.
Another great feature, as Nikki points out, is that she can connect her Instagram and Facebook business accounts. This means you can easily share photos between the two accounts. So if you really liked a picture on Instagram, put it on Facebook too! Once they're connected, it's easy to share between platforms.
Shop Function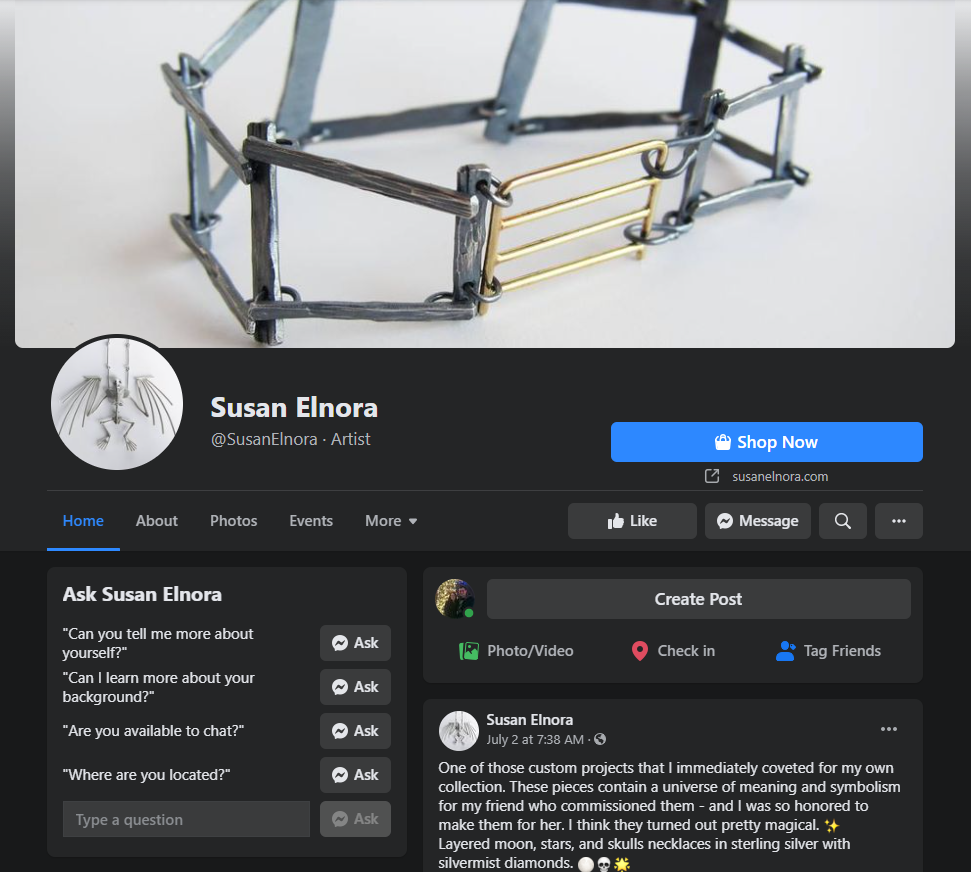 Part of marketing your jewelry on Facebook is allowing customers to easily purchase your products.As a business,you can set up an online store on Facebook (and Instagram).If you choose to sell on both platforms, you can easily setup and manage your shopin one place.There are a few options in your setup: you can choose to allow a visitor to buy directly through Facebook or send them straight to your website.
If you use a Facebook partner website platform, such as Shopify or Big Commerce, you may easily be able to setup your shop using your existing website catalog. When you setup your product catalog on Facebook, you'll want to include as much information as possible and links directly to the item on your website where customers can find full details. You're able to include multiple images, categories, variant options, and more.
Insights/Analytics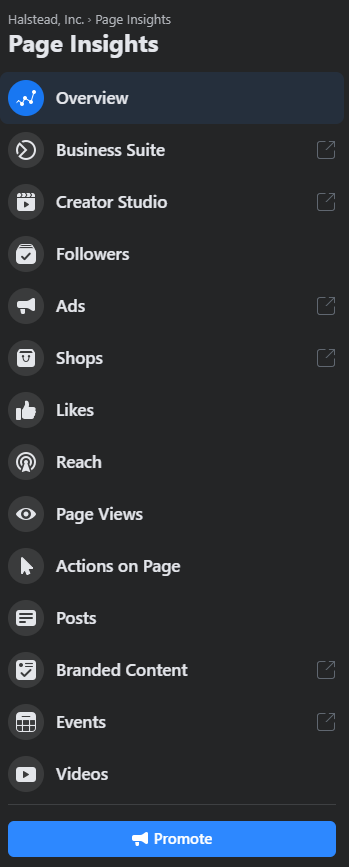 Use.Your. Analytics. (Or as Facebook calls them, insights.) We can't stress this enough. What's the point of putting time and effort into marketing your jewelry on Facebook if you don't judge how successful it was?
Facebook provides all the data you need to make this part of your social media marketing easy. Track your number of followers and likes, how many page views you've received, the engagement on each post. To judge a post's success, think about what success means to your business. A lot of likes on a post may not translate into website clicks or sales. Once you know what type of success you're looking for, find the posts that worked and try to figure out why it worked so well. It may be the type (image, text, video) or the subject (a finished piece, a behind-the-scenes look, information), or the aesthetic of the post.
The trick with these insights is to look at the big picture. You can set the time to different lengths - 1 week, 1 month, 1 quarter. Certain analytics will need different times. For example, the number of followers is going to fluctuate day to day, and you may have a bad week that didn't gain many. For this, look at one of the longer time frames so you can see the overall trend of followers. To see how successful your posts have been, you may want to look at the shorter time frame since most activity happens quickly here.
The most important thing to remember though is don't let the negative weeks get to you! Use these as a learning tool so you know which type of content might not apply to your followers as much. Celebrate the good weeks, but don't let it trick you into complacency.
Paid Advertising
The world of PPC (pay per click) marketing is complicated, but Facebook tries to make it simpler while still providing great tools. Facebook demographics cover a large variety of the population, but their advertising has amazing audience targeting features that can help pinpoint your best leads by more than just geography and demographics. Tailor a campaign based on interests or behaviors that run parallel to your business. Play with the custom audience tools to create a narrowed-down group. Here at Halstead, we've found that Facebook advertising also gives you great bang for your buck. It can be more affordable than Google with great data you can use to track how ads are driving sales for you. Facebook makes it easy to "boost" any of your current posts as an ad campaign, which means you don't have to spend time making extra ads.
Reviews
Customers want reviews when purchasing from a company for the first time. Jewelers are subject to extra scrutiny because of the nature of our products. Facebook's company review feature can help to give you the social proof you need to convert browsers into buyers without having to add additional software to your own website. Facebook reviews are also used in Google algorithms. This means they can appear on the search results page right alongside your company information.
Build a Content Strategy
Your content strategy is the foundation of your jewelry business' Facebook marketing strategy. Creating a content strategy for your jewelry business isn't as difficult as you might think. Plan out a few photoshoots through the year to get all the photos you'll need to promote your pieces. You'll want to plan for 1-2 posts per day if possible - though this will depend on your audience. Some people may want more, some may want less. Find the number of posts that work for your business (though the minimum recommendation is generally 3 times per week). Ideally, try creating a content calendar for the month and post a variety of content. When will you post a video? Do you have a special event coming up? When might you need some filler content?
Video is quickly becoming the preferred content across social media platforms, so be sure to plan out a few videos and add in some spur of the moment content as well. The best part is that video doesn't have to be a huge production! Your videos don't need to be 10-minute professional movies to successfully market your jewelry on Facebook. They can be simpler, depending on your audience: A quick clip of your jewelry moving in the light, a short peek at your process (or if you have the software, a time-lapse of a longer process), or even a quick video of you showing off your jewelry collection can work. Truly, for Facebook, you want to keep your videos simpler, unless you want to try out Facebook Watch. People scrolling through their news feeds likely aren't going to want to watch a 5+ minute video. If you want to make longer videos, put them on YouTube with a short teaser video for social media and a link to the full video.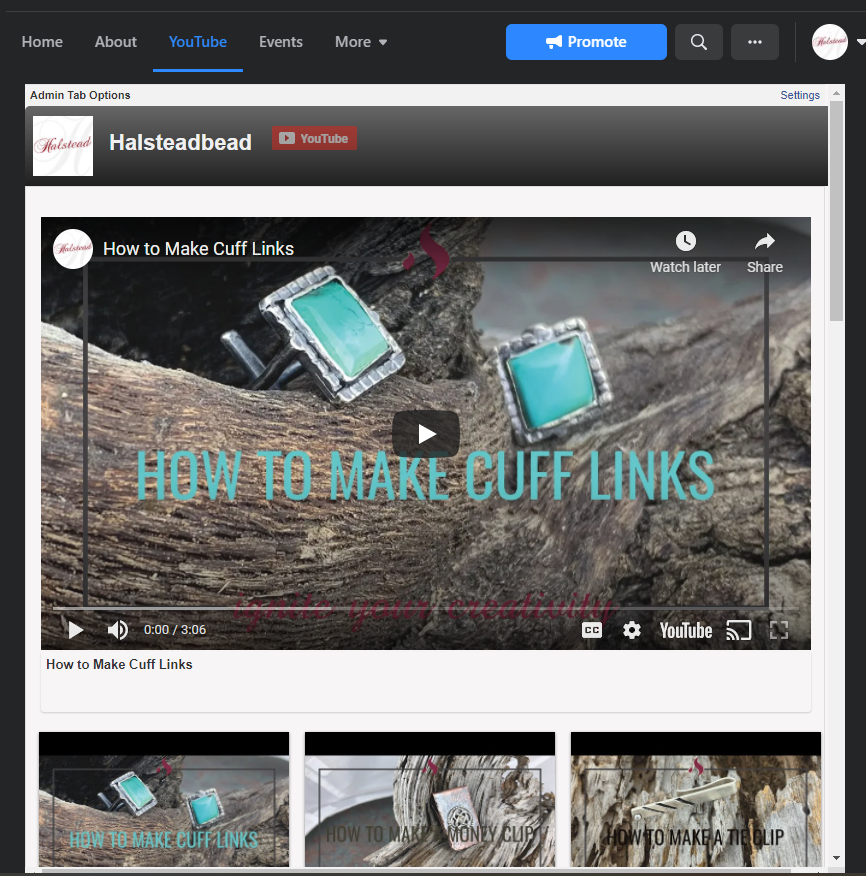 Scheduling Tools
Facebook has a built-in scheduling tool to make your day-to-day work easier. But if you're using multiple social media platforms, you may want to consider a scheduling platform. At Halstead, we've used Tailwind and Later with great success. Other popular options are Hootsuite, Sprout Social, and Buffer. Do some research to find out which option might work best for your business goals. Use the scheduler for some of your regular posts such as photos of jewelry, planned releases, your upcoming schedule, etc. Then add in posts and stories when you're at a show or have something of special interest to share. By scheduling your month (or so) in advance, you only need to take an hour or two for scheduling rather than remembering to post every day! However, you still need to be responsive. Schedulers aren't an auto-pilot option. You'll need to be able to respond to any questions or comments as they come.
Create Facebook Events
Posts from pages may get buried on Facebook, but events often end up in user's notifications. Use the Facebook events scheduler to promote your upcoming trunk shows, collection launches and sales. Add images and post directly in the event listing to spur engagement. Events are one of the most effective tools available on Facebook.
Take your Facebook marketing offline and get the word out that you will be selling somewhere! It can be the perfect way for you to meet clients and create a connection with them beyond the computer screen. Susan has used events and found that customers have come to a show because they heard about it on Facebook.
Create a Group
Groups are not an exclusive business tool, but many jewelry brands and small businesses have found success in creating a Facebook group to help their marketing strategy. Facebook groups are a great way for jewelry businesses to build a community and build brand loyalty. This group should not be a simple copy of your business' Facebook page. It should be something centered around your customers' interests and give them something they want. Some jewelers make a group for their top customers then offer them first dibs on new products, live shopping events, and exclusive deals.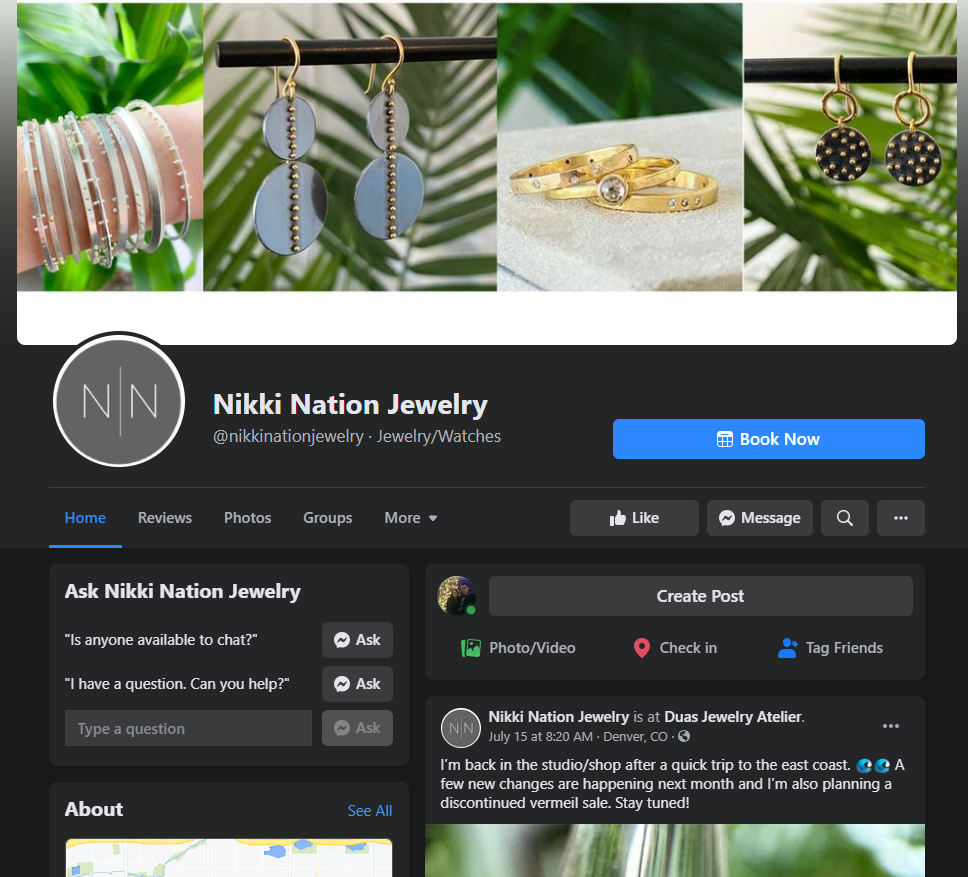 Be Social
The whole point of maintaining a Facebook page (or any social media) is to be able to connect with your audience on a more personal level. Make your business page personalized! People scrolling through their newsfeed don't want their pages to advertise to them - they get ads everywhere else. Show your audience that you're a human and want to connect with them authentically – people can tell when you're not being authentic.
Marketing your jewelry on Facebook will be more successful if your followers are able to see more than just photos of jewelry with prices and links to buy. Let people know what you're working on in your studio. Give your followers an exclusive sneak peek of a new collection or item (people feel really special and connected when you tell them it's "exclusive").
You have friends in the industry, work together to promote each other! You'll be able to reach an even bigger audience by tagging another jeweler in your post. Be sure to tag any pages of shows you participate in so people will know you're there.
You don't need to be a marketing genius to leverage Facebook to work for your business. Be yourself, be social and use the tools provided to generate the type of content your followers want to see.
Check out these helpful articles for businesses from Facebook:
https://www.facebook.com/business
https://www.facebook.com/business/small-business/marketing-plan
https://www.facebook.com/business/marketing/facebook
https://www.facebook.com/business/shops
https://www.facebook.com/business/marketing/messenger
---
Subscribe now and check out these other articles with great tips on marketing your jewelry business:
Jewelry Marketing Ideas: How to Target Customers Successfully
Jewelry Marketing Tips from Liz Kantner
5 Video Marketing Ideas for Your Jewelry Business