Sizing a ring up, in my opinion, is much easier than sizing a finger ring down. You have ring stretchers that allow you to get the job done quickly, but there are not that many jewelry making tools available for reducing the size of a ring. The skills to be able to size a ring is important to know if you sell a lot of finger rings plus it keeps the customer coming back to see you when they need work done on a piece.
Repair skills can bring you lifelong, happy customers, but make sure you only take on jobs you are comfortable with.
When sizing a ring down there are two available options that depend on the type of ring. First, reducing techniques can compress a uniform band into a smaller size. Second, more complicated ring designs with settings, engravings or patterns will need to be cut and soldered.
Reducing



If you work with plain bands, then the ring reducer is a great tool to have. It is large, heavy, and it needs a dedicated spot in your jewelry studio. But since it is a ring stretcher and reducer in one, it is invaluable when working with finger ring bands. This ring stretcher and reducer is easy to use. Watch the video above for a quick demonstration. Take care to size bands before stamping or engraving so you don't distort markings. Rings can be reduced by about one full size using this technique.
Cutting and Soldering
If you're sizing a ring down that has an embellishment such as a setting, then the ring reducer won't work and you'll need to cut and solder instead. First, see if the stone can withstand heat. If not, you'll need to remove it. Once removed, can you set it again? Certain settings such as gypsy and paved settings cannot be sized up or down because they can't be distorted in any way. With flush settings, you can't reset the stones once the ring is reshaped. Reducing a ring requires you to remove a piece of metal from it, bring the ends together, solder it and reshape it. At that point, some settings will not have their original shape anymore. Some rings cannot be sized down without sustaining damage and it is better to turn the job down.
If this is a ring for a customer, you need to return it to them in the same shape or better shape than when you received it.
If the stones can't take the torch heat, remove them from the settings before soldering. Do not resize a ring more than two sizes or it can really lose its original shape.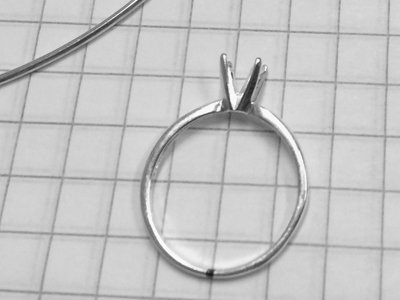 Step 1: Find the center of the band.
Step 2: Mark the centerline at the bottom of the band.



Step 3: Using the chart above, figure out the amount of metal you will need to remove from the band.
For this example, I want to go from a size 8 down to a size 7 so I need to remove 2.6mm of metal. From the centerline, remove 1.3mm from each side of that line. This will keep your finger ring balanced, rather than just randomly cutting from anywhere on the band.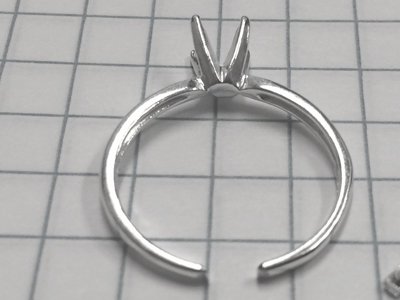 Step 4: File the two ends of the metal pieces so you can get a flush join for soldering.
Step 5. Bring the two ends together, checking that it is a tight fit.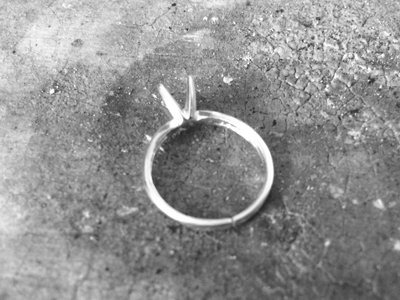 Step 6: Place a piece of medium solder under the join then flux, solder and quench.
Step 7: Finishing.
Be sure to check for any markings on the band before working with it. You will need to re-stamp any metal marks or special notes on the band, or at least explain to the customer if you're unable to.
To find out how to size up a finger ring, check out our blog: How to Size a Ring Up.
---
Other Great Articles:
5 Tips for a Successful Jewelry Business
Tips to Save Money Buying Bulk Jewelry Wire
Top 5 Reasons Silver Solder Doesn't Flow
Shop at Halstead for mill products, finger ring bands, findings and much more.
Got questions? Email our studio coordinator Erica Stice at studio@halsteadbead.com. We'd love to hear from you. Sorry, studio support is not available by phone. Emails only, please.