We've all been there. You've taken some really great jewelry making classes with fantastic instructors who provided you with pre-made jewelry kits of all the materials you would need. Now, you're ready to start working on your own. It's exciting! It's empowering! But then you start shopping for supplies in bulk. Talk about a whole new world. Don't worry! We're here to help.
Instructor Erica Stice says, "We see this all the time in the studio. It can be overwhelming for students to figure out what they need. In fact, we have one class that's all about training people how to plan, budget and create their designs. It's a difficult lesson to teach. We quickly see how fast $50 can be spent on buying supplies!"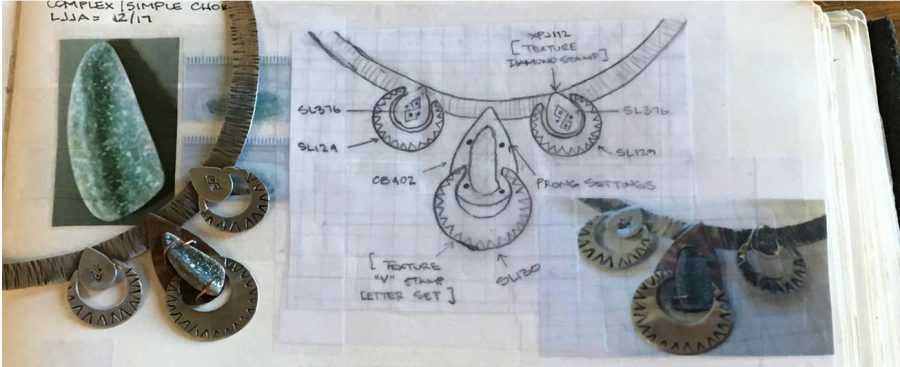 Sketch it Out
It's worth it to spend some time sketching your design ideas. Look online or in the catalog to guide you so you know what components are readily available as you plan your design. Be sure to take note of product numbers to make it easy to put your order together when you're ready.
A good sketch can become a valuable tool in your studio later, too. Add item costs near the product numbers and then you can file the sketch and use it to price your finished work or quote custom orders. If you ever intend to have help in the studio, the sketches can be used for training and quality control.
Make a List
Determine the quantity of each component you need for a finished jewelry piece and make a list. Be very specific so you'll know what to order now and so you can replicate the design in the future if you decide to make more.
Part of the purpose of the list is also to help you get organized. You might write it all down and then see that you have three different gauges of wire where two would work just as well. Think about economizing where you can. Remember to include standard studio supplies that you'll need such as Liver of Sulfur. Those supplies will need to be replenished when they're running low and placing them on the list will ensure that you take stock of what you have on-hand.
Plan for Production
If you are doing production work and will be making more than one piece, calculate your total needs so you can place your order all at once for the best possible pricing. If you're cutting multiple items out of metal sheet, this is where your sketch will come in handy. You can copy the components you drew and arrange them to determine the most economical size of metal sheet you'll need.
Sometimes items are sold in multiples. When you know you'll be making several of the same design, you'll be able to determine which bulk packaging will work best for you, ie. 10 versus 100.
Comparison Shop
Compare sources for the quantity of items you need. Keep in mind that the jewelry business is very fast-paced and all things are not available at all times. Protect your jewelry line against stock shortages by shopping around.
When you're selling your own jewelry, shopping with wholesale jewelry suppliers will nearly always be a more cost-effective choice than retail purveyors. Of course, we recommend Halstead as your primary source for jewelry making supplies. But there are several other reputable suppliers in the trade as well:
Otto Frei
Rio Grande
Stuller
Money, Money, Money
Check your budget and keep track of component costs so you can accurately price your work later. Keep in mind that some costs are tied to the metals market so they're likely to fluctuate over time.
There are special software programs you can use to track components in your studio, or you can keep it low-key. Artist/instructor Kate Richbourg says, "I keep permanent markers handy and, as soon as my inventory comes in, I take a moment to calculate the cost of the items and write them on the bag they came in."
Moving past kits into buying jewelry supplies is going to open up a whole new world for you. Enjoy it! Find more tips for small jewelry businesses and subscribe to weekly article releases on the Halstead Jewelry Articles.
About Halstead
---
You may also be interested in these Halstead educational articles:
5 Rookie Tips for Buying Jewelry Supplies
Make It vs. Buy It: The Jewelry Findings Conundrum