Show off your beautiful glass bead collection by making interchangeable sets using the same finished chain necklace! Customers love that you can use one elegant silver chain and easily swap out beads as often as you'd like. Whether it's a single, dramatic bead one day or stringing several smaller glass beads the next day, your lampwork beads are always the star of the show. It's easy to make your beads interchangeable; but, planning your mandrel size and buying the right jewelry supplies for glass artists is the key.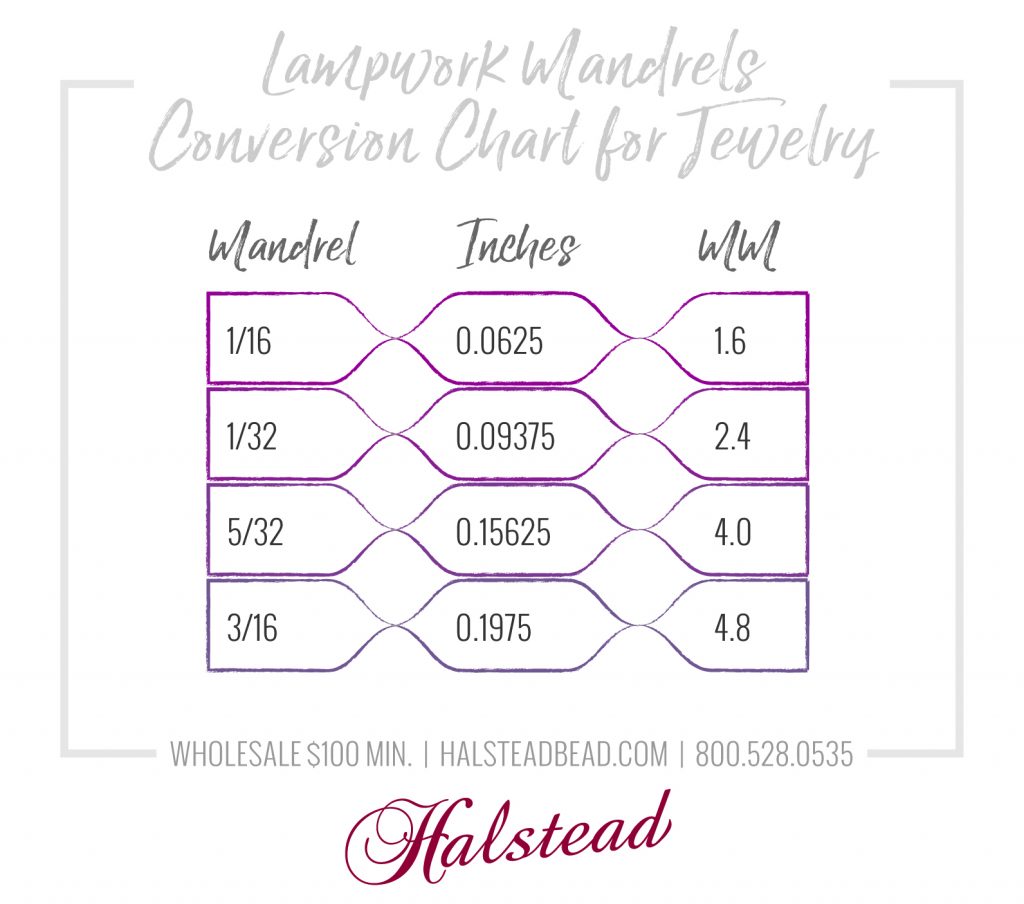 Step-by-step Instructions
Step 1: Carefully Choose your Mandrel Size for Interchangeable Beads

When creating beads, the hole size will be critical to the success of the project. If the hole size is too small there's a chance the end cap or jump ring won't be able to fit through the bead, so a larger mandrel will work better. We found that 1/32 mandrels or larger work the best, especially if you plan to use a silver bead liner or "grommet."

Step 2: Select Your Finished Silver Chain

There are a few supplies you will need; most important is a finished chain to hang your beads on. The choice in the chain is important, you don't want to use a weak chain that will stretch or kink because the weight of the beads is too heavy. The chain should be sturdy and strong. Some of my favorite styles for lampwork beads are the omega and snake style chains. They are made to be durable and have a solid appearance. Another great choice is a braided chain like a foxtail, wheat or rope. When choosing the chain you will need to be aware of the width of the jump ring or endcap. Will it fit through the hole sizes on your beads? The chain that was chosen for these interchangeable beads shown at the left was an 18in snake chain (Item# 2SN1518). It has a spring ring on one end and an end cap on the other. The cap is thin enough to slip through 3mm plus size holes. That's perfect!

The second thing you will need is grommets. The beads shown on the left have 5mm holes and 3mm holes. Two grommet sizes will fit these beads. I'll explain why you should use grommets in a minute.

Step 3: Adhesives

Find a strong adhesive. We suggest Starbond which sets in 60-120 seconds. Other great choices in adhesives are epoxy and E6000. Their set times are up to 72 hours.

Step 4: Applying Starbond

Place your grommet upside down on the tabletop. The small rim should be sticking up and the bottom should be flush against the table. Use the tips that came with your Starbond to apply the glue, the thinner the tip the better. Place the glue in a thin stream around the outside ring of the grommet.

Step 5: Attaching the Grommet

To keep glue from getting on your fingers, I place the bead hole over the grommet and lower it down until they meet. Make sure the grommet is flush with the bead. (Remember: you must do this quickly since the bond time is 60-120 seconds.) If needed: quickly wipe-off the excess glue around the grommet. If the glue dries before you can complete this step, the glue is hard and should just chip right off.

Step 6: Finishing

Simply string your bead over the end cap on the chain and you are good to go.
Why Do You Need Grommets?
| | |
| --- | --- |
| Besides the shiny silver, looking beautiful against lampwork beads, there actually are a few good reasons to want to use sterling silver grommets. 1) They protect the bead hole from chips that can occur from everyday wear and tear, 2) they protect your silver chain from damage from any rough surfaces inside the bead hole, and 3) they add value to your piece. You've now added sterling silver to your line of beads! | |
Finished Chain Styles Recommended for Interchangeable Bead Jewelry
About the Glass Artists
Paula Radke started out as a young girl creating pieces in mixed media, but in the early 1980's she found her love with glass. Today she works almost exclusively with Dichroic glass, creating designer lines with Hobby Lobby, Joann's, and Michael's Arts and Craft Stores. Currently, she lives in Morro Bay, Ca and offers glass-making classes in her studio.
Stephanie Sersich comes from an artistic background. At an early age, she was exposed to a wide range of art projects which followed her into her adult years when she studied painting and metalsmithing in college. Since one of her hobbies was collecting beads she took the plunge and decided to create her own glass beads using her own various techniques. Stephanie lives in Maine and teaches classes at various locations throughout the US and abroad.
Using Sterling Silver Grommets in Jewelry
Don't miss our instructional video on how to make jewelry out of your art glass creations.
---
You may also be interested in our other past articles for glass artists:
Beginner Jewelry Making Projects
Turning Your Art Glass Beads into Jewelry
Best Beading Tools Used for Making Jewelry
How to Make Standout Glass Cabochon Pendant Necklaces