Our Business Development Specialist, Kelli Vanyek, recently visited Creative Side Jewelry Academy of Austin, TX. Learn more about their amazing metalsmithing curriculum for kids. Are you looking for a studio experience for your children? Are you thinking about spearheading a youth metals program in your community? This interview will inspire you to create a legacy of arts appreciation, advocacy and maker skills for a new generation.
Courtney Gray started the Creative Side jewelry academy in Austin, Texas 11 years ago and it is thriving today. This dynamic anchor to the Austin jewelry community boasts impressive facilities and workshops for all kinds of makers working in metals. One of the programs that is truly inspiring is the Young Metalsmiths. It gets children as young as 10 into the studio working with jewelry making tools and torches. This type of hands-on education exposing kids to skilled craftsmanship and the arts is a model for youth programming. I got to sit down with program director Lindsay Sanchez to hear how it all started.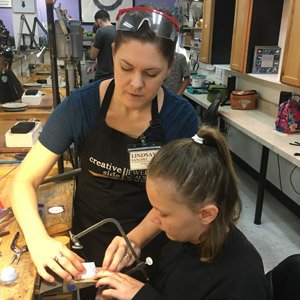 Kelli: What is your background in jewelry making / metalsmithing?
Lindsay: I am an Austin-based jeweler and metalsmith who is leading the Creative Side Young Metalsmiths program as director and instructor. Since I was a child, I was surrounded by supporting and practicing artists in the family. I went to college with the intentions of an art degree, however I didn't expect to land in the jewelry and metals dept. It was love at first, "light of the torch," and I am so grateful that I found an art form that truly speaks to my soul and heart. I received a BFA in Jewelry Design and Metalsmithing from the University of North Texas. In 2006, I spent a summer in Italy where I practiced methods of silver and bronze casting and studied art history. Since 2006, I have been actively designing, making and selling my own line, Lindsay Hendricks Jewelry. I work predominantly in sterling silver and create lightweight sculptural jewelry from wire inspired by architecture and local flora. I have also been teaching jewelry to all age groups, but primarily the youth: the next generation jewelers.
K: When did you come to Creative Side?
L: I joined the team as the Youth Program Director and instructor in 2014. I also have an additional role of assisting with Community Outreach projects and marketing. We are a small business and we all work to our full capacity to reach as many people as possible and continue to grow our community.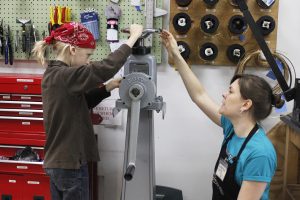 K: When did the Young Metalsmiths program start?
L: In 2014. Funny story...I founded an afterschool jewelry program for the Austin Independent School District. I wanted to take my students from AISD on a field trip to see some professionals at work and Creative Side was a natural first choice! Courtney and the staff invited us into the studio with open arms and even let my students get hands on with some metal and a hammer and anvil. We had a great experience and I think light bulbs went off for both Courtney and I. We stayed in touch and within the year we had launched Young Metalsmiths to bring the youth to Creative Side. We started with one day workshops, private lessons, and soon after, our highly desired summer camps.
K: How old are the children in your program?
L: Ages 10-15
| | | | |
| --- | --- | --- | --- |
| A small bird created by a student of Young Metalsmiths. | Sculptures created by students of Young Metalsmiths. | Finished necklaces created by students of Young Metalsmiths. | A cuff bracelet created by a Creative Side student. |
K: What is on the curriculum? How often are classes?
L: Our most popular programs are our Spring and Summer Camps. They are Monday-Friday and each week is focused on techniques such as soldering, casting, or etching. We also offer a homeschool program, Jewelry Biz for Kids. In the homeschool program we not only help the students build on metalsmithing techniques, but we also engage in learning activities geared toward entrepreneurship such as pricing, creating a collection, and presentation of their jewelry and brand. All of the camps and classes that we offer provide a safe and creative environment where kids and teens have the opportunity to learn fundamental metalsmithing techniques using copper, brass and silver. The classes are led by professional artists and educators. Under their guidance, students increase their fine motor skills while learning to make sculptural jewelry pieces. They learn sawing, soldering, filing, hammering, drilling and finishing skills, casting, and much more. Students create multiple pieces and are encouraged to develop their own design skills. My favorite part (and I am usually on the verge of tears) is at the end of each camp or semester the participants organize their own end of session exhibition here in the studio including naming the exhibit, setting it up and designing their own display. Parents and family are invited to join us to meet the instructors, new friends and view their artwork on display. The students are always beaming with pride. It is quite an accomplishment to make quality metal jewelry at 12 years old!
K: Are the parents of your students also in the jewelry making world?
L: Pretty much no. Some parents are artists or entrepreneurs. Our parents are in awe of what their kids are creating and on a few occasions we have sparked interest in the parents which result in them signing up for classes for themselves!
K: Anything else you would like to include about Creative Side or the Young Metalsmiths Program?
L: We have had some students with us since the birth of the Young Metalsmiths program. It has been a joy to watch them grow as an artist and into young adults. We have had some of those students go on to create their own jewelry business and sell their work in art shows and local fairs. We also recently implemented a Mentorship Program for students that have completed 2 or more years of Jewelry Biz for Kids. Through an application process we choose one student per session that exhibits qualities of great maturity, advanced jewelry skills, and knowledge of the studio. As a mentor they assist the instructor during studio time and help along the new students. They also get to take more advanced classes to further their design skills and shadow other jewelry artists in our community.
Not only is Lindsay a jewelry designer, director and instructor she is also a mother. I really admire her hustle and passion for her community! Lindsay's personal goal in the classroom every day is to encourage individual and creative expression through the art of jewelry and to be the best mentor to each and every student. She said, "Sharing my knowledge and passion of jewelry making with kids has made me a better jeweler and reminds me of why I do what I do".
You can find more information, class schedules and registration for the Creative Side Young Metalsmiths Program at http://creativeside.org/classes/youth

---
Learn about other innovative jewelry studio school programs around the country.
Halstead's Preferred Studio Schools
Learn Sawing From Our 2019 Featured Metalsmith, Julie Sanford