As an addendum to the article, How to Use Jewelry Exhibition Opportunities to Build Your Business, we have decided to include this full length interview with Jewelry Edition (JE) founders Kat Cole and Laura Wood.
Launched in 2012, Jewelry Edition has featured the work of 18 artists over the course of three years. Once a platform for emerging artists, the project has since expanded to include the work of artists in all stages of their careers. Through an annual call, work is selected for a selling exhibition that travels to venues all over the country including conferences, cultural centers, and galleries. Photos of past participants' work are available on JE's website. In 2017, Cole and Wood launched the Jewelry Edition Award, "we hope that in giving this award it will help to facilitate professional goals and assist in the growth of work." The award includes a cash prize of $500 and an invitation to Smitten Forum in New Mexico, as well as an opportunity to exhibit at Form and Concept Gallery. The 2017/2018 JE Award went to Hannah Oatman. And now, for the interview.
Can you tell me why, as artists, you started JE. Is it because you saw a need for more exhibition opportunities?
It wasn't that we saw a need for more exhibition opportunities, it was more of a desire to find new methods of sharing work without relying on preexisting templates. Our aim has always been to explore new ways of exhibiting contemporary jewelry and to get in front a variety of audiences. In the beginning our focus was to seek new opportunities for early career artists and it has evolved to provide support for artists in the various stages of an art practice. We maintain the goal of cultivating new strategies for engaging the public with contemporary jewelry that is approachable, educational, and exciting. This platform has allowed us to explore ideas with momentum and share our findings with a community of artists. The landscape of being an independent artist is challenging and working together and with our network of artists and collaborators has allowed us to be creative.
What sort of feedback have you received from artists who participate?
The feedback from JE participants has been exceptionally positive: increased interest in work from a larger audience, new gallery representation, and a sense of community are among the comments. Jewelry Edition has provided a challenge for some artists to build out a collection featuring limited edition production in addition to one-of-a-kind work and has also been a launching point for artists to see the impact of avant garde work with unexpected clients. Though we love the process of selling the work not all artists share this passion, some participants are thankful for simply having a liaison.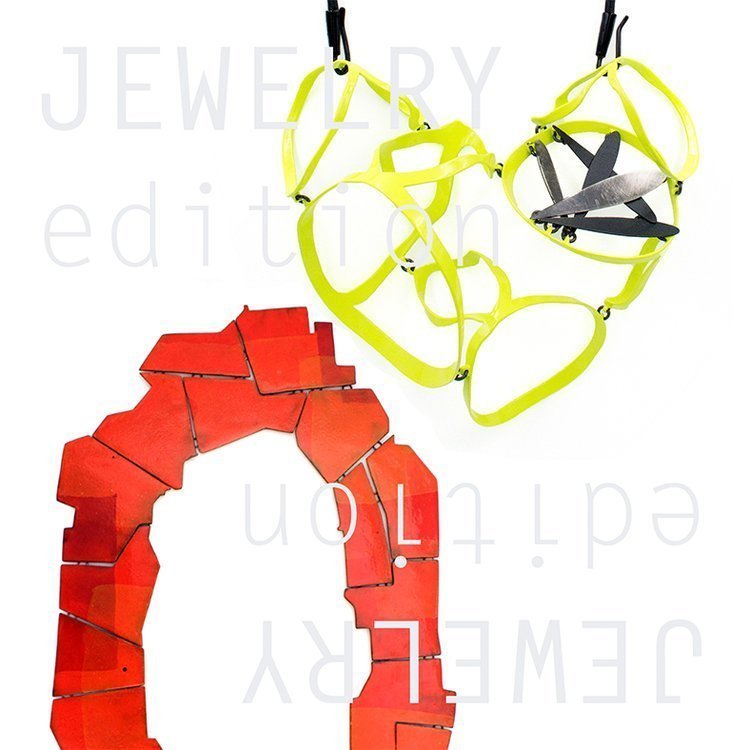 What advice do you give to emerging artists who apply to JE about seeking out opportunities?
When submitting an application be complete, cohesive, and thorough. Image quality is key, the first promotional material is uses images in the application. Research the opportunities you are interested in before applying. Find a network you can communicate with to share ideas. Above all, what is the future you see for your work, do you have a vision for the work you are making? Having an answer to these questions is important because Jewelry Edition exists to facilitate these goals and in general being in tune with these goals will contribute to finding your audience.
How do you promote JE and how do you secure venues for the exhibitions?
We promote largely through social media. We also value cross-collaboration with host galleries, organizations and JE artists. Every year we print a poster, as well as postcards, with artist information. This year we worked with Mark and Angela Walley of Walley Films to capture our pop-up with the Houston Center for Contemporary Craft and give an overview of the project for the last four years. We released the film along with our call for entry to Volume 5 (open through March 15). Our website features each artist with insight into their work and we have an events page where anyone can view previous installations and enthusiastic patrons. We refer to Jewelry Edition as a pop-up contemporary jewelry experience - examination, touch and trying work on is encouraged - it is the whole point!
Venues are secured in a variety of ways: through existing gallery relationships we both have from our individual practices, cold calls to spaces we see as exciting opportunities, and making relationships at conferences and large gatherings where these conversations happen naturally. We also include one or two experimental spaces each year. For example, we teamed up with a culinary artist in Atlanta to share clients lists and an event space for an evening of jewelry, music and hors d'oeuvres. We welcome any ideas or collaborative opportunities and we stay open-minded about how each year will develop. Jewelry Edition is an extension of our creative practices and so we are continually re-examining how it can evolve.
Can you talk about your plans for JE5. You have some changes in the works and a new group that you recently announced?
The Volume 5, 2019-2021 participating artists are Tanya Crane, Taylor King, Megan McGaffigan, Jillian Moore, Amelia Toelke, and Aric Verrastro. Two cool developments for V5 will be working with Ashley Callahan (Ga) and Luiza deCamargo (MA) as writing collaborators. Haystack Mountain School of Crafts is also a contributor to the project this year. We were really happy to be able to do the award last year. This year we are shifting those funds to support a couple of writers to contribute to the project.
Why is JE5 from 2019-2021? You won't do another call till 2021?
Vol 5 will run for two years, this will give the group time to flush out some of the dialogue we have planned and for JE to make a catalogue. We hope there will be some interesting developments, time will be on our side. We will do another call though at the close of V5!
If you are interested in learning more about JE or speaking to them, contact them at jewelryedition@gmail.com
Check out more about jewelry exhibition advice in Bella's article: How to Use Jewelry Exhibition Opportunities to Build Your Business