VIELA, Ltd.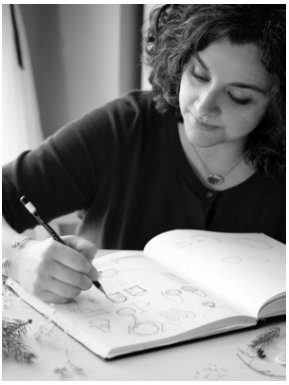 Halstead Grant 2015 Top 10 Finalist VIELA, Ltd. creates elegant, hand-crafted silver jewelry with textures of the natural world.
President and Designer Angela Colasanti received her B.A. in Art from Moravian College. Her jewelry designs are featured nationally in museum stores, galleries, boutiques and fine art shows. VIELA, Ltd also recently received a Small Business Achievement Award from SCORE of Chester and Delaware Counties.
VIELA is a Finnish word for "still to come, or yet to be". It is also an anagram of the word ALIVE. Angela says, "Both of these concepts define what VIELA is and what it will become."
She says, "I walk and collect...the next day, the next place, I collect more. I have no idea what designs will emerge from these textures and objects." As she samples newly found textures each season, she adds fresh designs to her jewelry collections.
Visit VielaJewelry.com to shop, learn more and connect on social media.
---
Olivia Shih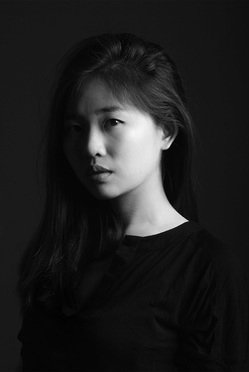 Halstead Grant Top 10 Finalist Olivia Shih creates eye-catching jewelry that reflects the urban experience through inventive textures, colors and forms gleaned from her travels to various cities.
Olivia is a globetrotter who is devoted to designing and making jewelry in an ethical way. She does this through using recycled precious metals or using gemstones from reputable sources.
Olivia began jewelry making after she realized that the fast-paced, highly competitive lifestyle she'd begun just wasn't for her.
Unafraid of hard work centered on building a business, she went back to school to study jewelry design.
She says, "Art school allowed me to make sense of what made me happy, what I could do, what kind of life I wanted, and where all these things intersected."
Visit OliviaShih.com to shop, learn more and connect with Olivia via social media.
---
Nicolette Absil Studio
Halstead Grant 2015 Top 10 Finalist Nicolette Absil Studio combines delicate, hand-drawn illustrations with traditional vitreous enameling techniques to make one-of-a-kind art jewelry.
Nicolette is a full-time studio jeweler who sells her work nationally at fine art shows and galleries. She says, "The strongest motivation behind doing what I do is creating well-crafted, long lasting future heirlooms. I want to create the next generation of collectors."
Her process begins by fusing enamel to a form. Then, she draws delicate illustrations onto the surface and fires the piece again to fuse the layers together. The image becomes a permanent part of the glass. She fabricates sterling settings for the enamel pieces. The settings are unique, with many of the jewelry designs featuring decorative elements on the back.
Nicolette received a Bachelors of Fine Arts in Studio Art with a concentration in Metals/Jewelry and a minor in Art History from Rowan University. She's a two-time finalist for the Halstead Grant, Saul Bell Award Finalist and a juried member of the Pennsylvania Guild of Craftsmen. See more of Nicolette's work at
www.NicoletteAbsil.com
.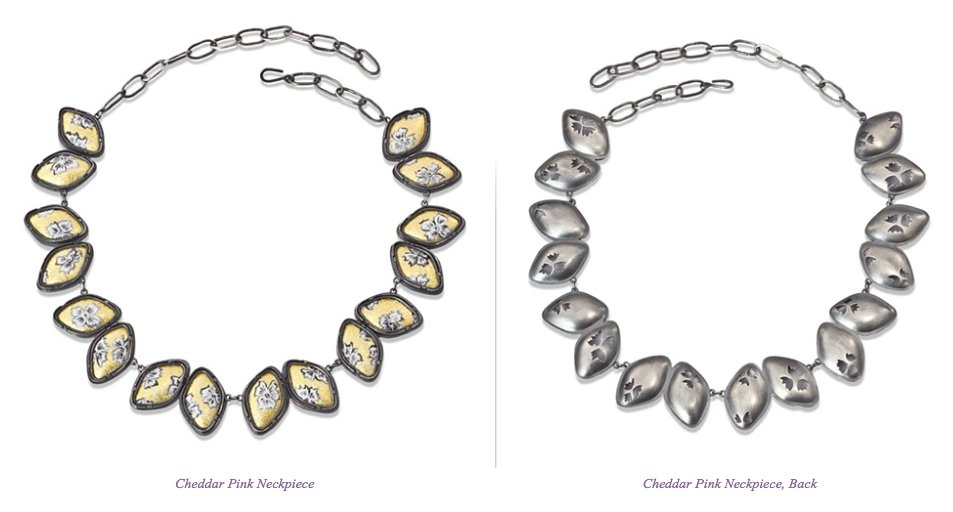 Nicolette Absil also placed as a finalist in the
2013 Halstead Grant competition
.
---
Letters to Sarah Metalsmithing
Halstead Grant Top 5 Finalist
LettersToSarah Metalsmithing
is a meticulously-crafted jewelry line that reflects a passion for place and possibility. Artist Sarah Nemire makes each piece by hand in her Michigan studio. Sarah says, "Fascinated by the cultural and social value of material culture, I love the power of adornment to define identity, inspire possibilities, empower action, and connect lives."
She studied jewelry making at Western Michigan University. There she received a Bachelors of Fine Arts in Art Education, emphasis in Metals/Jewelry, and minors in Anthropology and Philosophy.
As an undergraduate art student, Sarah bought a copy of the book
Craft, Inc.
as a gift for her mother in hopes of inspiring her to open an Etsy shop.
She says, "I ended up reading the whole book from cover to cover before gifting it, and immediately bought myself a copy...I never convinced her to open a shop, but I did convince myself."
Sarah has been making and selling jewelry via her
LettersToSarah Etsy shop
since June 2013. She takes presentation of her finished work very seriously. Each customer's purchase is wrapped with care in brand-consistent packaging. Thoughtful touches like hand-stamping and raffia bows complete the look.
She says, "I believe that objects have memories of their own, and take a part of me with them, that once they leave my hands they begin their own journeys."
---
ENJI Studio Jewelry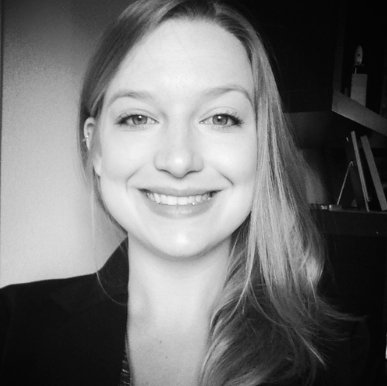 Halstead Grant Top 5 Finalist Niki Grandics started
ENJI Studio Jewelry
with the mission of creating unique, minimal, and bold pieces that are easy to wear and complement her customers' individual styles. ENJI
Points of Connection
grew out of Niki's desire to connect her art with the wearer in a way that carries value, meaning, emotion, and tells a story.
Each piece of jewelry is carefully handmade using high quality, nickel-free materials. Most of her pieces use sterling silver, gold vermeil, gold fill, and/or stainless steel. Specially-selected stones ensure unique, one-of-a-kind earrings, bracelets, rings and necklaces.
Niki received her BA in Applied Design and BS in Marketing from San Diego State University in 2014. This prepared her with a mind to create and market her own jewelry line.
In 2014, she won the Windgate Fellowship Award, which gave her the opportunity to live in the Netherlands. While there, she interned at one of the most well known art jewelry galleries in the world, Galerie Marzee.
Niki says, "While showing art jewelry in galleries and in publications has been greatly rewarding, it didn't come close to the feeling I get when someone tells me how great they feel wearing my jewelry."
ENJI Studio returned for the 2016 Halstead Grant and won! Read more about it
here
.
---
Tenzabelle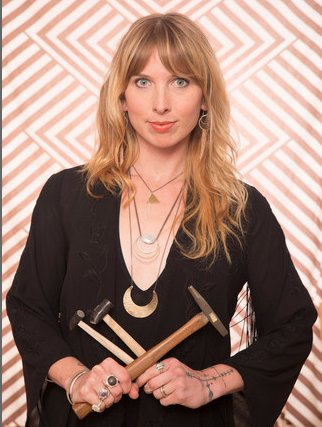 Tenzabelle
by Savannah Hunter is a 2015 Halstead Grant Top 5 Finalist. Savannah's application stood out with finely-crafted jewelry, solid marketing strategy and plans for growth.
Savannah's travels and her study of myth, magic and art from around the world inspired the Tenzabelle jewelry collection. She has trained in Italy, Indonesia and the Revere Academy of Jewelry Arts in San Francisco. Savannah also earned a degree in the History of Art from the University of California-Berkeley.
Savannah is a member of
Ethical Metalsmiths
and uses ethically-sourced materials including the 100% recycled 18k gold dust and textured, oxidized silver shown here.
Tenzabelle jewelry is meant to evoke a sense of strong, untamable feminine beauty that spans across all cultures and all eras. Savannah crafts her jewelry to inspire its wearers to tell their personal story through identification with significant forms, imagery, and materials.
Each piece of Tenzabelle jewelry is handmade in Savannah's Oakland, California, studio.
Shop and learn more at
Tenzabelle.com
or check out Savannah's
inspiration and jewelry on Instagram
.
---
Seth Papac Jewelry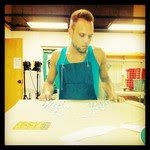 Top 5 Finalist,
Seth Papac
, is no stranger to the Halstead Grant, having previously placed in 2014, too. Finalists' applications are judged on jewelry design as well as business acumen.
Seth received a BFA in Metals/Jewelry from the University of Washington in 2004 then in 2009 followed it with an MFA from the Cranbrook Acacdemy of Art in Michigan.
Seth says, "Jewelry, in its concentrated and intimate scale, has the unique capability to retain history, hold a memory, convey a message and transform a wearer."

Currently residing in San Diego, California Seth takes pride in supporting local businesses and artists in his area. His schedule has him at shows up and down the coast as well as teaching for those in the area wishing to take a class.
Seth Papac's jewelry has been featured in over 10 publications in the U.S. and abroad. Fine galleries throughout the States as well as in Montreal, Canada and Brussels, Belgium have exhibited his work. You can purchase Seth Papac Jewelry
online
with prices ranging from $40-475.
Seth Papac also placed as a finalist in the
2014 Halstead Grant Competition
.
---
Bonde Jewelry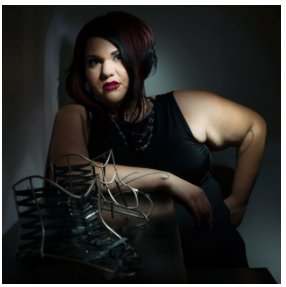 Bonnie Heras is the founder of
Bonde Jewelry.
Finalists' applications are judged on design as well as business acumen. Halstead president Hilary Halstead Scott says, "I love Bonnie's style. There are a lot of pieces here that you could wear everyday and her business plan is very well thought-out."
Bonde
is the concept of Bonnie Heras, professional jewelry designer, metalsmith and educator.
Bonnie says, "How a piece feels on your skin, for me, is just as important as its visual impact. When a piece is placed on the body, it exerts a force. It also interacts with -- and even invades -- personal space. I aim to create pieces that waver between seen and unseen; that sometimes draw attention; that sometimes recede quietly into the surface of your skin. I aim to create pieces that unveil you; that conceal you; that become you."
---
Alexandra Lozier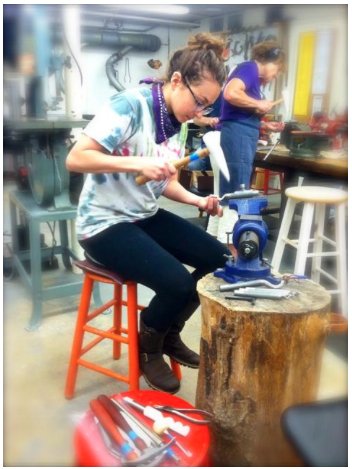 Alexandra Lozier is a 2015 Halstead Grant Top 10 Finalist whose love for nature inspires her to collect and preserve it in jewelry form.
Alex says her customers are "free-spirited, creative thinkers who come from a myriad of diverse backgrounds. Their aesthetic is influenced by Bohemian patterns, Victorian curiosity cabinets and steampunk creations."
Her line includes carefully-selected mineral specimens along with other natural elements.
"My idea is to connect the beauty of nature with the beauty of people."
Alex attended art school at the University of the Arts in Philadelphia. After graduation, she took a full-time position as an artist assistant for Biba Schutz in New York City.
She now runs her own studio in Brooklyn, where she does freelance fabrication work in addition to creating her own unique designs.
Find more of Alex's designs at
her website
or check out her Instagram feed
@Loziloo
She just got back from the Tucson Gem Shows and has some great pix from the road!
---
Lucia Pearl Jewelry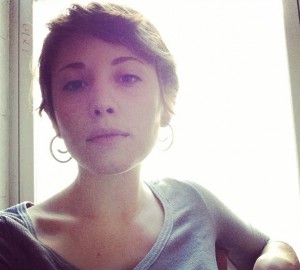 Halstead Grant Top 10 Finalist
Lucia Pearl
is a Brooklyn-based jewelry maker whose work is by turns playful and sophisticated in design.
Lucia says she approaches design "by looking beyond the conventions of traditional jewelry, exploring the unique ways in which a piece might be worn and questioning what it may provide for the wearer apart from its aesthetic qualities."
Lucia Pearl Jewelry is designed with women like Lucia herself in mind, who want to wear items that are unique, special and spark conversation.
The earring shown here is meant to look like a gauge but can be worn by anyone with pierced ears.
Influenced by studies in Morocco, she incorporates items like this Fibula Sweater Clip into her line. It's inspired by traditional Moroccan Fibulae, but can also be worn as a brooch.
This trademark necklace is adjustable and can be worn a number of ways, adding function and versatility to the wearer's jewelry wardrobe.
Lucia graduated from the Tyler School of Art in Pennsylvania before landing in New York to pursue her jewelry making career.
Find out more, shop and connect on social media at
LuciaPearl.com
.
| | | |
| --- | --- | --- |
| Earring by Lucia Pearl Jewelry | Fibula Sweater Clip | Necklace by Lucia Pearl Jewelry |
---
Learn more about the Halstead Grant
here
.
Subscribe now
for the latest information on the Halstead Grant, jewelry business tips and more.