Fingers full of rings are hot right now! From midi rings that seem to float in the middle of your finger to thin, stackable rings that you can layer together, you can't go wrong with rings - and the more the merrier! Here are some tips when choosing rings to wear as multiples:




Keep bands thin: Although a stand-alone wide ring on your thumb or elsewhere is fine, thin stacking rings are the look of the moment.
Scatter them: It's okay to have rings on one finger and not another. Create balance by wearing some rings below and some above the knuckle.
Mix it up: Change between textured and plain rings, gold and silver or colorful charms to keep it fresh and add variety. You can also mix rings that have focal elements like hearts or moons with other rings along the same theme. Use a texturing hammer to customize the surfaces of your rings.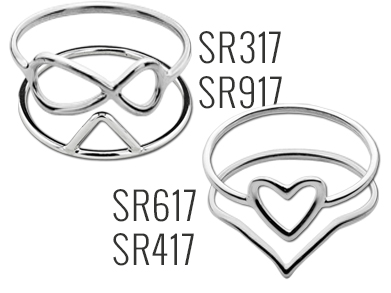 Midi rings: This is the hottest trend in rings right now. We suggest adding one or two midi rings to balance out the look.
Add your own touch: With basic soldering skills, you can add a gemstone onto an existing ring. To add a 4-prong or similar setting to a blank ring: Cut out the space needed in the band, insert the setting, then solder both sides to the shank so they are flush. Insert a gemstone and you're ready to go!
Visit us at halsteadbead.com for new ring styles, plus, all of the right supplies for your next design.
---
Read more articles about jewelry rings here:
How to Buy Ring Making Material
Soldering Half Round Wire & Pattern Wire for Rings
Granular Stacking Rings Tutorial