Here are a few tips we learned from Jeff Fulkerson when he visited our in-house jewelry studio last month. These are great hints for beginning jewelry makers or folks who just need to brush-up on the basics!




Start with a sketch to experiment and determine the design of your piece. Outline the design elements you'll use, thinking about shape, size and color. Check back in with your sketch as you adjust and make the finished piece.
When drilling stones, work in a water bath. Begin with a round burr to make a small divot in the stone, similar to using a center punch when drilling through metal. Make a pilot hole with a smaller drill bit, then move up to a larger drill bit on the second pass.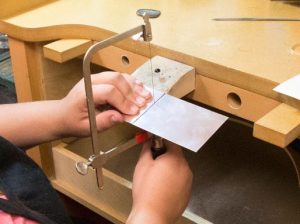 Begin sawing by making a small notch in your bench pin. Angle the saw against the metal inside the notch to start the line. Then, adjust your saw so it's straight up and down and let the saw do the work.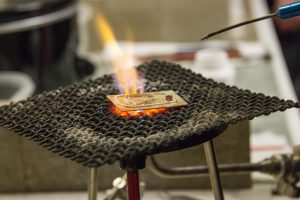 Use the hottest part of the flame to heat your metal, which is right at the tip of the blue pencil inside the flame. The orange part of the flame will cause your metal to turn dirty, which can prevent good solder joins. In this photo, the blue tip is touching the back of the metal.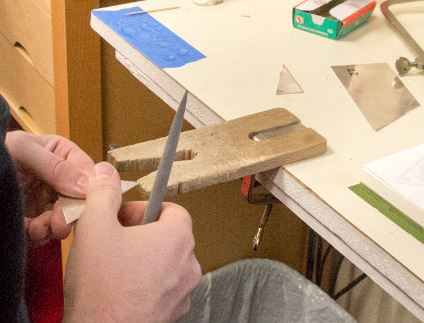 Know that filing only occurs when you are pushing the file away from yourself. Use the right type of file for your project - for example, don't try to file a wide piece of metal with a tiny needle file.
Jeff Fulkerson is a jewelry maker, instructor and artist who lives and works in San Diego. He travels the country teaching jewelry making classes. Next up, Jeff will be at BeadFest Philadelphia and Art Unraveled in Phoenix. Visit his website for online jewelry making classes, including a course on DIY bangles using pattern wire from Halsteadbead.com.
---
Sawing Tips with Julie Sanford
You may also enjoy these other articles from Halstead:
Around the Studio with Jeff Fulkerson