Marthe Le Van of Mora Contemporary Jewelry was our guest judge for the 2017 Halstead Grant. As a jewelry gallery curator, Marthe has some great insight into what it takes to get your jewelry noticed by gallery buyers.
Marthe Le Van of Mora Contemporary Jewelry runs a successful jewelry gallery in Asheville, NC. She curates a beautiful collection of work that connects with her audience of locals and visitors. Read on for great advice on how to approach your wholesale leads to successfully get your jewelry in galleries that are the right fit for your collection.
The first version of this blog was scrapped right after it was written. The topic was 'presenting your work to a gallery,' and though it was peppered with genuinely good advice, it was not the best strategy for finding retail partners in the real world. Any gallery or store owner worth her salt is constantly on the lookout for new jewelers, but rarely does an unsolicited email lead to representation. In five years of curating Mora, not one jeweler has been added to the store from a cold email presentation of her work. This isn't to say that it couldn't happen, and that we don't accept submissions, but it is so very rare that encouraging it doesn't feel necessarily honest or useful. So, here's version 2.0--tips on 'positioning yourself to be noticed by a gallery.'
Assuming you've got market-ready jewelry, here are some practical actions you can take to widen your circle, to make connections, and to put yourself in the right place at the right time to form successful retail partnerships. I hope they are helpful!
Tips to Get Your Jewelry in Galleries
Build a friendly posse of jewelry peers
To start, a strong social network with whom you can ask questions, share information, test out ideas, pool resources, check references, and get honest feedback will serve you well.
Find a mentor
Furthermore, a more-experienced jeweler can be an invaluable resource for navigating the retail world. Be sure to pepper your posse with one or more mentors you trust. Just remember to pay it forward to the next generation!
Join professional organizations
From international alliances to local guilds, belonging to a professional group offers prime networking opportunities, especially at events and conferences.
Apply, apply, apply
Submit your jewelry to as many calls-for-entries as you can. Competitions, exhibitions, grants, residencies, fairs, and shows often hire industry insiders to jury their contests. Simply entering guarantees eyes on your work.
Get a job
No, really! Working for a gallery or another artist is a great step in learning what these environments are like and give insights as to how to better approach a busy gallery and how to engage with a jewelry-buying audience.
Do your homework
In short, sizing up potential retail partners has never been easier. Every store or gallery you want to be in business with should have a website and social media. Go there! Poke around. Dig deep. Get to know their history and story, look closely at what jewelers they represent, how they present themselves and the work they sell to the world. Sign up for their mailing list. Follow their social media feeds. Besides, don't you want to do your homework before you choose a partner who will be wholesaling your jewelry and representing your work?
Groom for Google
Your online presence is working for you 24/7, and this silent partner needs tending. Make sure you're easy to find online and that you're making a great first impression with a compelling (and current!) website.
Post, engage, repeat
Make sharing your jewelry on social media an active part of your routine. Instagram's visual-driven content is tailor made for jewelry marketing, and the only cost is your time. It's hands-down the best platform for global engagement and can definitely lead to commercial opportunities for wholesaling your jewelry.
Hit the road
Traveling to check out an art fair or trade show is a business expense and a great way to get into the game. Lots of jewelers and collectors and curators and editors and bloggers and buyers are congregating in one place, and they're all looking to discover great new work. Show up wearing your very best jewelry and mingle fearlessly. (And while you're out-of-town, make it your mission to visit the stores and galleries you think might be a good fit for your work.)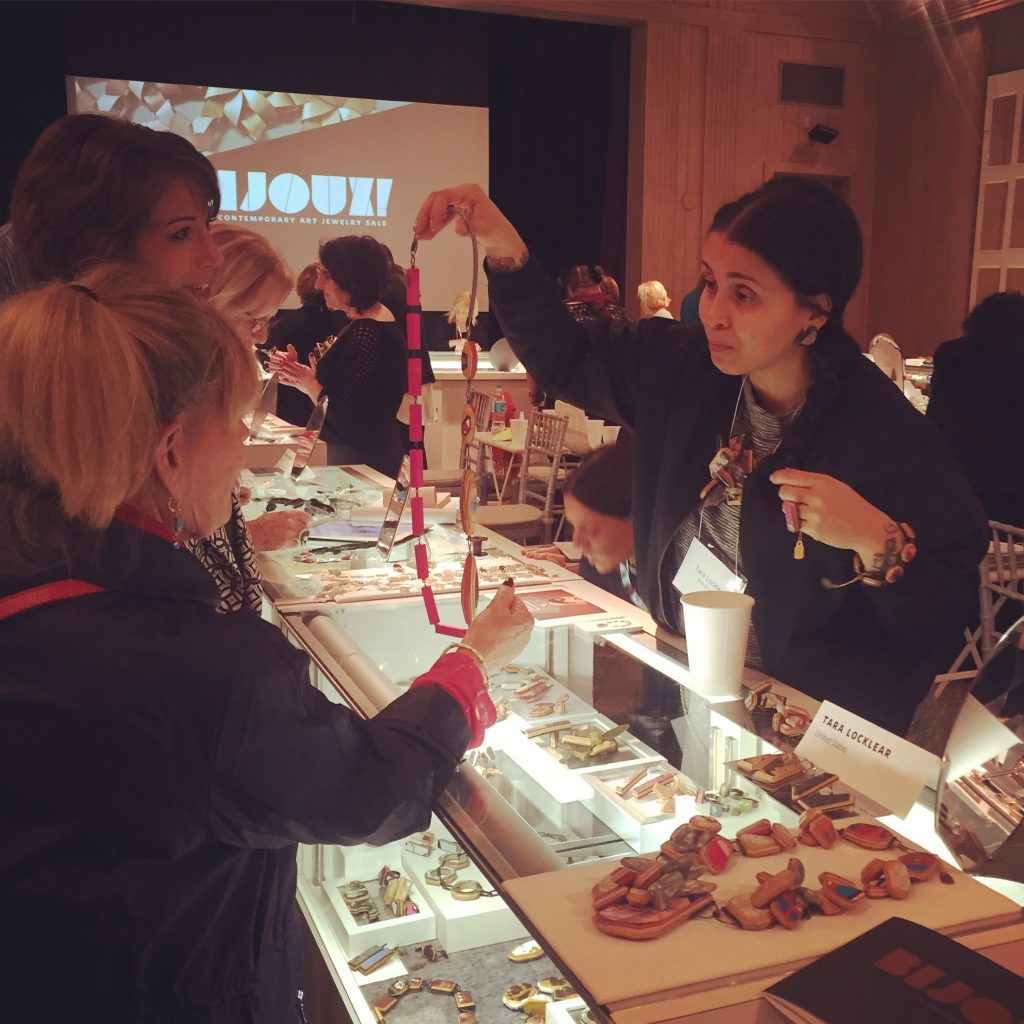 ---
Read more small jewelry business articles from Halstead and be sure to subscribe for weekly releases.
Selling Your Jewelry in Europe
Pricing Strategy Tips for Jewelry Business Profitability
5 Ways to Educate Your Jewelry Customer