Lisa Robin Jewelry
Our first 2010 Halstead Grant finalist is Lisa Robin Jewelry - a new design house out of Dayton, OH. Owner and designer Lisa Adkinson has been a finalist in our grant competition for two years in a row. Her work features heavy cast silver components in classic jewelry styles.
| | |
| --- | --- |
| Bracelet w/ Garnet Heart Charm 2019 Photo Update | Ring w/ Oval Blue Sapphire 2019 Photo Update |
In my opinion, this line is ideally suited for the professional woman's wardrobe. The pieces are classy and powerful without loosing their feminine style. The line is also quite versatile since many pieces are interchangeable or reversible.
Lisa's work is available in fine jewelry stores and galleries throughout Ohio and the Southern United States.
---
Tiffany Kunz Design
Diamonds used to be called ice. Thanks to emerging artists like Tiffany Kunz Design they may be picking up a new moniker.
The clusters of glowing, earth-tone, rough diamonds that Kunz uses as her signature in the new Concord Collection are more like dripping golden honey. She even offers a suite within the collection entitled "In Clover."
| | |
| --- | --- |
| Diamond Balance Necklace, 2019 Photo Update | Diamond Basin Dangle, 2019 Photo Update |
In Clover Suite embodies the best of Kunz's designer jewelry: hand hammered eco-friendly metals, crystalline bunches of glittering diamonds and open organic forms. The Concord Collection website is reminiscent of a buzzing hive full of honeycomb. And the buzz, buzz, buzzing has already begun. Tiffany Kunz Design is attracting a wave of attention from blogs and magazines.
Tiffany Kunz Design is available at several high end boutiques in the Los Angeles area as well as online. Most pieces are available in sterling silver or vermeil of yellow, pink or white gold. Retail prices range from $60 - $625. Santa baby, bring me some honey this year.
---
Joana Miranda Studio
Joana Miranda brings a fascinating background to the bench as a jewelry artist. Born in Portugal, Miranda was a professional violinist before turning her attention to jewelry. She is also an accomplished writer through her popular blog on the life of a new jewelry designer.
Joana Miranda Studio pieces feature classic metalsmithing motifs with contemporary twists such as the frequent use of rubber accents. Miranda is a prolific artist with many talents. Her blog and website are full of sketches and inspirational ides alongside finished pieces.
She has won numerous awards for her work including multiple honors from both the Gemological Institute of America and the Women's Jewelry Association. She was a 2010 finalist in The Halstead Grant, an annual competition for new jewelry design entrepreneurs.
---
Layne Designs
The burgeoning Philadelphia craft scene is home to Layne Freedline of Layne Designs. Freedline's heirloom jewelry is made with traditional bench techniques and trendy lapidary cut stones like druzy and cabochons.
Freedline is an accomplished jeweler who can boast an impressive resume of education and experience in the trade. She also teaches workshops on jewelry fabrication when she is not working in her own studio.
Most Layne Designs custom pieces range in price from $165 to $450 with more elaborate designs fetching up to $700 each.
Layne Designs returned for the 2011 Halstead Grant and won! Read about it here.
---
Wear Ever Custom Jewelry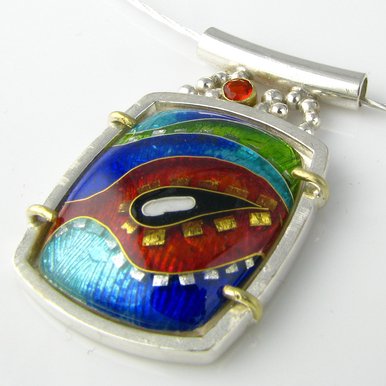 Jennifer Jordan Park of Wear Ever Custom Jewelry in New Jersey is an accomplished enamel jewelry artisan. She has garnered several awards and nods in the industry with her striking, colorful designs.
Jennifer Jordan Park uses a mouthwatering palette of rich enamel colors along with gold, silver and gemstones in her work to create contemporary one-of-a-kind pieces.
Gorgeous work! And with the popularity of enamel jewelry on the rise in recent years, Jordan Park is sure to be a name to remember. Please click one of the embedded links to view the artist's website to view a complete portfolio and order your own custom piece.
---
Laura Poplin
Enchainements was a 2010 Copper Finalist for The Halstead Grant. Jewelry designer Laura Poplin started out in the industry as a traditional chainmaille artist but quickly added unconventional embellishments to her maille designs such as leather, gemstones and pearls. She is mainly self-taught, only learning from a few local artists in her community, and believes her limited training has allowed her the freedom to grow. Her three main techniques are chain maille, leather working and metalsmithing.
| | |
| --- | --- |
| The Green Man Necklace 2019 Photo Update | Leather & Chainmaille 2019 Photo Update |
Laura's book, Unconventional Chain Mail Jewelry, hit shelves on May 15, 2012. It covers five basic chain maille projects and also include sections on leather working, wire gauging, texturing metals and making jump rings.
As an active member of the American Craft Council, Ohio Arts Council and the Dayton Visual Arts Center, Laura has recently found a love in teaching developmentally disabled people the art of jewelry making.
---
Meet the winner of the 2010 Halstead Grant, Cowboy's Sweetheart.
Learn more about the Halstead Grant here.
Subscribe now for the latest on the Halstead Grant, jewelry making tips, jewelry business tips and more.