Kristen Baird is the recipient of the 12th annual Halstead Grant for design excellence and business strategy among new jewelers. The award includes $7500 cash and $1000 in supplies.
A graduate of Savannah College of Art and Design and the New Approach School of Jewelers, Kristen also earned her Rhino CAD certificate and was selected for Generation NEXT: Savannah's Rising Stars of Business, Class of 2017 sponsored by Savannah Magazine.
Kristen uses sterling silver, recycled 18K gold and ethically sourced gemstones with reticulation, granulation and other traditional metalsmithing techniques to create jewelry inspired by the Southern landscape.
Applicants for the Halstead Grant must submit a jewelry collection along with answers to 15 questions that form the basis of a business plan. Kristen's competitive analysis, marketing strategy, 3-year plan and production capacity outline stood out above the rest.
Kristen has amazing hustle. Her entrepreneurial drive is inspiring! We love to see craftsmanship and skill rooted in such sound business sense.

- Halstead President Hilary Halstead Scott
Kristen also wins: trip to Prescott, Arizona; signature Grant Finalist trophy; cover and feature spread in the new annual grant publication Reveal; feature profile and jewelry showcase in the next printed catalog; blog and video profile; press release assistance; feedback report from the judging committee.
Kristen says, "Working on the application and seeing everything from a new perspective has been an eye-opening experience. The time I have taken to study each detail of my business, from operations and personnel to designs and finances, has allowed me to construct the path for my brand and dream even bigger than I ever imagined possible."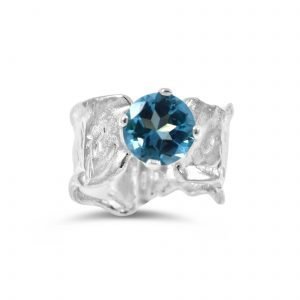 Halstead Grant Finalists
2017 Halstead Grant Top 5 Finalists: Alexandra Scarlett; Emily Shaffer Studio; Kelsey Grape; Stacy Rodgers
2017 Halstead Grant Top 10 Finalists: Alexandra Lozier; Lucia Pearl; Made Line; Tenzabelle; VLM Jewelry
Finalists receive $500 cash for Top 5 placement or $250 for Top 10 placement. Awards include: Coverage in the annual grant publication Reveal; signature Grant Finalist trophy; blog profile; media exposure; press release assistance; feedback report from the judging committee.
About the Halstead Grant
The Halstead Grant began in 2006 as a way to bring the business plan concept to the jewelry community and encourage makers to establish clear goals and measurable steps towards self-sufficiency.
Halstead President Hilary Halstead Scott says, "We were impressed by the digital savvy and business preparation of this year's applicants. More resources than ever are available online and emerging artists are clearly taking advantage of them to launch their studio practices. It feels like an exciting turning point in the way jewelers approach their careers as independent artists"
The 2017 Halstead Grant applicants dug deep, sharing their passion for jewelry and charting thoughtful and courageous paths to a sustainable career. I was impressed by strength of the field and anticipate a strong future for these emerging jewelers.

- Guest judge Marthe Le Van of Mora Contemporary Jewelry gallery
A special thank you to the 2017 guest judge, Marthe Le Van.
Subscribe for more tips and news and to learn more about the Halstead Grant.
Meet the 2016 winner of the Halstead Grant, ENJI Studio Jewelry.