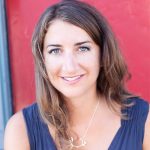 Minneapolis jewelry designer Susan Elnora Frerichs is the winner of the 7th annual Halstead Grant for new silver jewelry entrepreneurs. Frerichs, under the studio name Susan Elnora, will receive $6,000 in start-up cash and jewelry supplies to build her business.
"I'm thrilled! I am so incredibly honored and excited to have been selected," commented Frerichs.
The Susan Elnora collection of urban rustic silver jewelry includes designs inspired by American settings, flora and fauna. Notable pieces use linear perspective in layered landscape necklaces featuring scenery, telephone poles and railroad tracks. Other designs feature hand fabricated moving parts or detachable enhancements. Artistic statement pieces anchor the line, but it also includes many options for everyday wear.
"Susan Elnora jewelry boasts a level of originality rarely encountered in a trade that spans many ages in history," said Hilary Scott, a grant judge.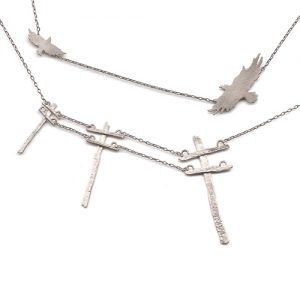 Frerichs discovered metalsmithing as an undergraduate in Studio Art at Carleton College in Northfield, Minnesota. Following the advice of her employer and mentor, renowned mokume gane artist George Sawyer, she then attended Revere Academy of Jewelry Arts in San Francisco. After four years of apprenticing with master goldsmith Stephen Vincent in Minneapolis, Susan launched her own studio. Her exploration of a fading American mythology is a continuing source of inspiration.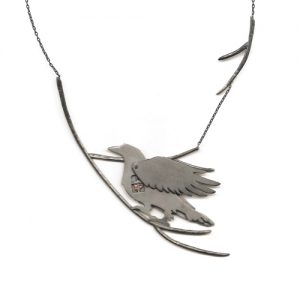 You can find Susan Elnora designs at quality jewelry galleries across the country as well as online at Artful Home and ARTprojectA. Retail prices for sterling silver jewelry items range from $75 to $1800.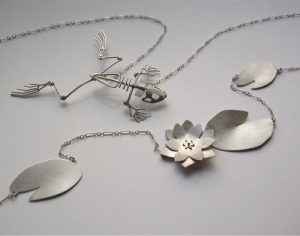 For the 2013 Halstead Grant season, Susan had some great thoughts on how the application process and winning the grant helped her business.
About the Grant
The Halstead Grant is awarded to a new silver jewelry artist each summer. The program provides business development funds, supplies and exposure to up and coming designers in the industry. Candidates must submit a portfolio as well as a lengthy application packet including details on business planning and strategy. Silver jewelry supply wholesaler Halstead Bead, Inc sponsors the annual grant.
Susan Elnora joins a roster of talented Halstead Grant recipients with successful careers in independent jewelry design. For more information on the grant program including past winners, eligibility requirements and application details visit The Halstead Grant website.
Learn about the 2012 finalists of the Halstead Grant.
Subscribe now for more tips, news and to learn more about the Halstead Grant.
Meet the 2011 winner of the Halstead Grant, Layne Jewelry Designs.