VAH Jewelry
Talented jewelry designer, Valerie Heck, over the last year has placed as a finalist in both The Halstead Grant and in the 2015 Niche Awards.
Valerie's professional jewelry career began just outside of Baltimore, MD at Towson University where she graduated summa cum laude as the first recipient in the metalsmithing honors program. Valerie didn't stop there, she followed this distinct honor by attending the New Approach School for Jewelers where she studied under master goldsmith Blaine Lewis to complete the Graduate Bench Jeweler Program.
Valerie has been featured in several magazines including JQ, American Style and Art Jewelry as well as being featured in the book "Wrap, Stitch, Fold and Rivet" by Lark Books. You can purchase her jewelry through Flux Metal Arts or contact her through her website at VAH Jewelry.
---
Sara Gallo Jewelry
Three time finalist of The Halstead Grant, Sara Gallo is always fun to revisit with her nostalgic doll shoe jewelry. After graduating from Millersville University in PA in 2011 with degrees in Fine Art and Art Education, Sara wasted no time. She exhibited in the Philadelphia Museum of Art Craft Show, earned a finalist spot in the Niche Awards and placed her jewelry in stores and boutiques worldwide.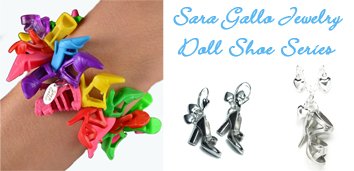 Being a lifelong collector of bright, colorful objects combined with her designing talents she created a version of the Garden Party Bracelet. It was a hit when she wore it out and that was the beginning of her popular doll shoe series collection.
"I live for that moment of discovery (and the laughter) when someone realizes they are looking at a piece of jewelry made entirely from Barbie shoes! This is jewelry that starts a conversation..."
You can purchase Sara Gallo Jewelry on her website or on Etsy with prices starting at $18.
Sara Gallo also placed as a finalist in the 2013 Halstead Grant competition.
---
KFroet Designs
Top 10 grant finalist, Katy Froet, has been a jewelry designer since 2012. But her passion for crafts started as a small child when she would play among her mother's art supplies. A layoff in 2012 forced her to re-examine her life. Leaving the corporate world behind she stumbled onto wax casting which re-ignited her life-long love of arts. From here, KFroet Designs was born.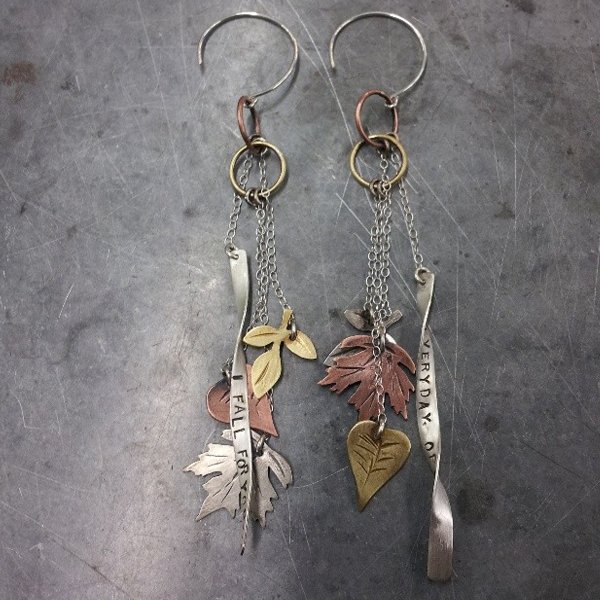 Katy hand carves and casts her designs, so no two will ever be alike. Her pieces can be bought online or in select stores throughout her home state of Illinois. Also, if you're in the Chicago area on April 19, 2015 you can find Katy and her jewelry at the Dose Market in the Chicago Cultural Center.
2019 Update: links removed.
---
JW Metal Arts
Jennifer Wills, the designer behind JW Metal Arts and a two-time Halstead Grant Finalist, designs modern pieces using familiar geometrical forms.
Jennifer's first memory of jewelry was at an early age when she raided her mother's jewelry box and became immersed by the glittering jewels she discovered. Growing up, her artistic nature flourished. So she decided to attend the Fashion Institute of Technology in NYC and Southampton College on Long Island where she had been raised.
After earning a B.F.A in Fine Arts, she worked in fashion houses in NYC. She then decided to head to the west coast to experience new cultures and ideas. Finding a metalsmith shop one day, the world of jewelry making called her name again. Jennifer decided to apply for the William Goldberg Diamond Corporation scholarship to attend the Gemological Institute of America in Carlsbad, CA. She won the coveted award and she received her G.J. in Jewelry Manufacturing Arts.
Jennifer's designs mix 14kt gold and silver with precious and semi-precious stones. You can purchase her items on Etsy with prices ranging between $175-4,500. To see her collections and learn more about her work, visit her website at JW Metal Arts.
JW Metal Arts also placed as a finalist in the 2012 Halstead Grant competition.
---
5 Oaks Studio

5 Oaks Studio is aptly named for the 5 towering white pines located on the Texas property of artist Kelly Noonan. She received a Bachelor of Fine Arts degree from the University of North Texas then apprenticed in California. Spent 10 years apprenticing under Master Caster Cynthia Thomas and studying and honing her craft. But then she took a 10 year hiatus from jewelry making. During this time she attended The University of Texas and worked in the corporate world. After 10 years, she is back to jewelry making and is a 2014 Halstead Grant finalist.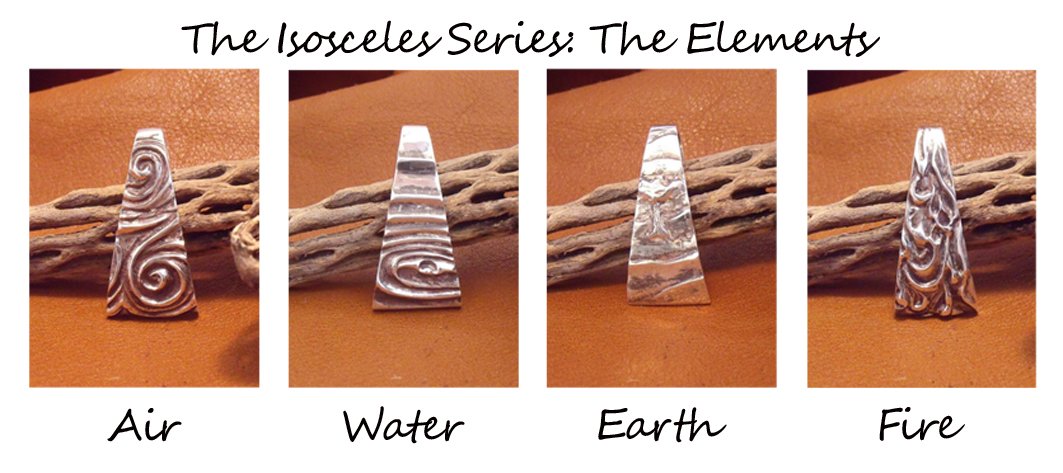 With a deep respect for earth she started her Isosceles series, which embraces the four elements that are so influential to her. "In the first installation of the series, The Elements, I wanted to utilize a pictorial language that expresses a deep appreciation and respect for the foundation of creation, earth, fire, water, and air. Nature cannot be improved upon, but I can capture a sense of the astonishing beauty and grandeur. The designs are a statement that I am in love with the natural world."

Her "luminous" series came to her in a dream. She created Stark's Heart for her great nephew who suffers from a heart defect. The proceeds from the pendant go towards his medical expenses and to the March of Dimes. Kelly's pieces range from $55-120 and can be purchased directly on her website: 5 Oaks Studio.
---
Seth Papac Jewelry
Think outside the box when venturing into the world of Seth Papac jewelry! The majority of his designs are so unique that the word "jewelry" takes on an entirely new meaning.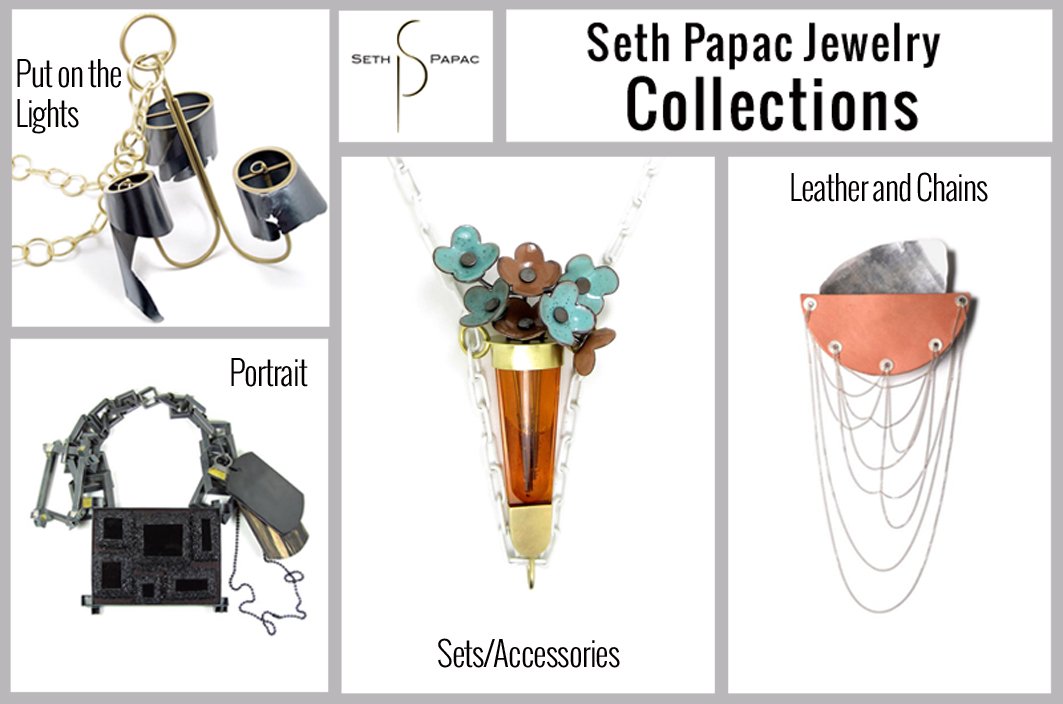 "I am not interested in making slight variations of the same thing. The only design characteristic of my work which is standard is its relationship to the body. Through scale, my work consistently challenges the body, moving beyond the preciousness associated with jewelry and focusing on its efficacious and revelatory potential." ~ Seth Papac
Seth Papac's resume is extensive and impressive. He received a BFA in Metals/Jewelry in 2004 from the University of Washington then continued his education to receive an MFA in Metals/Jewelry in 2009 from the Cranbrook Academy of Art in Michigan. He has exhibited in dozens of shows and had pieces published numerous times around the world. Seth has also been lecturing from coast to coast since 2003.[/column]
Seth is based in California, where he lectures at San Diego State University. He recently created Seth Papac Jewelry and will appear at several shows in 2015. His mainstream line, named "Torn," consists of fashion friendly pieces that range from $40-845. You can purchase his work online at Seth Papac Jewelry or delve into Seth's art jewelry site to see his one-of-a-kind designs.
Seth Papac also placed as a finalist in the 2015 Halstead Grant Competition.
---
JPHii Design
JPHii Design entered the grant competition for the first time three years ago and was a Top 10 Finalist in 2012. With determination and fine-tuning owner John Harris resubmitted his work earning him top 5 finalist spots in both 2013 and 2014. Over the last several years I've written posts on John and his work. Each time I see his portfolio and his latest projects as a jewelry artist, musician, writer and director they impress me all over again. As a designer he not only stretches his imagination far outside the box, he creates pieces and collections that work, no matter how unusual and improbable they seem. With John's designs continuously growing and expanding, it makes each trip to his website exciting and new.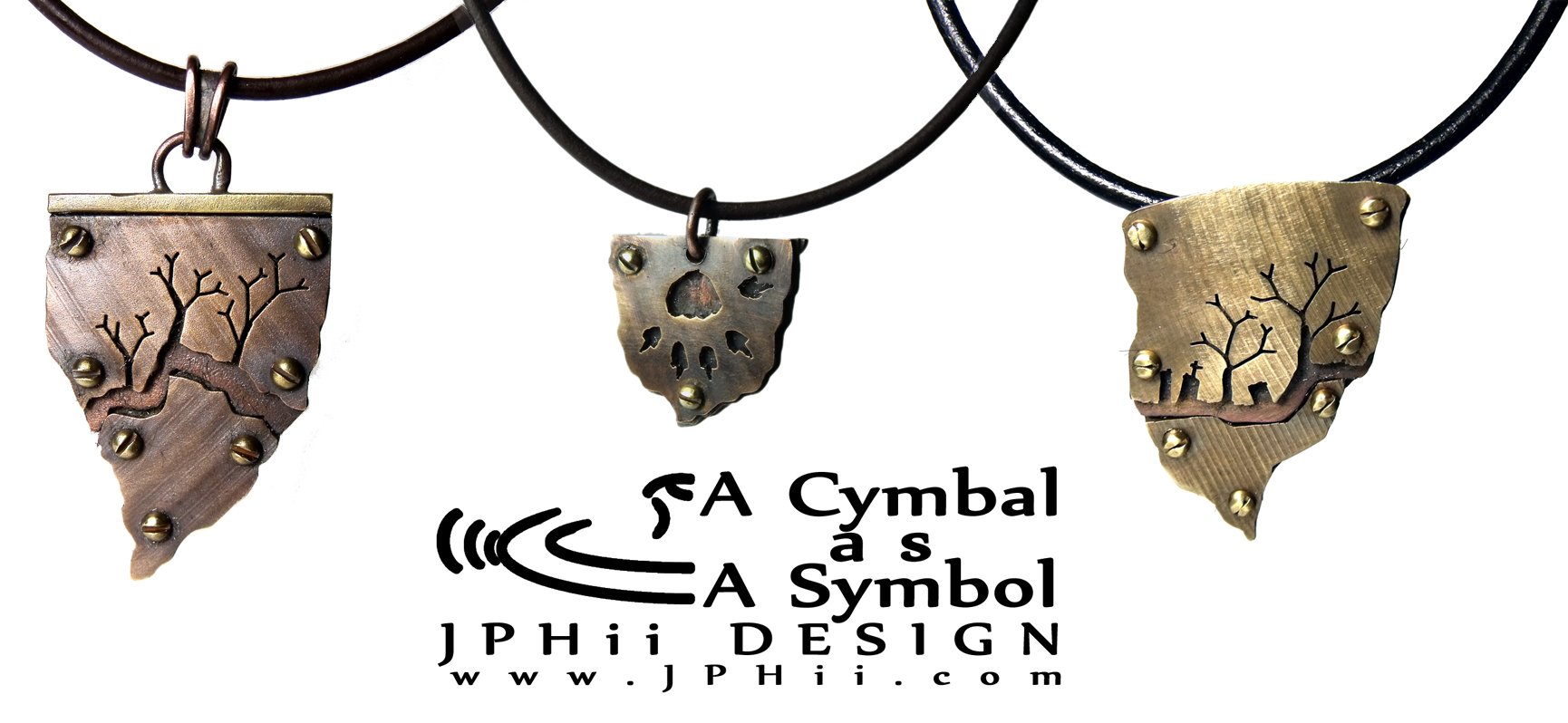 In 2012, John was just taking off in the jewelry world with two collections under his belt. Geared, which used parts from rare machines to create steampunk pieces and his popular recycled drum cymbal collection called A Cymbal as A Symbol, with proceeds from the sales going to charities dear to him.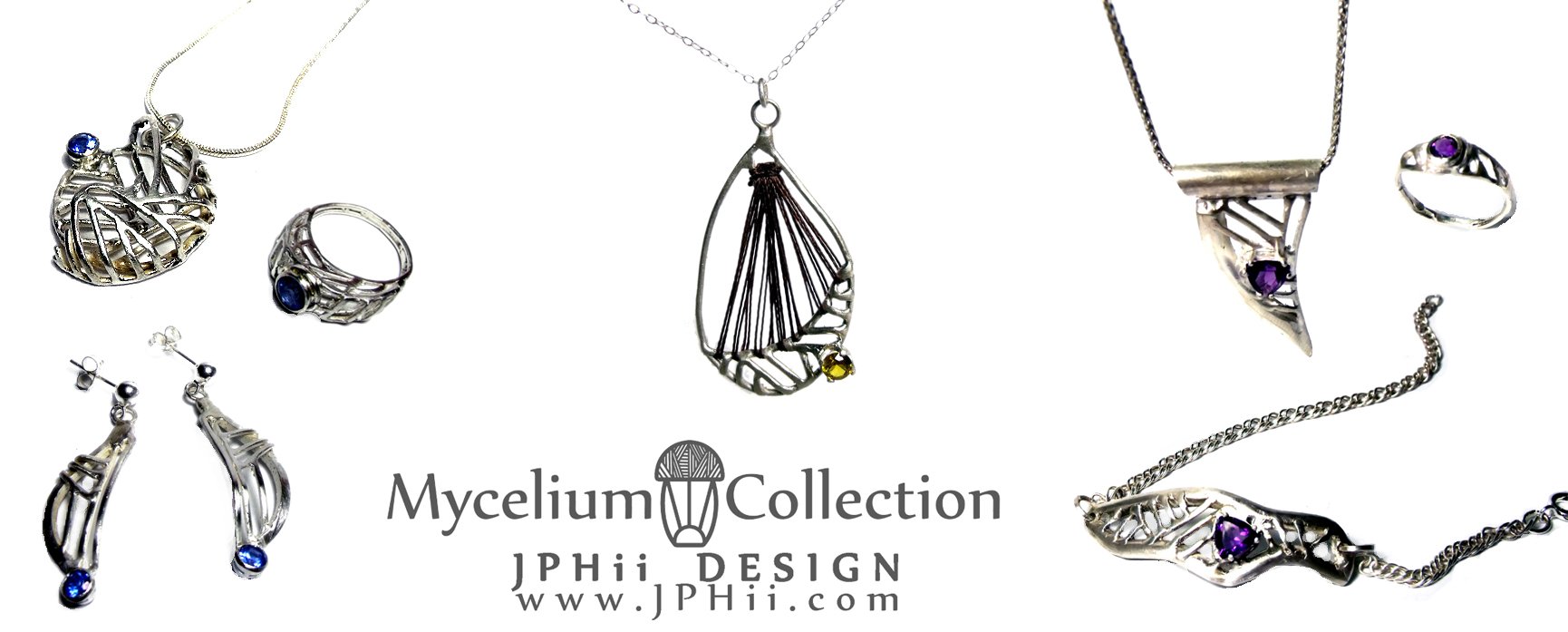 2013 kicked off his Mycelium Collection, which is inspired by the complexities of an intricate mushroom root. This collection grew to include two others as well, Mycelium One which focuses on military and industrial styles and the dinosaur-era Prehistoric Mycelium.
2014 has John debuting his Primal Roots Collection. Designs inspired by common influences seen throughout the world in organic pieces. View all of his retail collections on his website.
About John Harris
The beginning: born in Syracuse, NY John Harris explored all aspects of the art world finally focusing on metals as his primary field. He studied at Buffalo Sate College earning two Bachelor of Arts degrees, one in Anthropology and the other in Jewelry/Metal Design in 2012. He combined the two degrees emerging on the other side as a published author creating props from his book using his metalsmithing skills. Although primarily a jewelry designer his creations range from prosthetics and clothes to knives and masks, with a dozen other items in between. JPHii Design can be found online with pieces ranging from $25 - 150.
JPHii Designs also placed as a finalist in the 2012 and 2013 Halstead Grant competitions.
---
Duchess Leigh
Los Angeles jewelry designer Duchess Leigh won a top 5 finalist spot in The Halstead Grant two years in a row. After falling in love with jewelry at an early age, Duchess spent her high school years studying jewelry making in library books. After graduating high school, 15 years passed by before her childhood dream came true and she began building her studio. Purchasing supplies and tools with what money she had saved, she practiced in her studio and sold what she created at local craft fairs.
Duchess Leigh uses mainly brass, silver & gemstones with an emphasis on the moon and its different phases in many of her pieces. You can find her work on her website and on her Etsy site where prices range from $13-115.
Duchess Leigh also placed as a finalist in the 2013 Halstead Grant competition.
---
Amy Brandenburg Studio
PMC artist and instructor, Amy Brandenburg, expresses her love for nature, history and architecture in the jewelry she creates. Amy pursued a career in art by first attending a liberal arts college in Illinois and then a graduate school in New York.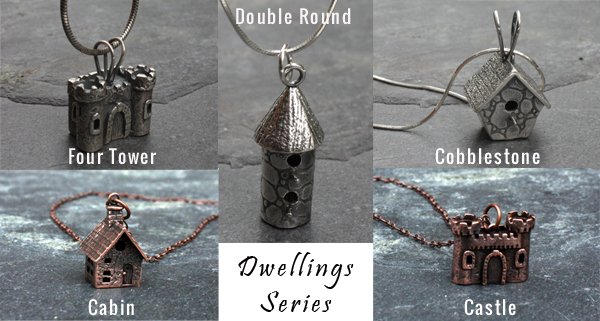 It was during her jewelry and fashion studies in Chicago that she found her love for 3D objects. Later, at grad school in New York, she was inspired by early 20th century design. Drawing upon those foundations, Amy's designs are focused in three collections: Dwellings, Four Directions and Art Nouveau.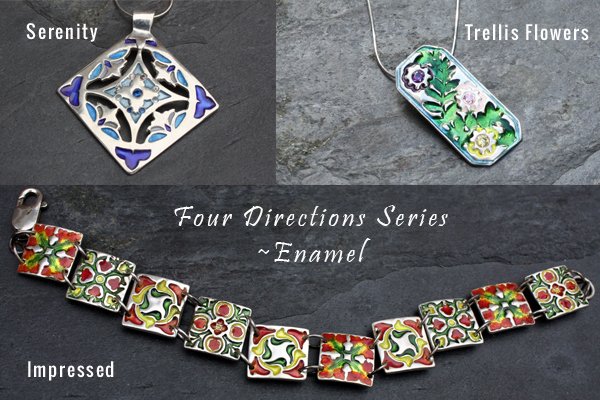 "The love of creating three dimensional objects and personal adornments has led me to my passion for making jewelry. Working with PMC has allowed me to create things that would have been unimaginable or extremely difficult with traditional metal smithing, making the impossible possible."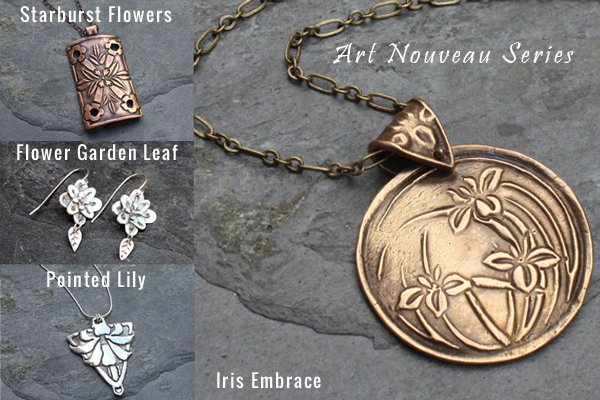 On her website you can purchase her jewelry pieces, which are priced between $25-450, find a list of fine galleries that carry her work, see her upcoming art festival schedule plus watch a video of her process and find additional information on her PMC classes.
---
Meet the winner of the 2014 Halstead Grant, Erica Bello.
Learn more about the Halstead Grant here.
Subscribe now for the latest information on the Halstead Grant, jewelry business tips and more.