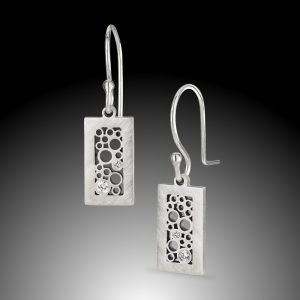 Belle Brooke Designs has been turning heads for years with the contemporary, urban look of silversmith Belle Brooke Barer. The company has been racking up an impressive list of accolades since winning the Halstead Bead Inc. Business Development Grant in 2007. This year, the company won the prestigious JCK Rising Star Award. Moreover, it seems like Barer's designs have appeared in every industry magazine over the last few years. A Belle Brooke Designs custom piece was even the cover feature for MJSA Magazine in January.
I own several pieces from Belle Brooke Designs and they never fail to elicit compliments from friends and even strangers. What you can't see in these photos is that each piece is seriously heavy - and, no, I don't mean dramatic. These are silver designs that have some girth despite their graceful curves and elegant styling. It feels good to heft a cool piece of substantial jewelry in your hand and know you don't have to worry about dings or damage.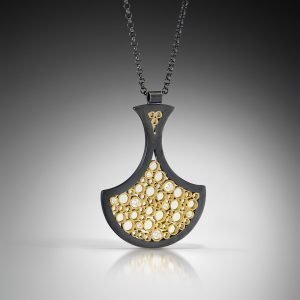 Barer creates incredible statement pieces for bold fashionistas as well as small simple accessories that are perfect for many outfits. I find that her jewelry matches everything. Stones take a back seat in Barer's designs, which truly feature her metalsmithing talents. Each piece has a smooth lustrous finish that shines with a beautiful silver glow. The stones harmonize nicely with the metalwork and provide a little splash of color and extra sparkle. Gotta love it!
Subscribe now for the latest jewelry making tips, jewelry business tips and to learn more about the Halstead Grant.