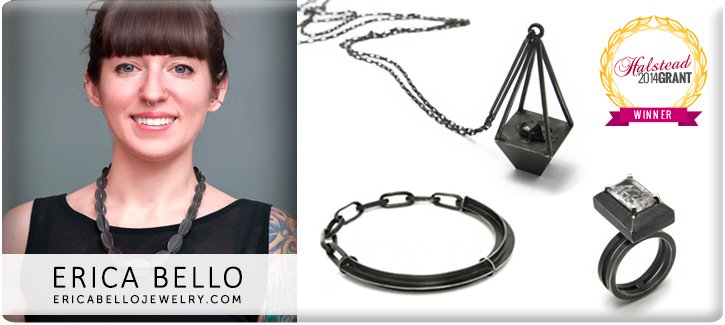 Halstead is proud to announce Erica Bello of Rochester, NY as the winner of the 9th annual national Halstead Grant competition for new silver jewelry makers. She will receive $5,000 in cash and $1,000 in jewelry supplies as part of her prize package.
"I was extremely honored to be chosen as the 2014 Halstead Grant recipient. Writing the grant allowed me to focus my ideas into a cohesive goal. It is an incredible opportunity to be able to put my ideas into motion; I cannot thank them enough."
Erica finished her Bachelor of Fine Arts in 2011 at The Rochester Institute of Technology with high honors. After college she worked as a bench jeweler while she continued to strengthen her customer base for Erica Bello Jewelry. Working for one of the largest national retailers of fine jewelry enhanced her technique, skill, and business knowledge.
Erica's geometric silver jewelry with an oxidized finish can be described as industrial, bold and edgy with a three-dimensional dynamic. This unique metalsmithing work creates contrast with acute angles and semi-precious stones. She uses architecture and traditional jewelry archetypes as influences in her collection.
Each design is shaped, soldered, or casted out of silver then given an antique oxidized finish. Her metalsmithing technique also includes built up fabrication of rings with stone settings. Prices range from $105 to $ 445 and you can purchase pieces at ericabellojewelry.com. Bello will also exhibit at the Philadelphia Museum of Art Contemporary Craft Show in November and the American Craft Council Baltimore Show in February.
---
About the Halstead Grant
The Halstead Grant competition recognizes jewelry artists who excel in both design and business preparation. Applicants must submit a portfolio and elements of a business plan including marketing, production capacity and financial planning information. The program is designed to encourage sound professional practices in the jewelry arts community. The application process guides candidates through several critical business issues. Analyzing those challenges helps new jewelers lay the groundwork to become successful, independent studio owners.
---
2014 Halstead Grant Results
Winner
Top 5 Finalists
Top 10 Finalists
The grant sponsor, Halstead, is one of North America's leading distributors of jewelry supplies. The firm is celebrating their 41st anniversary this year. Halstead specializes in wholesale findings, chain, tools and metals for jewelry artists.
Learn about the 2014 finalists of the Halstead Grant.
Subscribe for more tips and news and to learn more about the Halstead Grant.
Meet the 2013 winner of the Halstead Grant Sculpturings.